CC #223: Week of June 28, 2007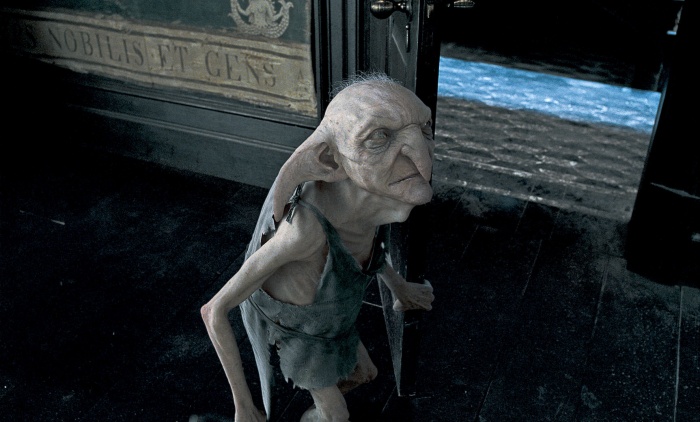 ---
⬇️⬇️ Scroll down in the below area to read all captions from this week! ⬇️⬇️
---
Harry: Who is that?
Ron: Why, that's Kreacher!
Harry: What creature?
Ron: That's right.
Harry: What's right?
Ron: What are you talking about?
Harry: What are you talking about?
Ron: It is Kreacher!
Harry: I know it's a creature, dolt! What's its name?!
Ron: KREACHER!
Harry: *Thinking* Ron's lost his marbles…
Ron: *Thinking* Harry's lost his marbles…
Kreacher: Oh, if poor mistress saw Kreacher with these two baffoons… oh! What will she say…
-Tallal
---
What would happen if McGonagall and Snape had a kid…
-Leia
---
Kreacher: *Muttering to himself* Nasty little hobbitses… they stole it from usss… where's my preciousss… hobbitses, half-bloods, creatures of filth… they stole the precious, stole it from uss… kill themmm… KILL THEM!
-Rhia
---
Elizabeth: (From Pirates of the Caribbean: At World's End) 'Commodore Norrington, what has the world done to you?'
-Ananthu
---
The Real Reason JKR Wanted Kreacher in Movie Five:
Kreacher: Filthy mudbloods and blood-traitors, ruining Mistress' house. What they should be doing is pre-ordering Harry Potter and the Deathly Hallows, on sale July 21st, 2007 in a bookstore near you!
JKR: That's it, Kreacher, bring home the bacon!
-Dan C.
---
Kreacher: *Sings to self* 'I am beautiful, no matter what they say. Words can't bring me down…'
-Michelle
---
Harry: *Off-screen* Kreacher, how do you talk without biting your nose?
Kreacher: …
-Beth
---
Kreacher: Kreacher wonders, how that Potter boy got his scar?
Fred: Don't we all, Kreacher?
George: What are you up to anyway?
Kreacher: Kreacher was wondering what J.K. Rowling has in store for him in Book 7… for Kreacher couldn't resist highlighting that spoiler!
-Tallal
---
Meet Kreacher:
He's 3'6", loves puppies and rabbits, enjoys long walks on the beach, and hopes this is the face you'll wake up to every morning for the rest of your life…
-Lauren A.
---
Kreacher, the inspiration for Extendable Ears.
-Elyse
---
Harry: *Offscreen* Okay, Kreacher, you can take the mask off now.
Kreacher: Young master, what mask are you speaking of?
Harry: …
-Leah
---
Kreacher: *Mumbling* Those filthy Muggles trying to cut Kreacher out of the film. But they need Kreacher. Can't do it without Kreacher. Kreacher very important in Book 7 they says! Kreacher is –
Harry: What did you say?
Kreacher: *Mumbling* Those filthy Muggles trying to cut Kreacher out of the film. But they need Kreacher –
Hermione: They tried to cut you out of the film?
Kreacher: That's what Kreacher is saying, yes…
Hermione: To the S.P.E.W. mobile!!! *Her, Ron, Harry, Neville, Ginny, and Luna run to a clown car, hop in, and drive away*
Kreacher: Aw, great filthy Mudblood made Kreacher forget what he does in Book 7. 'Guess Kreacher will just have to wait until July 21st…
-Kendra
---
If Voldemort and Lucius Malfoy had a child…
-Suzanne
---
Hermione: Why so calm, Kreacher?
Kreacher: Kreacher has been elected as most eligible bachelor in the ages 235-and-up division in House-Elf Monthly.
Hermione: *Smiles* Wow, Kreacher! Way to go! *walks away*
Kreacher: *Muttering to self* The filthy Mudblood knows nothing of Kreacher's sexyness!
-LavLav
---
After being given his freedom, Kreacher began a new career as a third grade teacher in the public school system.
-Kim
---
After calling several children 'filthy blood traitors' and biting one parent, Kreacher is fired from his job as Santa's elf at the mall.
-Hansi
---
—At the Beginning of GoF, in the Riddle House—
Voldemort: Do not lie to Lord Voldemort, Muggle, for he knows… He always knows…
Frank Bryce: *Eyeing wand nervously* For- forgive me, My Lord, I never intended to-
Voldemort: Silence! You shall be punished for this, Muggle…
Frank Bryce: Please, My Lord, I only want to serve you-
Voldemort: *Intrigued* Serve me, you say? How very interesting…
—One Year Later…—
Frank the House-Elf: Do the dishes, mop the floors, scrub the sinks and oil the doors… House-elves are supposed to like all these chores? And I still can't hear despite having these huge ears! Why wouldn't he just finish me…
-The Duke of Waltham
---
Kreacher: 'Nobilis et gens my tush. There's the door, get out. Sirius' mother and I would like to be left alone!'
-Cody
---
Kreacher: 'Filthy Blue-Eyed Boy dirtying my mistress' house. He should have green eyes.'
-Josephus
---
Hermione: 'Ronald! I TOLD you not to feed it after midnight! Honestly!'
-Devvles
---
Kreacher: Cake or death?
Tonks: Uh, cake please.
Kreacher: *Grumbles* Very well, here you go. *To Harry* Cake or death?
Harry: Uh, cake for me too, please.
Kreacher: Alright, cake for you too. *To himself* We're gonna run out of cake at this rate… *To Sirius* You! Cake or death?
Sirius: Uh, death please. NONONO! I mean cake, sorry, cake.
Kreacher: *Very delighted* Aha! You said 'death' first, death first!
Sirius: Well, I meant cake!
Kreacher: Oh, alright. You're gonna die later on anyways…
-Mel
---
Kreacher: Kreacher has a question for the great Harry Potter.
Harry: What is it, Kreacher?
Kreacher: Kreacher knows a one-story house that is all black. Black windows, black doors, black roof. Kreacher wants to know – what color are the stairs, Harry Potter?
Harry: That's easy – black!
Kreacher: WRONG!
Harry: WHAT? *Becomes lost-in-thought about this question.*
Voldemort: AVADA KEDAVRA! *Harry falls over* Well done, Kreacher. Only a fool like Harry Potter could not see that the answer was 'there are no stairs'!
-Starshine
---
Scientists realized they had made a mistake when they cross-bred Freddy Kreuger with Jar Jar Binks.
-Kairi
---