CC #227: Week of August 5, 2007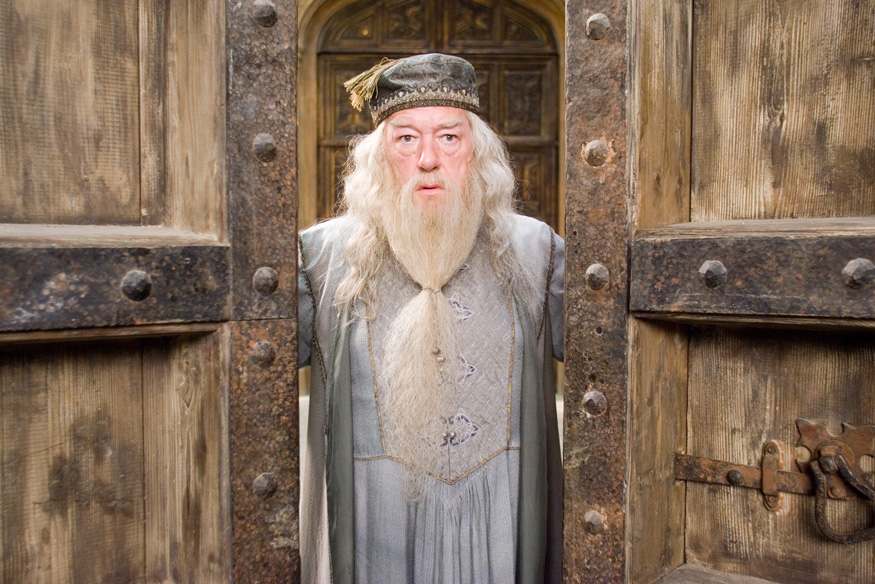 ---
⬇️⬇️ Scroll down in the below area to read all captions from this week! ⬇️⬇️
---
Dumbledore: 'Peek-a-boo!'
-Cashewnut
---
Dumbledore: 'Yes, I do realize that my standing here blocks you from leaving the Great Hall. That's kind of the idea…'
-Sam
---
Dumbledore was a master wizard… however, he could never remmeber how to get himself unstuck from tight doorways.
-Ryan Y.
---
'What the #$()? I'm barely dead a month and Rita Skeeter's been dragging my name through dragon dung, and the wizarding world has fallen to Lord Moldy-Shorts. Can't they do ANYTHING without me?!'
-Anne
---
'You really should lock the door, Harry. What I'm seeing is quite disturbing and is best conducted behind closed doors…'
-Zoe B.
---
Dumbledore: Yes?
Courier: Delivery for A. Dumbledore.
Dumbledore: What is it?
Courier: Shaving supplies.
Dumbledore: ABOUT TIME!
-Ben G.
---
Dumbledore: 'I have two doors… do you have two doors?'
-Madz
---
—Based on the Broadway hit musical, The Producers—
Dumbledore: I was never a member of the Death Eater party! I only followed orders! I had nothing to do with the war! I didn't even know there was a war on!
Max: Relax, Mr. Dumbledore, we're not from the Ministry. We're producers, Bialystock and Bloom, here to talk to you about your play.
Dumbledore: My play? You mean 'Springtime for' – 'for You-Know-Who'?
-A. Marloe
---
'Well, pardon me, Miss Parkinson… Severus…'
-Xanthe
---
Ever since his proclamation that He-Who-Must-Not-Be-Named had returned, even Albus' old friends had turned their back on him by giving him false directions to the latest Wizengamot Party.
Dumbledore: 'Hello?'
-Laura
---
Dumbledore: 'For the last time, NO! We do not need a new vacuum cleaner. I don't care how many bowling balls it can pick up! Look, go to the Burrow. I'm sure Arthur Weasley would be interested…'
-Shan
---
Pizza Commercial: 'Get the door, it's Dumbledo's.'
-Kim
---
Dumbledore: 'You can't sell my biography here! I'm not even dead in this movie!'
-Rachael
---
Upon receiving the new Half-Blood Prince script by Neil Cicierega…
Dumbledore: 'What does it mean by *is naked*…?'
-Kiera
---
Dumbledore: 'And now, I shall defeat Voldemort with my new arms!'
-P. Ruiz
---
Delivery Man: One package for a Severus Snape, if you could just sign here for the shampoo he ordered…
Dumbledore: But, he promised he wouldn't change!
-Funky D.
---
Dumbledore: 'Hmm… Violet? Black? Midnight blue? Bah, I have nothing to wear!'
-Chindu
---
In honor of Fred Weasley:
'Hi, I'm DumbleDOOR, welcome to Hogwarts! Get it?! DumbleDOOR!!'
-Steve
---
Dumbledore: Nitwit, blubber, oddment, tweak!
Harry: Wow. Dumbledore is certainly enhancing the security around here. I remember when his office password was just 'lemon drops…'
-Emily
---
Dumbledore: 'Oh, hello, captioners! Please do make me say something smart that will not make me look like a git. Thank you! Oh, look! *Bends down* My favorite. A sherbet lemon!'
-Nicole M.
---
'Have you seen my half-moon spectacles? The bags under my eyes aren't fooling viewers anymore!'
-Andrea N.
---
Dumbledore: Hello! How can I – Oh… you're a Muggle. Oh, wow. *Nervously laughing* You… you weren't supposed to ever find this place… haha. Oh, yes! Come in, come in! *Under his breath* So much paperwork will come from this…!
-Mitten
---
'You can't be the ghost of Marley! you could be a bit of underdone beef, or a bit of undigested potato.'
-Sonja
---
Dumbledore: *As he opens the door* Harry, Ginny, I'm going to need both of you to help me with – *Stops and stares*
Harry: *Off-screen* Professor!
Ginny: *Off-screen* Knock much?!
-Jill
---
Dumbledore: 'Oh, Tom, Tom, Tom. Do you really think that Transfiguring my arms into heavily-bolted doors will keep me from defeating you?'
-Susan
---
Dumbledore: 'You – shall – not – pass!'
-Amanda
---
Dumbledore: *Opens the front door at Grimmauld Place*
Mad-Eye Moody's Voice: Severus Snape?
Dumbledore: Huh?
*A body comes soaring at Dumbledore*
Dumbledore; WTF?
-Andrea
---
—Inspired by the movie Hook—-
Dumbledore: 'It's snowing!' *Shuts door*
-Person
---
As Dumbledore went for a midnight stroll to the bathroom on the third floor to bond with his Muggle knitting patterns, he came across an unexpected surprise…
Snape: *Covers himself with a towel* AAAH! DUMBLEDORE!
Dumbledore: *Backing out* Sorry, sorry! *Thinking* Huh… I never knew he bathed.
-Laura L.
---
Albus Dumbledore suggested Bouncers on the doors at the Yule Ball to keep out under-agers and imposters. He is still unsure about how he got volunteered to do the job himself…
-Emilie
---
'Darn it… one more minute and the pizza would have been free!'
-Lauren S.
---
'MINERVA! THIS IS HOGWARTS, NOT HOOTERS!'
-HolySnitch
---
Dumbledore was shocked. He, the greatest living wizard in the world, and Hogwarts with all its magical defenses, still could not keep the Jehovah's Witnesses away…
-RJ
---
*Tick tick tick*
Dumbledore: Not another pipe bomb!
Harry: *Off-screen* No, Professor, that's just the Giant Clock that mysteriously appeared in my third year.
-Cathy
---
Dumbledore: 'Alas! Heaven!'
-Allison
---
'My boggart? That would be a barber.'
-Cecilia
---
Dumbledore: …what happens in Hogwarts, stays in Hogwarts.
J.K. Rowling: You wish!
-Kryziz
---
Dumbledore: We both know there are other ways to destroy a man, Tom – oh! My arms have strangely vanished. . . Replace, please.
Voldemort: . . .
Dumbledore: But don't give me the self-strangling kind.
-Amelia
---
*Knock knock*
Dumbledore: Who is there?
Harry: Um, Dumbledore, why didn't you tell me all the things that you could have to make my journey alot less time-consuming?
Dumbledore: Um, it is our choices, Harry…
Harry: Yeah, whatever, I've heard that one before, but seriously, why?
Dumbledore: …it is our…
Harry: Shut up! Expelliarmus!
Spell: *Misses Dumbledore*
Dumbledore: Is that the only spell you know?
Harry: Go choke on a Nargle…
-Pedro and Anthony
---
'I'M BACK, BEECHAZ!'
-Julia
---
Dumbledore: 'Portal to a secret world? I don't know what you're talking about, Harry… it looks just like an old wardrobe to me…'
-Sarah
---
Dumbledore: *Walks into Professor Umbridge's office* 'Oh my! Dolores decorated this room PERFECTLY for the Haunted House we're planning this year!'
-Padfoot
---
Dumbledore: 'Holy sh-cow. HAGRID, YOUR BIRTHDAY CAKE IS HERE!'
-Rose
---
Dumbledore: 'Welcome to the Hogwarts Inn. We have bathtubs the size of swimming pools, ghosts, an excellent cooking staff, and we're in walking distance to Hogsmeade Village!'
-Theresa
---
Dumbledore: Well?
Door: 5'6".
Dumbledore: Dang it! I was so sure the Lengthening Solution would do the trick!
-Levine
---
One of these things is not like the other…
-Nate
---
Dumbledore: What the -?
Homer Simpson: *Singing* Spider-pig, Spider-pig. Does whatever Spider-pig does…
-Joakim
---
Dumbledore froze. Hogwarts had never seen such a terrible enemy: insurance companies…
-Kryziz
---
J.K. Rowling's alternate ending to Book 7:
Dumbledore: of course this is happening inside your head, Harry. In fact, your whole adventure has been inside your head, and when you wake up you won't remember any of it!
And then, Harry woke up in his bed inside the cupboard under the stairs, distinctly feeling that he had missed out on something…
-Kari
---
Dumbledore: NO… WAY…
Harry: What is it, sir?
Dumbledore: It's true! I can't believe it, Harry, look!
Harry: They're coconuts, sir.
Dumbledore: Yes, indeed they are. It seems that coconuts do migrate after all.
Harry: …
-Sarah
---
Harry: Happy birthday, Professor Dumbledore!
Dumbledore: Thank you, Harry.
Harry: Here's your present.
Dumbledore: *Opens package* A pair of thick, woolen socks?
Harry: Remember, that's what you saw in the Mirror of Erised!
Dumbledore: …
-Andrew B.
---
Dumbledore: So, you're stuck with the name Albus, too.
Albus Potter: Yes.
Dumbledore: I feel your pain.
-Gianna
---
The cover image for 'Professor Dumbledore and the Terrible, Horrible, No-Good, Very Bad Day.'
-Megan
---
'Yes, Harry, I'm going to tell you everything now… well, not EVERYTHING… I mean, if I told you everything, there wouldn't be any point to the grudge you hold against me in Book Seven, now would there?'
-Tonksadora
---
'Harry, before you go, I have one last piece of advice. When you have kids, do not name one after both Severus and I. Split them up. You may think it's a noble name, but Albus Severus Potter is just cruel.'
-Leeny
---
J.K. Rowling: *Off-screen* 'Can someone explain why Albus Dumbledore is wearing a woman's periwinkle-blue night gown? Did somebody sign on Mr. Cuaron without telling me?!'
-Elizabeth
---
Dumbledore: Goodness me, Harry! You again!
Harry: Oh, sorry, sir. I was just wondering… what if I'M a Horcrux?!
Dumbledore: Hahaha – don't be ridiculous, Harry – what a strange, ludicrous theory. *Closes doors* Darn it, Severus, he's smarter than I thoguht – onto Plan B!
Severus: We don't have a Plan B, headmaster…
Dumbledore: Darn it! Ah, well, let's amuse ourselves in these last, dark days by watching the Potter Puppet Shows on YouTube…
-Billyboy
---
Dumbledore: 'Are you telling me that after all I've done for him, Harry isn't even going to come back and graduate? The nerve!' *Slams door*
-Melanie
---
Dumbledore: 'And this has been the Hogwarts edition of Cribs. It's been fun, MTV, but seriously, now you need to leave.'
-Carey
---
Dumbledore: Velcome to my house!
Director: You're a wizard. Not a vampire. Or a snake, or a bat, or a monster which lives under the bed. Try again. Take 257,901…
-Amanda
---
*Spoof of MTV Cribs*
Dumbledore: 'Yo yo, C'mon into mah castle crib, y'all! This be the Great Hall, known to me by the G-Hall, where I do mah totally crazy speech, dawg! And this is the d-d-dungeons where the creepy S-dawg teaches the kitties 'bout mixtures. He's totally freaky, dwag. I got the big, flat screen TV up here in mah totally awesome office dawg. Look at this, I gotsa password for it, look! The password, mah idea, man. Totally awesome. All me. Yo YO! D-Dore OUT!'
-EvilTim
---
–In continuation of last week's captions–
Announcer: 'What's this? It's Albus Dumbledore, the relief pitcher for Lucius Malfoy!'
-Austin
---
Dumbledore: Harry, why didn't you tell me you're kicking me out of my own school?
Harry: Why didn't you tell me that my Potions teacher was in love with my mother? That I'm a Horcrux? That the only object I inherited from my father was one third of the Deathly Hallows? That Snape betrayed my parents to Voldemort? That I was the subject of a really depressing prophecy? That Voldemort and I are distantly related through the Peverells?!
Dumbledore: Point taken…
-Lissa
---
Dumbledore: *Opens door and hears girls screaming* 'Oops… I seem to have mistook the girl's bathroom for the Room of Requirement again…'
-Kelly
---
Dumbledore: *Walks in on Snape making out with a cardboard cutout of Lily* I'll just go…
Snape: …
-Adriel
---
'It is four in the morning and I'm in my jammies… No, you cannot film inside my bedroom for the DVD extras!'
-Matisgroupie
---
Dumbledore: Welcome, Harry… to Limbo!
Harry: Er… what?
Dumbledore: Let's take a little walk, and I'll explain the whole life and death thing…
-roXtar
---