CC #230: Week of August 26, 2007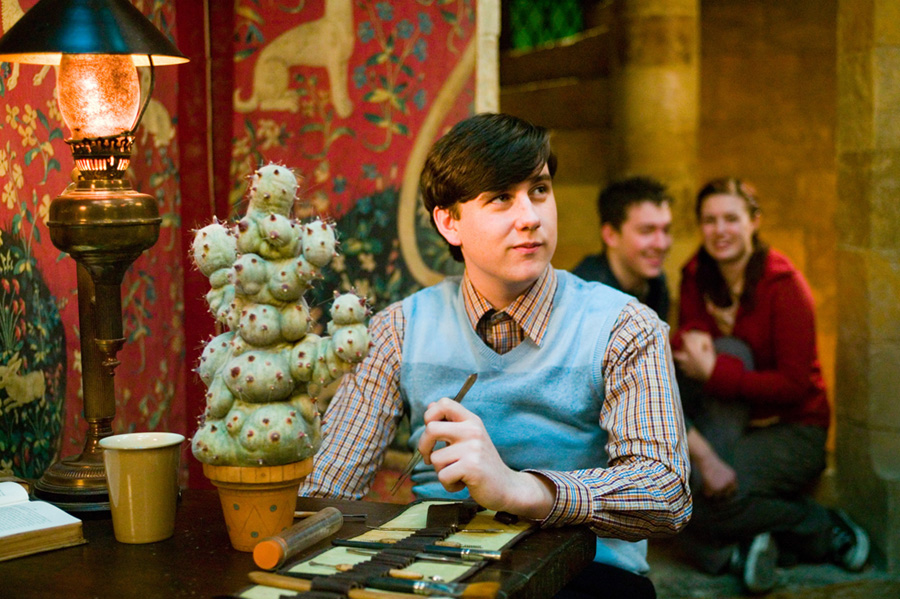 ---
⬇️⬇️ Scroll down in the below area to read all captions from this week! ⬇️⬇️
---
Girl: *In Background* 'I'm not sure what's uglier – that plant, or Longbottom's sweater vest…'
-Daniel H.
---
Neville: You're right, Mimbulus Mimbletonia, Hermione IS really pretty when she's angry…
Hermione: *Ranting about how evil Umbridge is*
-Zeldafan
---
Neville: Yes, Harry, this plant is the only way I'm remembering the password right now, because it is the password!
Harry: Well I'm glad you're remembering the password, Neville, but remember that the password changes. How will you remember the new password now?
Neville: There's a new password?!
-Brooke
---
They would pay, they would all pay! But for now, Neville merely smiled and returned to his plots of world domination, ignoring the laughter from the couple behind.
Neville: Mr. Plant, where should we strike first? …Rome? Excellent plan, Mr. Plant. *Scribbles something down*
Everyone Else: o.O…
Luna: That's crazy, even for me…
-Rachel
---
Neville: *To Mimbulus Mimbletoneia* 'Brilliant! This is the third Caption Contest in a row on MuggleNet.com that I've been a part of. Maybe now I can stop talking to a stupid plant!'
-Ksw
---
Neville Longbottom working next to his new Mimbulus Mimbletonia-inspired lava lamp.
-Marauder16
---
Neville: Yes, today in Herbology class, we have a pus-filled cactus, called the Mimbulus Mimbletonia. Yes, it is actually quite a peaceful plant…
People in Background: There he goes again acting like he's the herbology teacher. *Starts sniggering*
Neville: I heard that! And how do you know I'm not just making lesson plans for about 21 years in the future?!
People in Background: Sure, you keep on telling yourself that…
-Brooke
---
Neville: What do you mean 'illegal substances'? It's just my mimbulus mimbletonia…
Muggle Police Officer: Yeah, like I haven't heard that one before.
-Laurel
---
Professor Sprout: Oh, Neville, what amazing specimen do you have for us today?
Neville: It's called an Audrey Two…
-LSH Boy
---
Neville plays 'Operation' with a completely different gameboard and set of rules.
Neville: 'What do you think? Should I go for the funny bone next? Or the spare rib?'
-Alex
---
KID TELEVISION SPECIAL REPORT:
Introducing, the fifth Teletubbie, Mimbly Wimbly!
Accompanying him, is the recently found replacement for Mr. Rodgers, Matt Lewis. Please note the shortening of the famous sweater to a sweater VEST.
It certainly IS a beautiful day in the neighborhood!
-AFV
---
Neville: Hey, Ron? I was just about to sign some kid's copy of Deathly Hallows, and they wanted me to sign it 'the BAMF.' What's that mean?
Ron: What do you think it means?
Neville: Maybe 'Bright and Magical Friend'? I dunno…
Ron: *Snickers*
-ReallyTired
---
Neville looked defiantly around the room as if daring them to judge him for his herbisensual tendencies…
-Shana
---
Snape: Mr. Longbottom, what do you get when you mix powdered root of asphodel to an infusion of wormwood?
Neville: Your MOM!
Snape: *Facepalm*
-Ashley R.
---
Unbeknownst to many, Neville was a big fanfic writer. He shipped Boy in Background with Girl in Background and Mimbulus Mimbletonia with Plastic Cup.
-Checkers
---
Neville: 'Pepperming Chocolate Chip, thanks… 23? No, 24 scoops, please. Whipped cream? No, thanks, I don't want to appear greedy!'
-Anonimoose
---
Harry: *Off-screen* Hey, Neville, what's that?
Neville: This is my predictator primbletonia. It's gonna help me in divination.
Harry: What does it say happens in Book 7?
Neville: Let me see… I see you and Ginny Weasley together forever.
Harry: Well that's ridiculous. *Walks off*
-Megan H.
---
Plant: Yes, boy, yes, you SHALL be important to the series quite soon… all you have to do is feed me the Potter boy…
Neville: Anything! Anything!
-Twilightscalling
---
Nineteen Years Later…
Prof. Longbottom: Hullo, James… what can I do for you?
James: Er – hi, Professor, er –
Prof. Longbottom: Yes?
James: Er – M-mum er, mumsendserluv.
Prof. Longbottom: What was that?
James: *Flustered* Mum er – *sigh* Mum sends her love.
Prof. Longbottom: *Smiles* Thanks, James. Give her a kiss for me, won't you?
Scorpius Malfoy (Background Kid): Hahaha…
James: Shut it, Malfoy. You're the one that got sorted into Gryffindor.
-Angelica
---
Neville: *Thinking about Hermione*
Her eyes are as brown as a fresh pool of mud,
Her hair is as wavy as oceans.
I wish she was mine, She is truly divine.
The girl who helps me in Potions.
-Kara
---
Neville: *Thinking* What rhymes with 'Mimbulus Mimbletonia'?
-Nina
---
Return to Caption Contest Home