CC #253: Week of February 17, 2008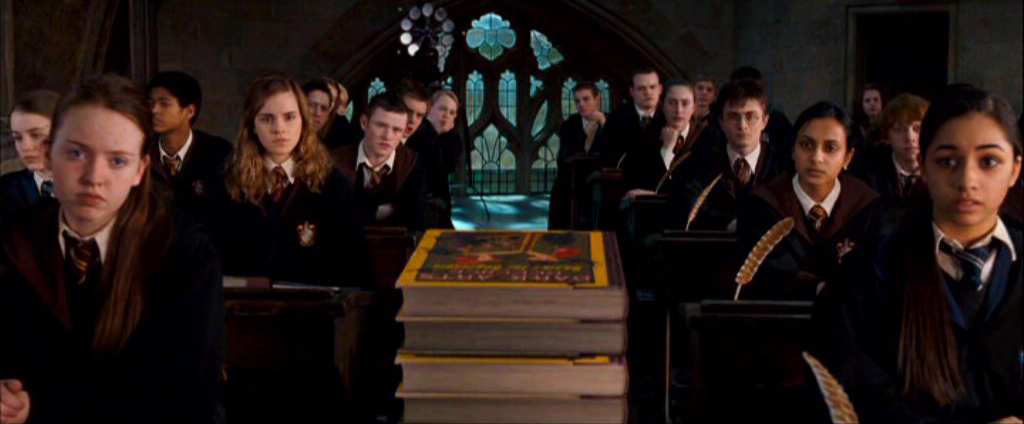 ---
⬇️⬇️ Scroll down in the below area to read all captions from this week! ⬇️⬇️
---
McGonagall: Alright, who turned Professor Umbridge into a pile of books?
Kid in Gryffindor: I did, Professor…
McGonagall: Good work, one thousand points to Gryffindor, and an Award for Services to the school.
-VampireGirl
---
When Umbridge said she was teaching them everything again, she meant it. The students watched enthralled as Gilderoy Lockhart's newest book, 123 ABC, came towards them.
-Emi
---
*Before July 21, 2007*
Dumbledore: I am presenting you each with a copy of Deathly Hallows, but you have to promise not to read them until the release date.
Harry: *Peeks at the last page of the book* 'Rocks fall, everybody dies.' What the hay?!
-Katy
---
Minister: Do you, Hermione Jean Granger, take this book, Hogwarts, A History to be your lawful wedded husband?
Hermione: I do.
Ron: *Bursts into tears in the back*
-Cara
---
Umbridge: If you stare at these books long enough, they'll start to fly around the room. They'd better be flying when I get back…
*Students start staring*
Umbridge: *Thinking* That was easy… I'm going to Starbucks.
-MyRtLe
---
Umbridge: …And now, class, we open our Ministry-approved books, that our glorious minister Cornelius Fudge picked out…
Neville: Is that – my toad?
Hermione: Whatever it is, it's got horrible fashion sense…
-Celia B.
---
Umbridge's mere presence made poor little Professor Flitwick topple off his stack of books, never to be seen again.
-Tanya
---
Harry: THE BOOKS ARE FLOATING ON THEIR OWN!!!
Hermione: Oh, come on, Harry…
Harry: What?
Hermione: You've fought mountain trolls, defeated dementors, watched extremely hot guys die, and thwarted You-Know-Who countless times! Floating books shouldn't scare you.
-Molly
---
Book: I am your teacher.
Hermione: Thank goodness – we thought we had the toad!
-VGM
---
Educational Decree #50:
Professor Umbridge (The High Inquisitor) hereby has permission to knock students out with books.
Umbridge: Now, I'm going to test your reflexes… CATCH! *Throws book at Seamus who gets knocked in the head and falls off his chair*
Harry: HEY! You can't do that!
Umbridge: Yes I can, didn't you read the Decree of the Day?
Harry: No, I didn't catch that.
Umbridge: Let's hope you catch this! *Throws book at Harry who is promptly knocked out.*
-Chloe S.
---
Harry: So, what do we do with them?
Hermione: We take one, of course!
Seamus: I'm not touching that.
Hermione: They're just books!
Harry: I don't know, they're floating there rather ominously…
Hermione: What do you suggest we do with them?
Harry: We should just keep staring at them.
Hermione: Harry, I hope that when a book series about your life is published, everyone will know you're afraid of floating books.
-Cait
---
Flitwick: *Falls off the pile of books*
Harry: Yep, that's suicide.
Seamus: No doubt.
-Chaz
---
All the heads in the classroom turn to Umbridge as the students of Hogwarts learn that the new, grammatically-correct term is, You-Know-Whom.
-Panda X-ing
---
Boy in the Back: *Thinking* Maybe she will run out of books before she gets to me…
-HPSciGurl
---
Seamus: Great! Not only did Mum force me to take this class, it's being taught by a pile of yellow books!
Pile of Books: *Did not hear Seamus' remark* Good morning, class, I am Professor Bubblegum. Now, if everyone in the class stares at me for over ten seconds, I will turn into a Muggle video game system! Now that's what I call Muggle Studies!
Class: *Stares eagerly*
-Greyback
---
Harry: What the… H4RRY P0TT3R 4ND TH3 CH4MB3R 0F CH4TSP34K?
Ron: G0t 2 k33p w1th th3 t1m3s, br0…
-Laura
---
Umbridge: Today, class, we are going to read Grimm's fairy tales because as students that's as close to danger that you will get!
Hermione: What about Fluffy the three-headed dog from our first year?
Ron: Or the Basilisk in our second year?
Neville: Or the Werewolf… oh, wait, we liked him.
Harry: Why don't you leave and bring back Professor Lupin?
Rest of the class: Yeah! Bring back Professor Lupin.
Umbridge: Silence, you little monsters…
-Kris
---
Umbridge: And here are your education without education books!
Class: *Groans*
Umbridge: Educational Decree #122, no breathing exasperatedly!
-Potter Palooza
---
As Umbridge passed out the Ministry-Approved book, Fantastic Bearded Men and Where to Find Them, the students were not surprised to see their elderly headmaster in between Santa Claus and the K.F.C. Colonel.
-Japanda
---
Seamus: Wow, look, flying books!
Harry: Wow, look, a leprechaun!
Everyone Else: *Snigger*
-Random Randomer
---
Harry: I'm Shocked…
Hermione: I knew.
Harry: You did?
Hermione: I just didn't want to hurt your pride…
Harry: I really can't believe that The Complete Idiot's Guide to Killing He-Who-Must-Not-Be-Named actually exists…
-Phyllis
---
[otw_shortcode_button href="http://www.mugglenet.com/fans-fun/crazy-caption-contest/" size="medium" icon_position="left" shape="square"]Return to Caption Contest Home[/otw_shortcode_button]