CC #254: Week of February 24, 2008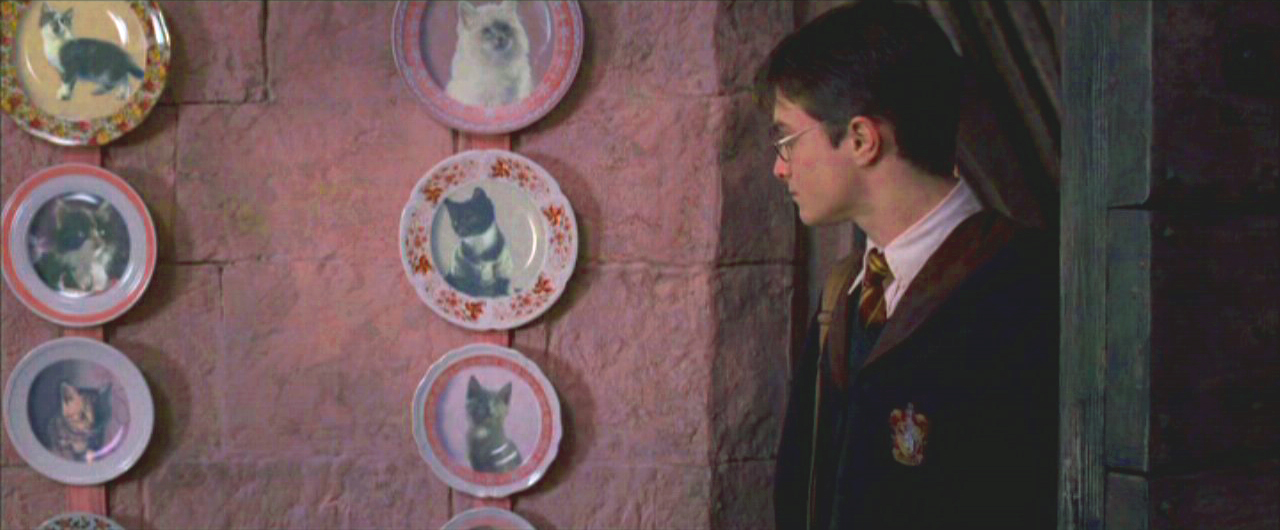 ---
⬇️⬇️ Scroll down in the below area to read all captions from this week! ⬇️⬇️
---
Harry: You called me, Professor?
Umbridge: Yes, Mr. Potter. Please sit. I have a need for you at last.
Harry: Yes?
Umbridge: My poor kittens are hungry, and you are the last ingredient I need.
Harry: I — what?
Umbridge: *Innocently* Well, Mr. Potter, have you truly never wondered what Fancy Feast was made of?
White Kitten: *Licks its lips*
-TheGnome
---
Harry discovers that there was one wall in Hogwarts that was not covered in Educational Decrees…
-Katy
---
Harry: *Singing* How much is that kitty on the pink plate? I wonder if it is for sale.
Kitty in the Middle: Don't ever do that again…
-O.N.M.
---
Harry: Aww… what cute little kitties!
Umbridge: Yes… my hypno-plates are working as planned…!
-Deathlyh
---
Black'n'White Kitten: *Sniggers* Heh, you got DETENTION, Potter!
Harry: Er, excuse me?
Black'n'White Kitten: Yeah, you heard me.
Harry: I wouldn't be talking if I were you. At least I'm not a painting of a kitten on a pink floral plate…
-AlliJim
---
Harry: *Walking into Umbridge's office* Look, it's a cat!
Ron: 'Cat' is a very easy word to rhyme with.
Harry: Well… not if you are a brat.
Ron: Wearing a hat.
Harry: Lying on a mat.
Ron: An amadavat democrat chat.
HarrY: Babysat a brat acrobat.
Ron: A fat gnat aristocrat.
Harry: Oh, nice! Where did you come up with that one?
Ron: *Glances at Umbridge* I don't know, it just came to me…
-PBJyum
---
Harry: Professor Umbridge, your kittens are really… well…
Umbridge: They're actually the souls of my vanquished foes, captured in the plate and forced to live out all eternity adorning my walls…
Harry: You know, you look incredibly gorgeous today…
-Chandler
---
After extensive research on the decorations on Umbridge's walls, Harry came to the conclusion that pink will never be quite as addicting as his own seven-book series.
-Lily D.
---
Harry: 'P-professor McGonagall? What has she done to you?!'
-Susan
---
Kitty on the Plate: *Whispers* Haaaaarrryyy Potttterrrr….
Harry: You think that's funny?
-SimplyElle
---
Kitten: *Sadly* 'Excuse me, sir. Have you seen our mittens? We can't find them anywhere!'
-The Wizard of Aud
---
Harry: Look! Cats is back on Broadway!
Hermione: This isn't Broadway, Harry.
Ron: We aren't even in America!
Harry: But it's on a broadwalkway. Does that count?
Ron: *Puzzled*
Hermione: *Rolls eyes* Why would there be a broad walkway in here?
*Umbridge waddles in*
Harry: That's why.
-ShunTheNonCanonShip!
---
Tour Guide: Welcome to Professor Umbridge's room, where it's Cat-urday everyday!
Harry: NOOOO!!!
-Max
---
Harry: 'Ever get the feeling that these plates were once students?'
-Sam
---
Harry: *Thinking* Stupid kitten plates. You'd think a demon-teacher like Umbridge would have Medieval torture devices in her office, but nooo. She has cutesy kitten plates…
White Kitten: *With German accent* I vil take over zee vorld von day, and ven I du, zee boy who lived vil have zee pleziere of being my futstul. VWAHAHA!!
Black-and-White Kitten: *Also with German accent*Zen ve vil party, and he vil be zee pinyata. Raise de ruf!!
-Minni
---
Umbridge's newest torture method:
Harry: *Walks into office for detention*
Umbridge: You must stay in my office for two hours. *Leaves office*
Harry: *Thinking* Hey, this isn't so bad.
Cat Plates: Meow, meow, meow, meow. Meow, meow, meow, meow. Mee-ow, mee-ow, meeee-yow!
Harry: NO! Not the Meo Mix cat food jingle!
Cat Plates: Meow, meow, meow, meow…
-Berts
---
Needless to say, the argument between Harry and the kitten soon turned ugly…
Kitten: Well, I'm just saying your logic is a little spotty, if you catch my meaning.
Harry: Yes, your remarks seem a little plated I noticed.
Kitten: Why… are you suggesting that what I'm saying has a blemish to it?
Harry: No, I'm just saying that what you just said was a little dishy is all…
-Sadie
---
Harry: *Thinking* I wonder what would happen if you poured milk onto the plates…
-Gordon Muir
---
Harry: *To kittens* 'If you don't stop staring at me, I am going to start an Ultimate Frisbee League.'
-Jakobman
---