CC #271: Week of June 29, 2008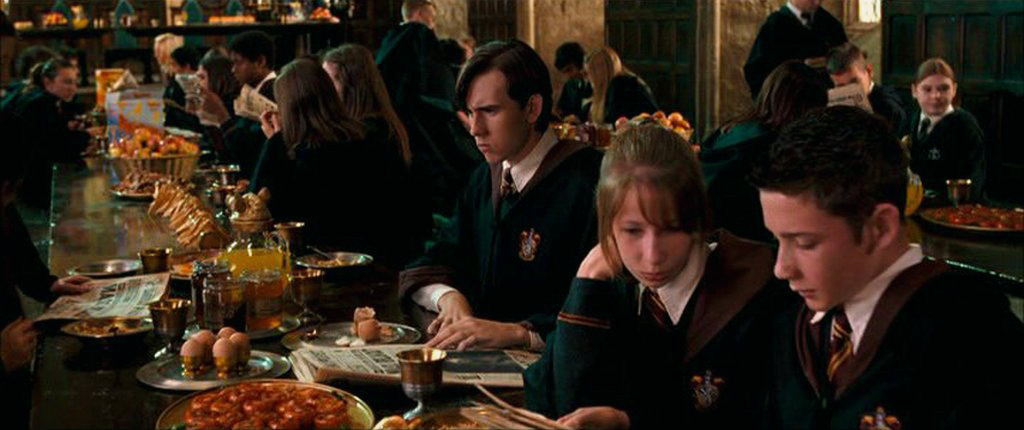 ---
⬇️⬇️ Scroll down in the below area to read all captions from this week! ⬇️⬇️
---
Neville: *Thinking* Okay… okay. I can do this. The pointy one is the fork, right? No, wait… that's the knife! But – which one's the spoon? Ah, this is so frustrating!
-Kaity V.
---
Neville: But, I don't understand… if the prophecy could have indicated me or Harry, and You-Know-Who had chosen me, would I be the one with tons of fangirls and endless glory? Why was it that He-Who-Must-Not-Be-Named chose Harry?
*Flashback*
J.K. Rowling: How about Neville Longbottom and the Philosopher's Stone? No, 'Longbottom' doesn't have that snappy hero-type ring to it. Nope, sounds more like a forgetful Herbology whiz with no girlfriend to me…
Neville: *Facepalm*
-Esooram
---
'I fear Professor Snape, but yet I can't stop thinking about how alluring he looked in Gran's dress and hat…'
-Rich
---
Neville: 'Did I leave the common room fireplace on?'
-Courtney
---
Neville: *Thinking* I did not just say that she reminds me of my Mimbulus mimbletonia.
Girl: *Thinking* He did not just say that I remind him of his lumpy pet plant thing…
-Cara
---
Neville: My spider sense is tingling!
-Kate
---
Harry: Neville, are you alright?
Neville: Shh! Staring contest, must concentrate.
Hermione: Neville?
Neville: *Eyes water and he finally gives in to blinking* DANG IT! Curse you, eggs!
Ron: I know the House-Elves are just trying to be cheery, but maybe smiley face breakfasts aren't the best idea…
-Laurel
---
Girl: *Thinking* Oh my gosh, is that a Mimbulus mimbletonia in his bag? I would kill to get my hands on one of those! I wonder if he would let me set off its defense mechanisms, or examine it closely at least!
Neville: *Thinking* Is that an 'I Love Mimbulus mimbletonias!' badge on her cloak?! I think I'm in love!
-Cara
---
Cho: *Walks up to Neville* Hi. Neville Longbottom, is it?
Neville: Uhh, yes. That's me.
Cho: I just wanted to say that it was really brave the way you stood up to You-Know-Who.
Neville: Oh.. um… thanks…
Cho: I was wondering if you wanted to have tea with me later.
Neville: Umm… sure… sure, yeah, sounds great.
Cho: Great! See you. *Walks away*
Neville: *Thinking* What just happened?
-Alyssa
---
It took Neville a while to realize that he'd been hit with an Embarassing Hairstyle Curse.
-Sam
---
Neville: 'Hold on one moment… I don't know any of these people, do I? And I'm pretty sure that egg I just ate was made of plastic… Gosh, this place feels like some sort of movie set sometimes…'
-Sophie
---
Another of Neville's random thoughts…
'…Can the Gummi Worms really live in peace with the Cockroach Clusters?'
-TenorSpaz
---
Neville: *To himself* Okay. I'm handsome, have a long, tragic past, challenged You-Know-Who himself, visited the Department of Mysteries, and staged a mutiny against Snape when he was Headmaster. So why won't any girl go out with me? *To the girl next to him* Melissa, will you go out with me?
Melissa: Do you have a scar on your forehead?
Neville: Um, no. But I have fought Bellatrix Lestrange and survived.
Melissa: No.
Neville: Oh, okay…
*An eleven-year-old with braces, badly-combed hair and a lisp appears*
11yr Old: Melitha, will you go out with me?
Melissa: Do you have a scar on your forehead?
11yr Old: Yeth. *Points to a badly-made and obviously forged scar painted on his forehead*
Melissa: Sure.
*Together, they leave the Great Hall.*
Neville: *Sigh* …I hate Fred and George's joke scars…
-Liongold
---
Neville soon realized it was futile to perform Legilimency on his pumpkin juice.
-Maggie
---
Neville: *Muttering to himself* Oh my gosh, I said 'What if I can influence the future?' And now it happens, I said 'What if my egg breaks?' And it broke. Last week I said, 'What if Bellatrix breaks out of Azkaban?' And she did. What if I lose this incredibly awesome power? …Aw, #*$(!
-Alia
---
Neville finally remembered what he had forgotten all those years ago when he first got his Remembrall…
Neville: 'Shoot – my underwear!'
-LillyXPotter1
---
Even after thinking it over for three hours, Neville still couldn't figure out how Half-Blood Prince is at all like Trainspotting.
-Sam
---
Neville: This is getting ridiculous! I can't even remember where I put my Remembrall!
Ron: Did you check the hidden pocket in your robes?
Neville: How do you DO that?! You always know where to look!
Ron: …That's because it's always in the same pocket. Every time.
-Brittany F.
---
*Inside Neville's Head*
L = 31
pi to the square root of %12 + 8 over 1,468,254,590 { 20 – 9 x $5,678.34 [ 86,684L] = #x…..
-Brit Girl
---