CC #288: Week of February 15, 2009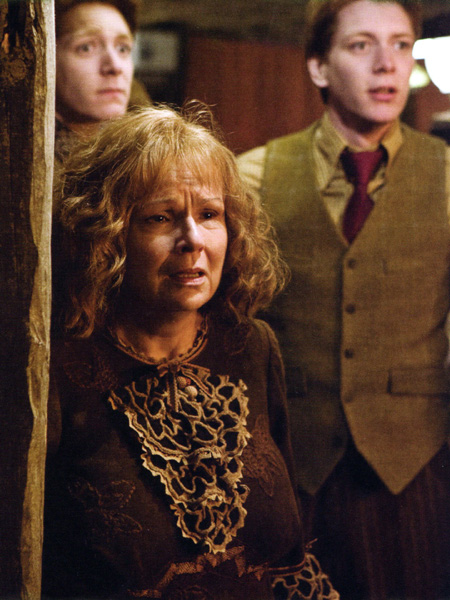 ---
⬇️⬇️ Scroll down in the below area to read all captions from this week! ⬇️⬇️
---
Mrs. Weasley: Arthur, I told you something horrible would happen if you kept enchanting Muggle things!
Fred: Ouch. Poor Dad…
George: Never saw that blender coming…
-Lizzy
---
Molly: 'Those Death Eaters are ruining my garden!'
-Sam
---
Fred: Was that a flying DeLorean that just crashed into our barn?
Molly: No, just a flying Ford Anglia.
-Torrance K.
---
George: Ginny was right!
Fred: Ron does have a Pygmy Puff tattoo!
Molly: Oh, I hope it's washable!
-Laura
---
Fred: *Thinking* Oh, great, Mom won't be happy about this.
George: *Thinking* At least she's attractive.
Mrs. Weasley: *Thinking* I can't believe it! Fleur Delacour! My son is proposing to that Frenchie!
-Hermione the II
---
George: That new Wizard Wheezes hairspray is brilliant!
Mrs. Weasley: *From next room* AAAGGGHH MY HAIR!
Fred: Run!
-Sumzabot
---
Molly: 'Oh, look! All of the gnomes are trying to kiss the angel off the top of our Christmas tree!'
-Mima
---
Molly: Ooooh! It's three o'clock in the morning, you would think that the Lovegoods would pick a better time to practice their Crumple-Horned Snorcack mating calls!
Fred: It's not that bad, Mum, I think they're beginning to tune up and harmonize a bit.
George: Yeah… I just wish they would put their robes back on.
-ErisedStraeh
---
Fred: Woah. This was not what I thought it would be.
George: I thought this was supposed to be about raising horses. I didn't see that one coming.
Molly: We should definitely read the synopsis before going to see one of Harry's Broadway plays.
-Lily
---
Mrs. Weasley: What happened, Ron?
Ron: It was him, Mom, the one they speak of… the one with the long black hair, spooky eyes, and crooked nose! He was here, Mom! Michael Jackson was in my room!
-Mandy
---
–Inspired by Bartholomew's caption last week–
Fred: *Head pops up* It comes in pints?
George: *Head pops up* It comes in pints?
Mrs. Weasley: *Head pops up* It comes in pints?!
Random Chorus: *Pop up* IT COMES IN PINTS!
*Random dance number*
Harry: …I can't believe they changed it into a musical…
-Shockapopolis
---
Bellatrix's Boggart.
-SallyandCailyn
---
Molly: KHHHAAAANNNN!!!!!
Fred: Uh, Mum, wrong movie.
Molly: VOLDEEEEMOOORRRTTT!!!!
-Sam
---
That night, Mrs. Weasley realized that when he was saying 'Avada Kedavra', what he meant was, 'I love you.'
-Lilly
---
James: Oliver, the emotion card says 'astounded and a little horrified,' not 'old guy who wants to look cute and helpless but ends up looking really creepy.'
Oliver: Every one's a critic.
-Alecto
---
Mrs. Weasley: *Opens door*
Voldemort: A, B, C, D, E, F, G, I will kill your family!
Everyone: …
Voldemort: …JK, JK!
-Hayley W.
---