CC #289: Week of February 22, 2009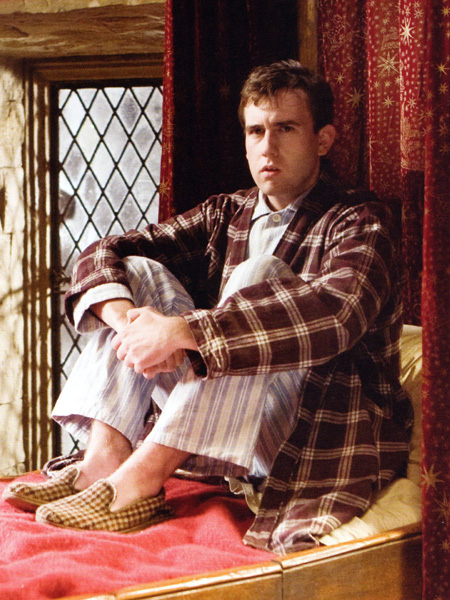 ---
⬇️⬇️ Scroll down in the below area to read all captions from this week! ⬇️⬇️
---
Neville: *Thinking* Hmm… so, if the spell acts as a sort of magical net, and I use my Patronus to herd him into it, I can FINALLY catch that invisible man who stole my lollipop in Year Three!
-Burninghands
---
Neville: *Thinking* I knew I shouldn't have bought this House-Elf bed to sleep in. It may have been the right size when I was eleven but it is much too small now. I suppose I'll just have to sleep sitting up…
-Juni W.
---
Neville: *In a Scottish accent* 'The name's Longbottom, Neville Longbottom.'
-Rick A.
---
Next up – Neville Longbottom, sporting his new line of 'I am a Grumpy Old Man' clothing range…
-Becky
---
Neville contemplates his obsession with plaid.
-Cara
---
Neville: *Thinking* My love for Hannah is boundless, but how will I tell the others I'm in love with a minor character?
-Sam
---
Ron: *Off-screen* NEVILLE!
Ron: *Flustered* Oh, is this your bed? I got confused, sorry…
Ron: No, not that! Your plaids don't match!
-Matt
---
'How DARE you say my slippers look like a zebra dipped in mustard!'
-Andie
---
Neville: *Reads CCC News* 'Yes! I'm finally taller than I am wide!'
-Katie
---
Neville's pants didn't get the 'plaid' memo.
-Corii
---
Neville: 'As Tim Gunn would say, I have a whole lotta outfit.'
-Michelle
---
Snape: There's nothing more toxic or deadly than a human child. A single touch could kill you. Leave a door open, and one can walk right into this factory; right into the monster world.
Neville: Um… Professor? I think you are wildly confused…
-Lnzucke
---
Neville: *Sarcastically* Thanks a lot, Trevor.
Trevor: Ribbet.
Neville: I really wanted that candy bar.
Trever: Ka-blurp….
Neville: It's not fair how my only friend is a frog.
Trevor: You think I'm your friend?
-Juni W.
---
Slippers from Payless Shoes: $15
Robe from JC Penny: $25
Cutting off Nagini's head: Priceless…
-Biff
---
Harry: Neville, you haven't moved from your bed in two days. I think it's time to go back to class.
Neville: *Shaking* I can't. Trevor's under my bed and if I step on the ground, he'll bite my ankles off.
Harry: O-kaaaaaaay….
-Golden-Flute
---
Dan Radcliffe: Matt? What's wrong?
Matt Lewis: I was thinking… is it just me, or do the costumers go out of their way to make sure I don't match? I mean, this is how I always pictured Ron looking!
-Lily
---
Hermione: Poor Neville.
Harry: Because he's lonely, and he looks scared?
Hermione: No. Because he can't remember what he's forgotten.
-KreachersCute
---
Nagini's Boggart.
-zzz
---
This is how Neville poses when he's doing photo shoots for Shy Wizard Monthly… Before the screaming fangirls squee in delight.
-Marie
---
'I can't believe I signed that contract that said I wouldn't threaten, hurt, terrorize, brutally murder or in any other way harm the costume department!'
-Cabby
---
Neville: 'What do you mean, "those aren't men's shoes"?'
-Martholemu
---
Neville had no idea he suffered from OPD – obsessive pattern disorder.
-ethel_T
---
Harry enters the room and sees Neville.
Harry: What are you doing, Neville?
Neville: Brooding.
Harry: …Huh?
Neville: WHY ARE YOU ALWAYS THE ONE WHO'S ALWAYS ANGSTY? I'M THE ONE WHO'S NEVER BEEN KISSED, I'M THE ONE WITHOUT FRIENDS, I'M THE ONE WHO'S FLUNKING OUT OF SCHOOL, I'M THE ONE THE COSTUME DEPARTMENT KEEPS DRESSING IN F***ING PLAID AND STRIPES! WHAT THE H***, HARRY?! wHAT THE H***?
Harry: …Okay. Well, I'm just going to completely ignore you now like I always do, even though you could totally beat me up now, 'kay? Good. Bye.
Nevile: Okay. Bye.
The fact is, the scripts are getting harder to write with every book.
-Kaatje
---
Neville throws all cautions to the winds and makes an attempt at Metacognition: Thinking About Thinking.
-ErisedStraeh
---
Due to his failing Potions grades, the only way Neville could persuade Snape to pass him was to pose for Snape's painting titled, 'Soft Pajamas on a Sweet Sunday Morning.'
-potter_fanatic
---
Neville: 'Either this is a very small bed, or I am a very large boy…'
-Jessica
---
Neville: 'I can't believe it! House M.D. correctly diagnosed my Hippogriffpox, and even cured my memory problems! I wonder if he's secretly… British?'
-FNOwl
---
Harry: What's wrong, Neville?
Neville: My parents are insane, my life sucks, I can't hold down a girlfriend, and I'm surrounded by $%#)n goblins and $#%* all the time. I mean, what the @#%@!
-Emily
---
'So… Dumbledore's dead. Well, that's a shame. He hadn't had a chance to write my job recommendation yet…'
-SaSa
---
Professor material.
-Rodrigues
---
'I swear, I still don't get why Harry and Ron insist on having these naked wrestling matches in the middle of the dormitory.'
-Essence T
---
Neville Longbottom and the Terrible, Horrible, No Good, Very Bad Day.
-Alisa
---
Neville: 'Tonight, on Masterpiece Theatre…'
-The Flying Squirrel
---
Neville: *Musing* 'It could have been… Neville Longbottom and the Philosopher's Stone, Neville Longbottom and the Chamber of Secrets, Neville Longbottom and the Prisoner of Azkaban. Neville Longbottom and the Goblet of — wait a minute, no it couldn't have. I'd have never finished the first book!'
-Flairstar
---
Hermione: I'm sorry, Neville, but I have to do this… Styllus Sensia.
Neville: *Looks around* What did that do? *Sees pajamas* Eee! I have to change. Please excuse me.
Hermione: That's exactly what it did.
-toomanycurls
---