CC #292: Week of March 15, 2009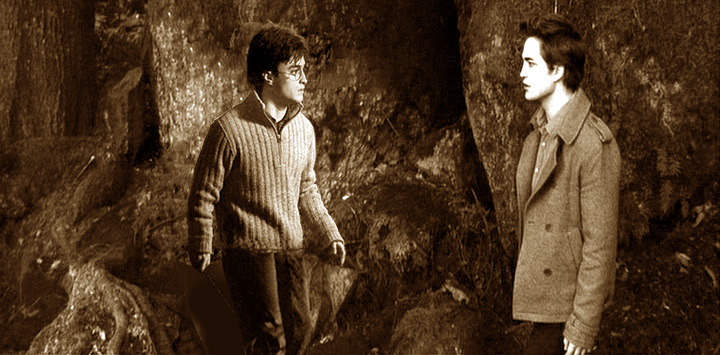 ---
⬇️⬇️ Scroll down in the below area to read all captions from this week! ⬇️⬇️
---
Harry: Cedric, you're alive!
Cedric/Edward: I'm not alive. I'm a vampire. And the fangirls like me more now.
Harry: Bite me.
Cedric/Edward: Oh, that is so clever.
Harry: No, I'm serious.
-Sam
---
Harry: She's only interested in you because she thinks you're a hot vampire!
Edward: But I am a hot vampire!
Harry: *Smacks Edward*
-Adam
---
Edward Cullen: You have a wand… and ride on a broomstick… I know what you are…
Harry: Say it… out loud…
Edward Cullen: …Wizard.
Harry: Are you afraid?
Edward: …No.
-ABCD
---
Edward: And so the lion fell in love with the lamb…
Harry: Whoa! What is wrong with you?
Edward: *Turns around* What are you doing here? Where's Bella?
Harry: You mixed up the sets. We are trying to film Deathly Hallows.
Edward: 'Deathly Hallows'? That sounds dangerous. I better go stalk down Bella and make sure she is safe.
Harry: I last saw her eating ice cream. She's safe.
Edward: Safe?! What are you talking about? She'll probably get a massive brain freeze and end up in the hospital! I'll never forgive myself for letting her out of my sight. BELLA! *Runs off set*
-potter_fanatic
---
Harry: Your skin is pale white and ice cold… I know what you are, Ginny, you're the love of my life!
Edward: Harry, it's me, Edward. We're in the middle of the Forbidden Forest.
Harry: Oh, sorry Edward. I've had these glasses since I was 11 and I don't get my new prescription until Tuesday…
-tonksrocks
---
Harry: But don't you see, Edward? I don't care about Voldemort anymore. My new target is you…
Edward: Are you afraid?
Harry: Only of losing my place at the top of the best-sellers list…
-bluegoblin
---
Harry: So, how does it feel being a pasty loser who can't kiss your girlfriend without worrying that you'll kill her?
Edward: At least I'm not wearing that outfit.
-Sam
---
Harry: I have a fast broom.
Edward: I can run faster than you fly.
Harry: I'm loved by most people at my school.
Edward: I'm loved by everyone at my school and I have no scar on my forehead.
Harry: …at least the werewolf I know didn't imprint on my child!
Edward: …you win.
Harry: I always win.
-Kendrizzlelala
---
Harry: 'Cedric? You look… shiny.'
-Bellatrix the Strange
---
Harry: Cedric! I thought you died.
Edward: Nope, Voldemort just turned me into the next teen idol.
Harry: Harsh…
-FCRcom
---
Harry: Cedric? But you died!
Cedric: Actually, I was ALMOST dead but a vampire named Carlisle bit me and asked me to change my name to 'Edward'.
Harry: Do you realize how much angst and therapy I went through because of you?!
Cedric: I know; I even heard you screaming my name when I was watching you sleep.
Harry: …You gotta stop watching people sleeping.
-Isla_of_Hufflepuff
---
Cedric: So. How is it that you – a skinny boy with no extraordinary acting talent – managed to defeat the greatest actor of all time? How did you escape with nothing but eight movies, while Robert Pattinson's powers were destroyed?
Harry: Why do you care how I escaped? Pattinson was after your time…
Cedric: Pattinson is my past, present and future, Harry Potter…
*Cedric pulls Harry's wand from his pocket and begins to trace it through the air, writing two shimmering words*
ROBERT PATTINSON
*Then, Cedric waves the wand once, and the letters of his name rearrange themselves*
POTTER IS NOT BRAN
Harry: Um… so?
Cedric: You know, that made alot more sense in my head…
-David
---
Harry: For the record, are you sure Snape isn't one of your kind?
Edward: Yes, for the last time! That fan theory was always stupid!
-Sam
---
Harry: You may have the looks, but I still have the angst!
Cedric: True. But you're only angsty over my death.
Harry: …………Damn.
-Mr. Moony
---
Harry is momentarily stunned by someone who actually knows how to dress like a pro.
-roflbombers
---
Memories, all alone in the moonlight!
-Eli
---
Edward Cullen: 'Hi, I'm Edward Cullen. Hotter than you since 1901.'
-ILoveEddie
---
Harry: Oh… wow… Cedric are you okay?
Cedric: *Looks confused* yes, why wouldn't I be?
Harry: It's just that Dumbledore told me about your new secret identity as Edward Cullen, and about you being a vampire…
Cedric: You're joking! I thought this was the Fourth Task?!
-Emily H.
---
Edward: Why are you staring at me?
Harry: Er…
Edward: Is it because I am so dazzlingly beautiful? Is it because I sparkle and my deathly pale skin is giving off an eerie, luminescent glow? Is it because you know I'm a deadly dangerous immortal who could kill you easily?
Harry: No, you have something on your shirt.
-The Joker
---
Harry: *Awkwardly* 'So…. you weren't dead yet when I whispered how I've loved you all my life… in your ear?'
-the.emergency
---
Harry: You've got Bella.
Edward: You've got Ginny.
Both: *Desperately* Trade?
-Lunabella
---
Edward: *Sparkling* Harry… THIS is the skin of a killer…
Harry: *Stifles laughter*
-WizardofAud
---
Harry: So this Jacob Black guy is a werewolf?
Cedric/Edward: That's right. Which reminds me, there's something you need to know about Sirius and Lupin…
-Sam
---
Harry: I am a moody, angsty teenage orphan with a hero complex and a habit of putting the people I love in danger!
Edward: *Stares* Are we related?
-QueenOfMockery
---
About three things Harry was absolutely positive. First, Edward was a vampire. Second, there was a part of Edward, and he didn't know how dominant that part might be, that thirsted for his blood. And third, that he was unconditionally and irrevocably in love with him.
-Miranda
---
Harry: All the girls want us!
Edward: Yeah, too bad you're a fictional character.
Harry: What does that make you…?
Edward: I'm in two movies, I'm every girl's imaginary boyfriend, that makes me pretty real!
-Carrie
---
What Hollywood sees when it looks in the Mirror of Erised.
-Maclia
---
Harry Potter and the Undead Prince
-Priya
---
Harry: 'Are you hiding from fangirls, too?'
-Donna
---
Harry: So you're the one taking all my fans.
Edward: And you're the one I hear Bella mumbling about in her sleep.
Bella: Oh, darn…
-Shani
---
Both: 'What are you doing here, Freak?'
-AJ
---
Edward: Potter.
Harry: Diggory.
Edward: Strang.
Harry: Cullen.
Edward: Radclife.
Harry: Pattinson.
*The longest evil stare, and then…*
Edward: Got any more names?
Harry: Nope, you?
Edward: No.
*Pause*
Harry: Um… I better get going, you know, Horcruxes to find.
Edward: Yeah! Uh, me too. I mean, I've got to go as well. Got to track a vengeful vampire from eating my girlfriend.
Harry: Right.
Edward: Right. Best of luck!
Harry: Yeah! Same to you!
-Gabsalot
---
Edward: Ahh, bask in my increadible hottness.
Harry: Well, I can't bask in your spelling, that's for sure.
Edward: OMG!!!
-Mills
---
Edward: *Timidly* Harry, are you coming to give me a hug?
Harry: No, I'm deciding whether to curse you, hex you, or punch you in the nose.
Edward: But it might scare the caterpillars of my face!
Harry: That's the point.
-Dobby's Sock
---
Harry: 'Cedric?! …Wow… plot twist.'
-Alexandra
---
Harry knew it was another one of those messed up cross-over fanfictions.
Harry: Harward Culter?
Edward: No. Eddy Pullen.
Harry: …
-Mr. Prongs
---
Edward: 'Bella? Did you get a haircut?'
-Jenny Wood
---
Harry: Edward Cullen?! Are you the silver doe?
Edward: Uh… about that… *licks lips*
-Potter for Minister
---
Harry: Who… who are you?
Edward Cullen: Don't you recognize me? *speaking British* You know the prefects' bathroom on the 5th floor? It's not a bad place for a bath…
Harry: No… sorry, doesn't ring a bell.
Edward: *Smiles, nearly blinding Harry*
Harry: CEDRIC!
-Becca
---
Harry: 'Forget it. I'm not joining "Team Edward".'
-Tyler
---
The battle for supremacy continues..
Edward Cullen: Paper!
Harry Potter: Scissors!
Edward Cullen: Best two out of three!
-Vandallicious
---
Edward: These aren't the droids you are looking for. *Waves hand in weird manner*
Harry: Dang, the Jedi/Starwars phase again.
-Twitch234
---
Harry: 'Cedric, RUN! The sepia is attacking!'
-Golden-Flute
---
Harry: I have more fangirls!
Edward: I have more fangirls!
Oliver Wood: I think I can settle this. *Steps around corner and smiles*
Fangirls: OLIVER WOOD! *Rush the set*
Harry and Edward: ……
-Wolf of West
---
Harry: I know what you are. You're impossibly fast, and strong… your skin is pale white and ice cold…
Edward: Say it! Out loud. Say it.
Harry: Polar Bear.
-potter_fanatic
---
Harry: Holy crap! Ce-?
Edward: You think I'm Cedric, a boy who went to your school and was killed right in front of you, right? Well, from the picture in your head, I can certainly see the resemblance but, in fact, I am much older and paler than this Cedric person.
Harry: So… you can –
Edward: Read minds.
Harry: Huh. That's –
Edward: Annoying?
Harry: Hey, you said it, pal. Not me.
-Harriet the Witch
---
Harry: Cedric?! …crap. I'm dead again, aren't I?
Edward: Let me check> *Inhales* Oh my God you smell even better than Bella.
Harry: …
-RaeLynn
---
Harry: I know what you are.
Edward: Say it, out loud.
Harry: The mascot for 'The Coat Factory'!
Edward: …
-RV
---
Harry: Nice Coat…
Cedric: Oh, thanks. It's a Stephenie Meyer original.
-Jennifer M.
---
Edward: Thanks again for letting me borrow that baby name book.
Harry: Anytime.
-Flobberworm
---
The International Convention of Magical Men in Need of Fan Girl Protection.
-Kara
---
The first official meeting of the Angsty English Boys with Bushy Eyebrows Society.
-Tenorspaz
---