CC #293: Week of March 22, 2009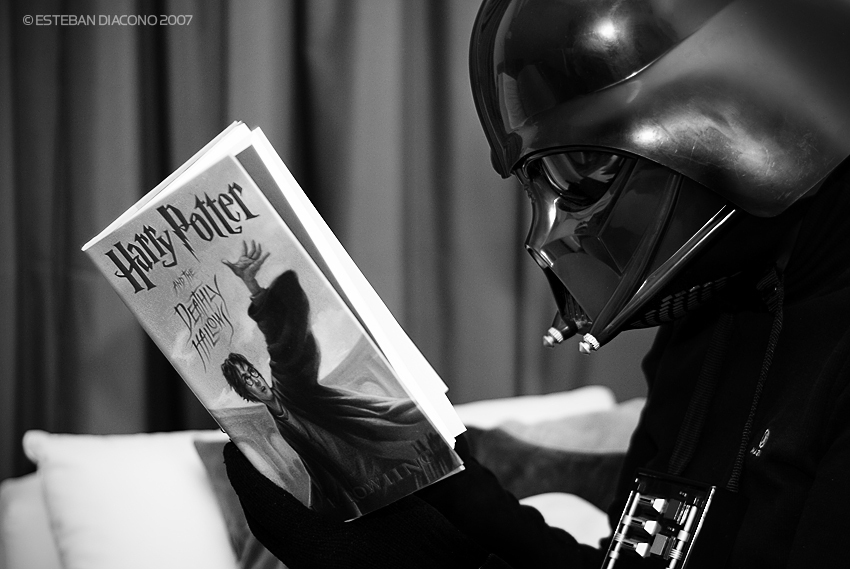 ---
⬇️⬇️ Scroll down in the below area to read all captions from this week! ⬇️⬇️
---
Vader: 'Argh! Snape was good after all? That means I lost my bet with Captain Needa… I'll have to find an excuse to strangle him…'
-Reebus
---
Darth Vader: Horcruxes… that sounds like an excellent idea!
Luke Skywalker: *Off-screen* Don't even think about it!
-Ginny-was-here
---
Vader: *Inner-monologue* I would have made Voldemort Harry's real father… I mean, that's a really good plot twist if you ask me.
-Jordan
---
Vader: 'Wow, he makes being The Chosen One look easy.'
-Priya
---
'NO! Harry, don't go into the forest. No, you'll die! NOO!!!'
-Kodi
---
Vader: 'Dobby is… dead? NOO! Why does everyone I love leave me?'
-Hannah17
---
Vader: *Thinking* I don't get why people think Harry's angst is so annoying. He's no worse than I was at that age.
-Sam
---
Vader: 'This book is pointless to resist!'
-NotSnape
---
Guard: Lord Vader, the Emperor has arrived and –
Vader: *Stretches a hand to silence the guard* No-one interrupts me mid-chapter!
-Winchiwitch
---
Severus Snape: Are you a Veela?
Lily Evans: What?
Severus Snape: A Veela. The're the most beautiful creatures in the universe. They live in Romania, I think.
Lily Evans: You're a funny little boy. How do you know so much?
Severus Snape: I listen to all the potioneers who come through here. I'm a potioneer, you know.
Lily Evans: You're a potioneer?
Severus Snape: Mmhm. All my life.
Lily Evans: How long have you been here?
Severus Snape: Since I was very little. My mom married my dad even though he wasn't a wizard, so he wanted to live here.
Lily Evans: You're a wizard?
Severus Snape: I'm a person and my name is Severus!
Vader: *Closes the book* How moving.
-Saffron
---
Vader: WHAT?
pause
Vader: 'Nineteen years later'?
-Tragicourt
---
Darth Vader was disappointed with how misleading the cover was – he was fully expecting Harry to use the Force.
-Adam
---
Vader: *thinking* Why doesn't this Voldemort guy just use Force lightning?
-Sam
---
'So that's why Tom hasn't been answering my phone calls…'
-LoonyLoopyLupin
---
Vader: 'Really? Scorpius? Even I think that's cruel and my mother named me Anakin.'
-Sam
---
Darth Vader might be the Evil leader of the entire galaxy, but that does not shield him from spoilers.
Vader: *Quickly reads* 'Blast it! Yoda was right. Harry is a Horcrux. How did I not see it?'
-eowynlotr08
---
*Door opens, Vader quickly puts DH away*
Imperial Soldier: We got them, sir.
Vader: Good. Did you see anything in here?
Imperial Soldier: No, I didn't see you reading Harry Potter and the Deathly Hallows again, sir. *Leaves*
Vader: …
-Rick
---
What happens at Comic Con stays at Comic Con.
-Mythril Dragon
---
Vader: *Reading confrontation in the Forbidden Forest* 'HAHAHAHA. Who's your daddy now, Potter?'
-Delilah Bloom
---
Vader: 'All is well?! *Puts book down, presses intercom* General! Get me the coordinates for Earth.'
-Ttrek20
---
Vader: 'This is ridiculous! Lord Voldemort killed that Potter boy fair and square! This Ms. Rowling is Dark Lordist!'
-Windchiwitch
---
The first time he read the series, Darth Vader justified his actions by reminding himself that it's a good idea to know one's competition. The 5 readings which followed were slightly harder to justify.'
-toomanycurls
---
Darth Vader: *Laughs to himself* 'Hufflepuff.' *Laughs again*
-Jennifer M.
---
Vader: Voldemort is Harry's father, I'm sure of it!
Emperor: Quit projecting.
-Biff
---
Darth Vader: This is good… but I could take Voldemort. He sounds like a bit of a pansy.
Voldemort: *Off-screen* Really?
Vader: *Without looking up* Yeah, he isn't much good in the final fight. He just gets his butt handed to him by a teenager.
Voldemort: And that's different from you how?
Vader: Well, technically –
Voldemort: Oh shut up!
-Mike V.
---
Luke Skywalker: The Harry Potter hype won't last long after the seventh movie, you know?
Darth Vader: I find your lack of faith disturbing.
-Emily
---
Darth Vader: Hey! Where's that part that Luke told me about? The part where I kill Harry Potter, take over the world, and rename the planet 'Darth Vader's Playhouse'?
Luke Skywalker: *Later, to C-3PO* So then, I told him that after Hermione gets captured in the black lake, he kills Harry Potter, takes over the world and renames the planet 'Darth Vader's Playhouse'!
-Lunabella
---
Darth Vader: 'This book is so exciting, my underpants have gone over to the Dark Side.'
-SallyandCailyn
---
Darth Vader had finally realized why good guys always won… it was the hair.
-Marcina
---
The What-Not-to-Do Handbook for Supervillains.
-Reebus
---
Come to the Dark Side. We have Book Seven!
-Erock
---
Vader: *Reading* NOT MY DAUGHTER, YOU B*#($… 'Heck yes! God, I wish marrying Molly Weasley wouldn't cause so many plot twists…'
-WazlibIsOurKing
---
Emperor: Lord Vader.
Vader: One moment, Your Highness.
Emperor: Lord Vader! You have been here, in this room, with your nose in that book since it was released!
Vader: Just one more chapter…
Emperor: You call yourself a Sith? Sith masters do NOT read books about the triumph of good!
Vader: Don't worry, Master, I'm rooting for the Dark Lord.
Emperor: …
-GrayLady
---
Quite possibly the weirdest episode of Where Are They Now? ever.
-Alecto
---