CC #305: Week of July 26, 2009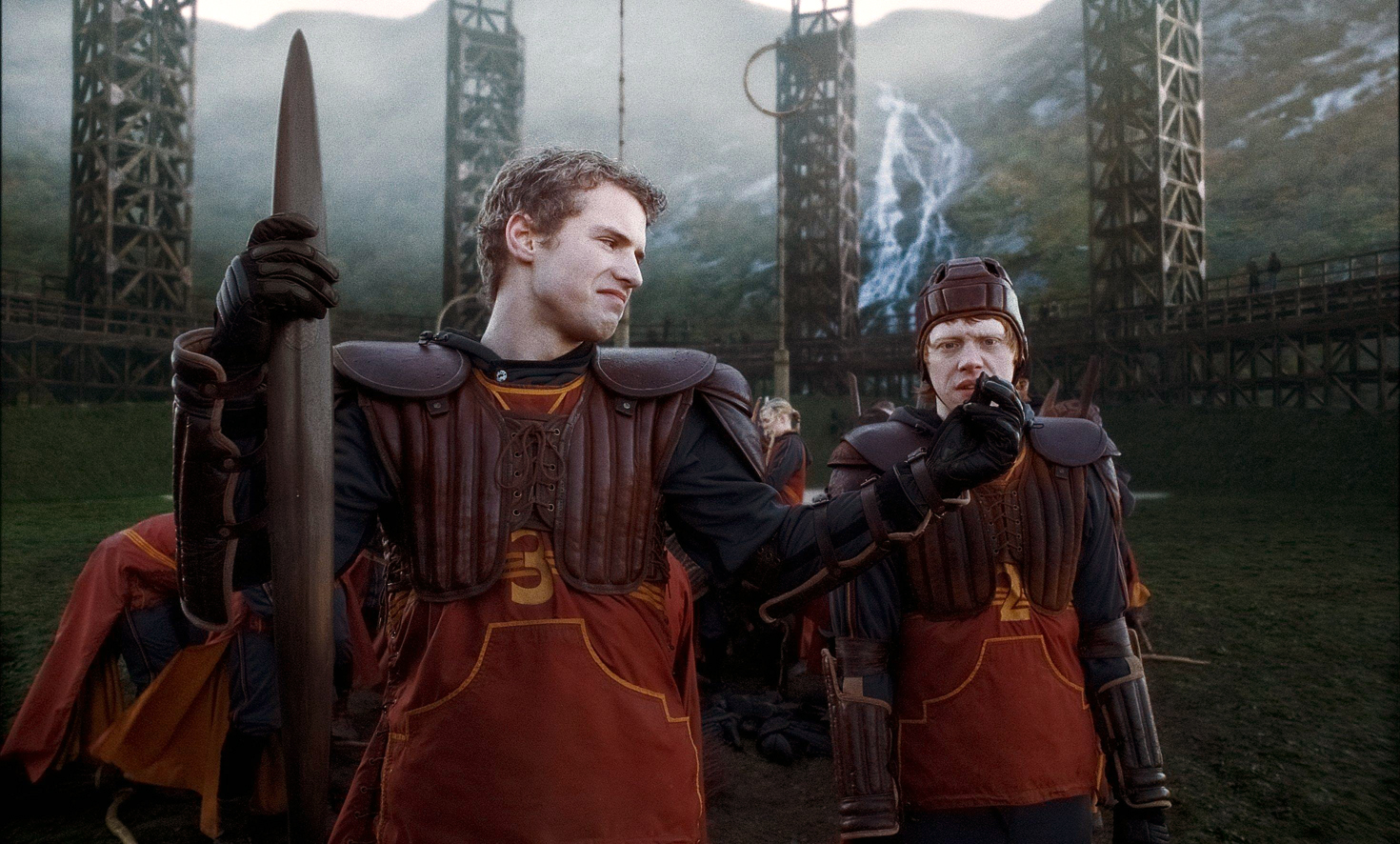 ---
⬇️⬇️ Scroll down in the below area to read all captions from this week! ⬇️⬇️
---
Cormac: Ron, did you know that if you rub your fingers together long enough, a cheeseburger will appear?
Ron: Really…. I like cheeseburgers…
-Cullen
---
Cormac: GOT YOUR NOSE, WEASLEY!
-JiTC
---
You can pick your friends.
You can pick your nose.
But only Cormac can pick Ron's nose…
-Beverly
---
Cormac attempts to become the Italian Dora the Explorer.
Cormac: This game is very exciting. Questo gioco è molto eccitante. *Makes hand gesture*
-Butterfly Face
---
Ron: What are you doing?!
McLaggen: You had a booger… Don't worry. I got it.
-hermy-o-ninny
---
McLaggen was always more than prepared to demonstrate his fly-catching skills… even when lacking chopsticks.
-tilltheend222
---
Cormac: 'I can make lightning come out of your head like that, Weasley.'
-Mad-Eye Madelaine
---
Ron: 'No thanks, Cormac. Quidditch is my anti-drug.'
-Bee
---
'And that's just what I do to innocent creatures…'
-de-Smithers
---
Cormac: 'Sorry, Ron, but you seem to have a Nasal Nugget problem. Let me… get that for you.'
-Willoh
---
Ron: Bloody hell, you didn't catch anything, you just randomly squeezed your fingers together!
Cormac: Yeah, but CGI will make me look good.
Ron: Ughh!
-Sean
---
Ron: Where did you learn that?!
McLaggen: HBO.
-AK
---
Ron: Do you think Cormac's compensating for something with that giant broom?
Harry: *Off-screen* Are you referring to his small sense of respect for other people's well-being?
Ron: Yes… of course I was…
-Max
---
Cormac: See that dirt I'm crushing between my fingers? That's you.
Ron: No, it isn't. I'm me.
Cormac: I mean it's a metaphor for you.
Ron: I make plants grow strong and healthy?
Cormac: Shut up.
-Sam
---
Ron: 'Dude, that's my nose…'
-Julia
---
Ron: *Whiny voice* But it's my turn!
McLaggen: Talk to the hand!
-MW
---
Cormac: Mr. Miyagi helped me train for this tryout. *Catches fly* There's no way any Quaffles will get past me now! Wax on, wax off!
Ron: …
-fierytempest
---
Ron: Hey, Cormac, have you ever noticed that your broom is shaped like a potato wedge?
Cormac: Hey, Ron, have you ever noticed your head is shaped like a potato wedge?
-KingofGondor
---
McLaggen: Is it me? Or are these Quidditch costumes getting more stupid and outlandish by the movie?
Ron: For once, McLaggen, I agree with you.
Ginny: I agree with both of you, even McLaggen's broom looks stupid.
David Yates: Everyone's a critic…
-001
---
McLaggen: Hey Weasley, I got your nose.
Ron: Aren't we a little old to be playing this game McLaggen? …Look, just give me my nose back and I won't tell Hermionie how childish you're being.
-Voldypoo
---
Cormac: 'I say, Ron, this ring that you gave to me has seemed to have blackened my hand..'
-Anton D.
---
Cormac: *Squishes Rita Skeeter*
Hermione: My hero!
-WickedWitch
---
Cormac: Look, I can snap!
Ron: What does that have to do with tryouts?
Cormac: I don't know, but it seemed important.
Dan: *Off-set* I thought you Confunded him after the tryouts.
Emma: So did I.
-L.L.
---
To keep, or not to keep: that is the question
Whether 'tis nobler in the game to suffer
The shots and goals of outrageous players,
Or to take arms against a sea of Chasers,
And by opposing defeat them?
-Laestig
---
Cormac: 'You think Hermione will wear Burberry on our first date?'
-Sam
---
Cormac: 'Yep, there it is. See, this is why your family's so poor, Weasley. The gold's been up your nostril the whole time.'
-Kayla
---
'You see Weasley, if you just get a pinch of oregano your stews gonna taste much better.'
-bp123
---
Ron: 'Whoa, who do you think you are? Obama or something?'
-David
---
Cormac: 'And I learned this snap trick from Mary Poppins…'
-Nathaniel C.
---
Ron: You know McLaggen, with that kind of speed and agility, what you really need to be is Seeker. Really. You definately should try out for Seeker.
Harry:…
-Laestig
---
Cormac: 'Yes Weasley, this is the bogey of a champion. I can see the shock in your eyes as you recognise it Weasley. Yes, this is the bogey that won me the 1995 International Wizarding Bogey Picking Championship.'
-Gina
---
McLaggen: *squishes bug*
Ron: PETA will get you, McLaggen! You just wait!
-Suzy
---
McLaggen: *Thinking* I am going to pick Ron's nose so that everyone willl think he's weird.
-meme
---
Ron: Wow. An invisible Galleon. What good is that going to do?
Cormac: Well, I invented it – doesn't that make me awesome?
-Felicity
---
Cormac: Hey Weasley, Granger's pretty cute, d'you think I've got a chance with her?
Ron: Maybe… if she has a thing for tools…
-Mollie
---
Ron: 'Are you going to eat that?'
-Bridget
---
Cormac: You see this pine needle, Weasley? I got it from Narnia.
Ron: Well… well… You see this hat? I got it from the Shire!
Cormac: Oh, do you live there? Explains why you're so small.
Ron: I hate you.
-Brittany
---
Cormac: 'I found the… slightly snotty.. Snitch!'
-Mavo
---
Ron: 'Your Patronus is a sea anemone?'
-Jennifer M.
---
Cormac: 'Hey, Ron, does this rag smell like chloroform to you?'
-Mini and Rina
---
Ron: Hey, Cormac! okay, so a guy walks into a bar, and for a cup of cho, and the waitress says, 'I'm sorry, sir, Cho's in Madam Puddifoots.' HAHAHA!!! did you get that?
Cormac: HAHAH!!! that's so funny!
Ron:…
Cormac…
Ron:…you can't think of a very good caption, can you?
Cormac: no, not really.
-KingofGondor
---
Cormac: 'Look, Bertie Bott's got a new flavour. Wanna try Slug?'
-Cindy
---
'Yes, Weasley, this is the Rapestick 3000. Jealous much?'
-Jambaliah
---
Despite his best efforts, Ron still could not see the miniscule, invisible and, he suspected, totally imaginary wrackspurt McLaggen claimed to have caught between his fingers.
-tilltheend222
---