CC #348: Week of June 23, 2013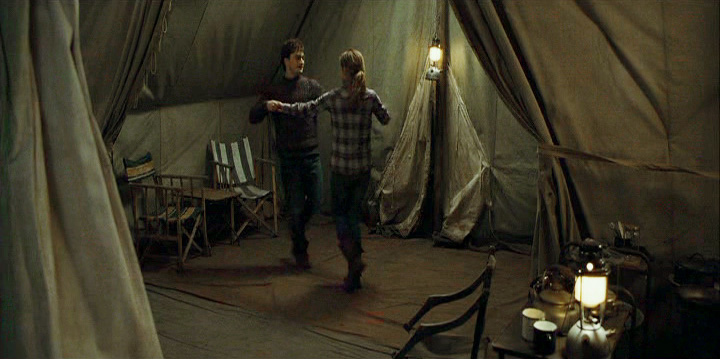 ---
⬇️⬇️ Scroll down in the below area to read all captions from this week! ⬇️⬇️
---
Ron: *Off-screen* 'The SECOND I leave you two just dance?!'
-The Doctor's Daughter
---
Harry and Hermione attempt the Russian squat dance.
Harry: 'I think holding onto each other while we do this is cheating.'
-Sam
---
Hermione: We can dance if we want to; we just left Ron behind!
Ron: Thanks, gits!
-Samantha B.
---
Draco: *Out of nowhere* 'Training for the ballet, Potter?'
-The Impossible Girl
---
Hermione became concerned about Voldemort's growing influence over Harry when he wanted to dance to the casualty reports.
-Sam
---
After four solid hours of square dancing, the duo realized Ron had taken the radio with him. So where was that music coming from…?
-Troi
---
Skeeter's Staged Scandal – Polyjuice Potion: Phony Potter Poorly Performs Polka with (Pretend) Pal's Partner (and also, alliteration abounds).
-Jeremy X.
---
Harry: So, will you be dancing with Ron when he gets back?
Hermione: No way! I saw him and his two left feet at the Yule Ball.
-Sam
---
Hermione: 'Left, no MY LEFT, Harry!'
-Bre
---
Harry: Wait. Why are we dancing again?
Hermione: Well, you're famous because you're destined to kill You-Know-Who, right?
Harry: Right.
Hermione: But once you've killed him, you won't be the Chosen One anymore.
Harry: Right.
Hermione: People will love you for a while, but eventually it'll quiet down, meaning you'll have to be content with a B-list celebrity status.
Harry: …right.
Hermione: So, I thought we might as well train you as early as possible for your inevitable appearance on Strictly Come Dancing.
-Rosy
---
Harry and Hermione were happy to make it to Oregon, even if Ron had died of dysentery on the way.
-Sam
---
It wasn't until now, when he was staring deeply into Hermione's eyes and saw only himself reflected, that Harry realized what an awful job she had done with his hair.
-Nina
---
Harry: 'I just know I can win the next season of 'Dancing with the Stars!'
-Biff
---
Hermione: 'Concentrate, Harry! How will you defeat Voldemort if not in the Annual Wizarding Dance Competition?'
-Sam
---
Hermione: *Thinking* This is the worst pity date ever…
-The Doctor's Daughter
---
Harry: Wow! I can't believe that we spontaneously broke out into dance and we both know what to do!
Hermione: *Face turns white* Harry…
Harry: What?
Hermione: We are turning into a musical!
Harry: AAAAHHHH!
-Lexi
---
Steve Kloves: Hey, what happened to the romantic candle-light I wrote into this scene?
David Yates: We cut it because it seemed too ship-py. I mean, we don't want it to look like we're trying to pair up Harry and Hermione, do we?
Steve Kloves: *Through gritted teeth* No, of course not.
-Sam
---