CC #355: Week of August 11, 2013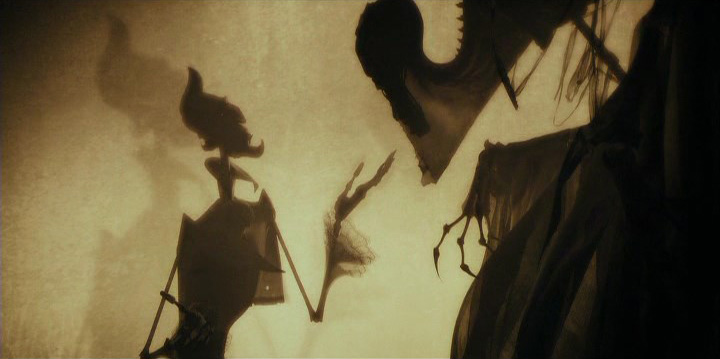 ---
⬇️⬇️ Scroll down in the below area to read all captions from this week! ⬇️⬇️
---
Death: What gift shall I give you?
Cadmus: I would like some arm muscles, please.
-Sam
---
Shadowy Figure 1: 'It will never work between us! I'm a stately figure from 17th Century Spain and you're a badly drawn Where the Wild Things Are wannabe…
-Biff
---
And then the second brother, who was an arrogant man, decided that he wanted to humiliate Death even further, and aked for Death's most prized possession: A Klondike Bar, so that when asked 'What would you do for a Klondike Bar?', he would respond, 'Conquer Death.'
-Em
---
'I'd like to order some fries and a cheeseburger, please.'
-Maddi
---
'Pardon me, would you have any Grey Poupon?'
-Patti M.
---
Cadmus: But – I don't want to die!
Death: Why not? We have all the cool characters, like Fred, Albus, and Sirius. Would you rather be stuck here with the boring ones?
Cadmus: Oh, all right.
Death: Good. Tuesday is beer pong night.
-Nora
---
Cadmus: It's okay, you can have it.
Death: No, no.
Cadmus: Really, you can have it.
Death: Okay. *Takes bottle*
Music: A Coke and a smiiiiile, makes me feel gooood!
Cadmus: See you around.
Death: Hey, kid, catch. *Tosses Invisibility Cloak*
Cadmus: Wow! Thanks, Death!
-Sam
---
Cadmus: 'These are not the wizards you're looking for…'
-Hufflepuffdontcare
---
'So you say you've never heard of scoliosis?'
-Em
---
Cadmus: I wonder how many people had to go on Youtube to see which brother I am.
Death: Everyone except the really, really nerdy ones.
-Nora
---
Hermione: *Reading* And Death spoke to them –
Harry: *Interrupting* I'm sorry – Death spoke to them?
Hermione: Yes, Harry! -with a Jamaiacan accent and challenged them to a limbo contest.
-Rosy
---
'I burnt my tongue on this crepe, will you blow on it for me?'
-Thomas
---
'Doth mother know you wear-eth her drapes?'
-Justin B.
---
Cadmus: 'Excuse me, sir, but are you interested in donating to the International Goatee-Growth Fund?'
-Lois
---
Death: All right, just for that beard, you're not getting a prize.
Cadmus: What? But –
Death: Moving on to the next brother, now!
-Sam
---
Cadmus: I have a question. How can we all have died at the same time?
Death: …The salmon mousse!
-Nora
---
Cadmus: You know, I kind of wanted to get my girl back, but how about I just ask for another one?
Death: Well, you asked for it. This is Dolores Umbridge.
Cadmus: Um… can I change my mind?
-Luna
---
Death: And if you act now, you get two products and free shipping and handling!
Cadmus: Wow! What a deal! I'll take you up on that.
Ignotus: But, Cadmus! We're wizards; we don't need a 'slap-chop'!
Cadmus: But it's such a deal!
-Hufflepuffdontcare
---
Brother: 'You fell into a mysterious pot of black paint, too, huh?'
-Nina
---
Peverell Brother: 'I desire a sandwich, larger than all other sandwiches…'
-Ginny
---
Cadmus: 'How did I get stuck with Emma Watson narrating my life? I wanted Morgan Freeman…'
-Sam
---
Cadmus: Shouldn't Harry have died at the end of Deathly Hallows?
Death: I was in the Bahamas that week.
-Nora
---
'Hey, can I borrow your skull for a sec? I'm doing a production of Hamlet, and the prop guy has totally dropped the ball.'
-Mark M.
---
Cadmus: Would you do me the kindness of-?
Death: Yes?
Cadmus: -lending me your cloak? I have a long walk home and it's starting to snow…
-Lois
---
'You have dirt on your nose. Did you know? Just there.'
-Doug T.
---
'What do you mean I can't have a Ferrari?!'
-Frankie R.
---
And Death spoke to them. He was angry that he had been cheated out of three new victims, for travelers usually drowned in the river. Therefore he bewitched a nearby tree to come crashing down and instantly squash the three brothers to a bloody pulp. Because Death was a cunning, but simple man.
-Nora
---