Wizard World Chicago Comic Con 2013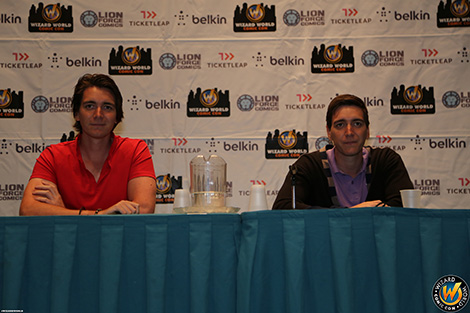 Last weekend, Wizard World held its annual comic convention in Chicago, Illinois, at the Donald E. Stephens Convention Center in Rosemont. In attendance as special guests were the Phelps twins, James and Oliver, as well as one-time Potter actor Verne Troyer.
This year, there remained a noticeable and satisfying amount of Harry Potter fans dressed in anything from Potter T-shirts and scarves to full-on robes and costumes. This, coupled with the appearance of Potter actors in Chicago, brought back fond memories of last year's LeakyCon, which coincidentally was (this year) occurring in London on this same weekend.
New this year to the area was MB Financial Park adjacent to the convention center, which provided much-needed venues for food and fun during breaks as well as after-hours since the convention ended between 5–8:00 p.m. each night and fans' excitement lasted longer.
Opportunities for photographs with Mr. Troye and the Phelps twins were offered each day, and the actors were present throughout the duration of the convention for autographs at their booths as well. On Sunday, MuggleNet attended the Phelps twins' Q&A panel, which was open-ended and lasted 45 minutes. From the panel, the following information was learned:
The twins flew in to Chicago a couple of days early, and Oliver plans to write about the experience for his travel blog, located on his website at jopworld.com.
The last time James and Oliver were in town was for the world premiere of Harry Potter: The Exhibition. (Read MuggleNet's review here!)
An upcoming project to revive Hamlet reportedly starring the Phelps was not on the table for discussion since certain contracts are still being worked on.
James briefly talked about his role in The Boy Who Was Woody Allen (review here) and that he had three weeks to memorize 80 monologues.
Both twins stated that they would seek roles both separate and apart in the future, where possible.
When asked what they would be doing now if they hadn't become actors, both shrugged. Oliver suggested a profession in history. James had been specifically advised by the school drama teacher NOT to pursue acting, a fact made much sweeter after the brothers got the part.
When asked if their friends had changed after getting their parts, Oliver said that their friends were the same, but at school, their ginger-dyed hair made it less easy to blend in and occasionally drew difficulty.
Oliver is shy about producing an American accent. James's accent sounds suspiciously like Woody Allen.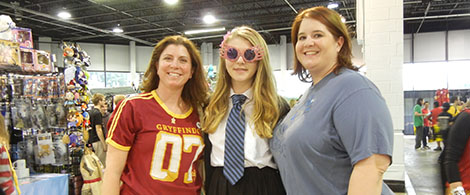 Other events this year included a 300+ contestant costume contest! Wizard World Comic Con returns to Chicago next year August 21–24, 2014. Further conventions this year are planned in Ohio (September 20–22), Tennessee (October 18–20), and Texas (Nov 22–24), but no Potter stars are currently slated to attend.