Review: "Harry Potter Page to Screen: The Complete Filmmaking Journey" by Bob McCabe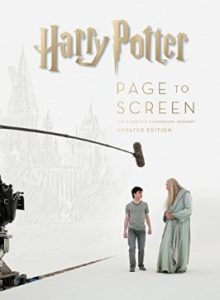 Buy on Amazon
Buy on Bookshop
Harry Potter Page to Screen: The Complete Filmmaking Journey is a massive new book featuring lavish behind-the-scenes images and surprisingly, intricate and masterful storytelling. It dives (headfirst) once again into the film adaptations of the beloved book series, showing us a world on the other side of the film camera.
Yet where Harry Potter: Film Wizardry maybe stopped itself from being too complex in detail, the intention with this book is clearly to be "definitive." All stops are pulled out, and the result is a 530-page guide that's much harder to resist than it is to pick up (the book's weight, according to Amazon, is seven-and-a-half pounds, nearly three times greater than Film Wizardry and a greater weight than the last three Potter books combined, in hardcover). The cover, unlike the busier (crimson) cover of Film Wizardry, is a deep blue – containing not images of the actors in their costumes, but only a picture of Hogwarts and its lake at night.
Harry Potter Page to Screen is broken into two parts. In Part 1 of the book, titled "The Making of Harry Potter," there is an insight into each of the films made, in the order in which they were made. But first, via an introduction like I have never experienced before, the story in the book begins with David Heyman and his then three-person production company, Heyday Films. We learn how the film rights were first acquired, how many meetings took place to find a director, screenwriter, and cast, and in general how the "magic" began.
The narrative of the book is exceptionally strong, beginning with the introduction and lasting throughout the entire book. To accompany the text in this book are images from ALL stages of production, from all angles of work and all sides of a studio. Page to Screen marries images and text so successfully that I found myself prying my eyes from one to experience the other as I read through the journey.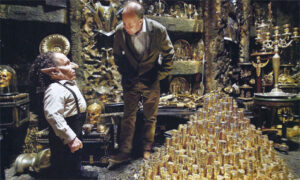 Essentially, Part 1 of Page to Screen details how each film came to be, with changes of director, advances in special effects, and how the ever-evolving story matched the ever-expanding cast of talented actors hired to tell it. Certain key scenes in each film are deconstructed, with insightful anecdotal and interview-style stories being told directly from the people involved. Set dressers, costume coordinators, props guys, stuntmen, and actors all have their say in how things happened. As if this story, narrated by actors of fewest and greatest screen time alike, directors, producers, and production assistants were not enough for this book, there exists Part 2 of the book, titled "The Art of Harry Potter."
Part 2 of Page to Screen is like an encyclopedia of everything on set. Broken down into characters, locations, creatures, and artifacts, "The Art of Harry Potter" features a page (or more) for EACH character, EACH location, EACH creature, and EACH artifact present in the films. Even if their story is told in Part 1 there is additional detail in Part 2. There are pictures of everything, even (in Part 1) collections of "continuity photographs." Seeing some of the most famous scenes from the films being rehearsed, with the director standing on set next to a lead (where he isn't, obviously, in the film) makes the whole process seem real in a way it never has before.
Although breaking the fantasy wall and seeing Hogwarts with camera rails, boom microphones, and partially constructed set pieces may have seemed at first like a non-enjoyable concept to me (since, hey, what do you mean the magic isn't real?!), it is all too clear in reading this book that a different kind of magic has been made. It may even be far greater. The collaboration of so many different departments, so many people with different job titles who all united to produce not one or two but eight feature films of such quality, for ten years, with an aging cast we saw grow from youth to adulthood on-screen, is astounding.
The MSRP of $75 is not the price that this book is actually selling for, at least online. Yet even if it were, this book is the definitive story. No further insight into the films (except for some bloopers on upcoming video releases, which would be nice) is necessary. This book satisfies the craving and is a perfect gift to one's self or friends and family during this 2011 holiday season. I am now able to "close the book" on the films feeling as though I had taken that journey with the filmmakers. I now have more than just my ticket stubs.
Want more posts like this one? MuggleNet is 99% volunteer-run, and we need your help. With your monthly pledge of $1, you can interact with creators, suggest ideas for future posts, and enter exclusive swag giveaways!
Support us on Patreon