CC #373: Week of January 5, 2014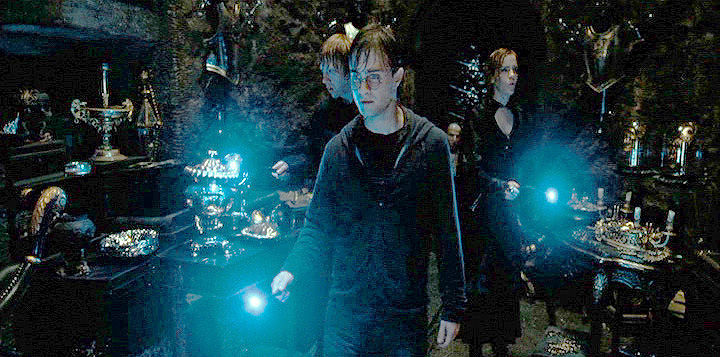 ---
⬇️⬇️ Scroll down in the below area to read all captions from this week! ⬇️⬇️
---
Ron: 'Look, it's the one – and only – Quidditch trophy the Chudley Cannons ever won. I know Bellatrix is evil, but…'
-Sam
---
Ron: Okay, stay focused!
Harry: Ah, sorry, I have ADOS.
Ron: ADOS?
Harry: Yes. Attention deficit-OOH SHINY!
-Brynn
---
It was then that they happened upon Gilderoy Lockhart's bedazzling quarters.
-Ella
---
Ron: Hey, I have an idea! Why don't we start stealing from the rich and giving to the poor?
Harry: Would you happen to be the poor person we'd be giving to?
Ron: Not always. We'd give to other poor people now and then so it wouldn't look suspicious.
-Sam
---
Hermione: 'Blimey, Harry! Your room is a mess!'
-Maddy E.
---
Hermione: Harry, you never used to have this much nonsense lying around your house?
Harry: Never give your fan-base your home address, Hermione, NEVER.
-Elsje
---
Hermione: Accio Horcrux!
*Nothing happens*
Harry: Try the other pronunciation of 'Accio.' The movies can't seem to settle on one.
-Sam
---
Harry: 'Look sharp; the rest of the Diagon Alley Park plans are in here somewhere…'
-Bryon
---
Ron: 'Well, being a Death Eater sure seems to pay well enough…'
-Emanon
---
Harry: 'All right. Our first priority is to see if we can find a hair dryer in here…'
-Sam
---
Harry: 'Unbelievable. Bellatrix has managed to steal ALL the props from Downton Abbey and hide them in her vault.'
-Glen
---
Ron: Can you feel anything, Harry?
Harry: Yes. I feel wet, cold, tired, and a bit hungry.
Ron and Hermione: *Stare blankly at Harry*
Harry: Oh! You meant if I feel the Horcrux! Right.
-Emanon
---
Harry: Which one is it?
Grail Knight: You must choose. But choose wisely. For while the true Grail will bring you life, the false Grail will take it from you.
-Sam
---
The trio feverishly searched for the thing that would make Miley Cyrus stop twerking.
-Maddy E.
---
Hermione: 'You know… Bellatrix kept a lot of odd things. Candle holders, cups, Han Solo frozen in carbonite, Beatles memorabilia, encyclopedias, silverware, lovely mirrors, a Mickey Mouse costume head, a Miss Piggy plush, Tupperware, a koi pond, a guide to enslaving your boss, beautiful turtleneck sweaters, old Muggle cameras, a fine collection of wine, a map showing where my parents are in Australia, Jamie Oliver cookbooks, the entire series of The Sopranos…
-Josh
---
Harry: Ron, don't take that.
Ron: Would you believe me if I said it has finders keepers inscribed on it?
Harry: No.
Ron: Darn!
-Sam
---
Hermione: Um, what are we going to do to get out of here now that the Polyjuice wore off and the whole bank knows we're breaking in?
Harry: Let's wing it.
-Emanon
---
Bellatrix awoke sweating from a horrible dream for the third time in a week. She just knew those novelty golden Trio night lights would give her nightmares…
-Anon
---
Hermione: And this is where I keep everything I've stolen from Hollywood celebrities.
Harry: I thought we were done with The Bling Ring references.
-Sam
---
Ron: *Whimpers* I'm scared, guys. What if we can't find the cup?
Harry: Do something to take your mind off it.
Ron: *Sings* I'm Dorothy the Dinosaur-
Harry: –Without singing a Wiggles song.
-Josh
---
Harry: This is a really cool scene. It should have been on the book cover.
Hermione: Don't be stupid, Harry.
-Nora
---
Hermione: Guys, hiding in this cave won't protect us from the flood. We have to get on my father's ark.
Harry: Your father's 'ark?'
Hermione: Yes, in theatres March 28th!
-Sam
---