CC #377: Week of February 2, 2014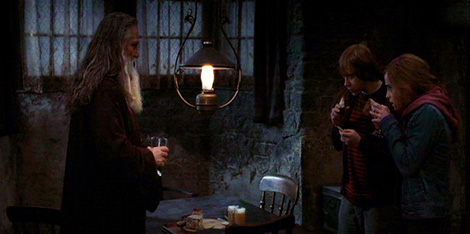 ---
⬇️⬇️ Scroll down in the below area to read all captions from this week! ⬇️⬇️
---
Hermione: Why is there a goat in your pub?
Aberforth: I've learned a person can pretty much survive off of a goat. A goat gives you company, and milk, and cheese… and, when you need it, good meat.
Hermione: Isn't that a quote from 'Cold Mountain'?
Aberforth: …maybe.
-Nora
---
Aberforth: 'Go ahead, eat! I promise that food hasn't been enchanted to turn you into goats!' *Ron and Hermione pause suddenly*
-Sam
---
'You kids wanna see a dead body?'
-Tim D.
---
Aberforth: 'Now that you have both drained your cups, I should let you know that I put a powerful love potion in those drinks. As a fan, I felt compelled to do something to speed up your relationship. You'll thank me later…'
-Glen
---
Aberforth: 'We are going to war. We have a lot to do, and Voldemort is on our tail. There is absolutely no time to lose. But first, let's have a drink and I'll tell you the boring and complicated story of my little sister.'
-Nora
---
Hermione: So are you going to explain what happened to Ariana?
Aberforth: Nah, that's only in the book. In the movie, we have more important things to cover like this!
*The waitress from the HBP movie pops in*
Muggle Waitress: Hey, I'm back! Now you can tell me all about that tosser Harry Potter while we burn down the Burrow for no reason! Oh, and I brought along a companion!
Shrunken Head: WHY DID YOU PUT YOUR NAME IN THE GOBLET OF FIRE, MON?! I'D SLAM YOU INTO THE WALL FOR NO REASON, BUT I HAVE NO ARMS! HA, HA, HA!
Aberforth: You see, we simply have no time to cover crucial backstory details.
-Sam
---
After getting coal for Christmas, Ron and Hermione go to discuss the situation with Santa.
Hermione: I realize that we skipped school every day for the entire school year last year, but we had a perfectly good reason!
'Santa': Oh, I know. That's not it. I gave you coal because I keep telling you I'm Aberforth Dumbledore, and you keep calling me Santa.
-Jeremy X.
---
Aberforth: 'You're having fun now, but just wait until the relationship counseling starts.'
-Mark
---
Aberforth: 'I brought this lamp from IKEA. It only has four parts but it took me five hours to assemble.'
-Josh
---
Ron: Why is there snow outside? Doesn't this take place in May?
Aberforth: Yes, but this is Scotland.
Ron: Of course…
-Nora
---
Ron: *Sees Aberforth looking at Hermione* 'Hey, that's my girlfriend, you numpty!'
-Chris
---
Hermione: What sort of cheese is this?
Aberforth: Blue cheese. We bred a cow with a Smurf.
-Josh
---
And Hansel and Gretel were never seen again…
-Elsje
---
Harry: Hey, I've been seeing your face in my mirror!
Aberforth: You have? You didn't see me that time I was picking my nose, did you?
Harry: Well, yes.
Aberforth: And I was only trying on that lipstick for fun!
Everyone: …
-Nora
---
Ron: So, can we go down to London to see the Olympics?
Aberforth: Uh, the Olympics aren't in London, they're in Russia.
Ron: What? But they were in London last time!
Hermione: Yes, Ronald. The Olympics are in a different country every time.
*Pause*
Ron: I have to sit down.
-Sam
---
[otw_shortcode_button href="http://www.mugglenet.com/fans-fun/crazy-caption-contest/" size="medium" icon_position="left" shape="square"]Return to Caption Contest Home[/otw_shortcode_button]