Fandango: "10 Reasons You're Going to Love Diagon Alley – Universal Orlando Resort's New Wizarding World of Harry Potter Addition"
This past week, we attended the special preview event of the Wizarding World of Harry Potter Diagon Alley at Universal Orlando Resort. But it wasn't just special. It was downright magical, in just about every way. The park opens for everyone on July 8, and here are the 10 reasons you are going to love it.
1. The park is full of incredible detail
If you've seen Universal Orlando Resort's first section of the Wizarding World, Hogsmeade, you know they re-create the Harry Potter world in stellar fashion. But they truly went above and beyond in creating Diagon Alley.
Each shop and spot in the park brings to life the imagined world of J.K. Rowling's novels, from the grandeur of Gringotts bank, to the cluttered and comfy feel inside the Leaky Cauldron, to the diverse assortment of shop signs hanging through the alley.
2. Gringotts is PERFECT
Gringotts is absolutely breathtaking. After walking along the bricks, you immediately notice the massive structure at the end of the main path. The building is pristine and magnificent – and also a little different than when Harry sees it on his first journey to Diagon Alley.
A massive dragon sits atop the bank, inspired by the Ukrainian Ironbelly that escapes in Harry Potter and the Deathly Hallows. This guy doesn't just watch you from high in the sky, but will periodically roar and breathe real fire – it's hot! – above Diagon Alley.
The wonder continues inside with an elaborate lobby, with goblins ready to assist you in all your banking needs. You can continue down into Gringotts, full of even more incredible and awesome props and design work, as you approach the Escape from Gringotts ride.
3. Actors from the films show up through the park
We were able to chat with several of the actors from the film during the preview, both on the red carpet and during panels the next morning. They sounded just as excited about the park as we are! What makes the experience even more amazing? Some of these actors are actually part of the park.
Look for Domhnall Gleeson (Bill Weasley), Warwick Davis (Griphook), Helena Bonham Carter (Bellatrix Lestrange) and Ralph Fiennes (Voldemort) inside the Escape from Gringotts ride, and catch Oliver and James Phelps (George and Fred Weasley) flying alongside your journey aboard the Hogwarts Express.
4. Make the journey between Hogsmeade and Diagon Alley
Now that both parks will soon be open, you will be able to journey between Hogsmeade and Diagon Alley on the Hogwarts Express. The train is just stunning as you get onto Platform 9 ¾.
Yes, you do go through King's Cross Station in London. We won't spoil all the details of how you get onto the platform, but the effect is pretty remarkable!
You'll watch a scene as you sit in your compartment that parallels either the journey to Hogsmeade or Diagon Alley, depending which direction you're traveling. As you move along, you'll also see the silhouettes of Harry, Ron and Hermione just outside and listen as they move up and down the train.
5. Purchase shop items from the books
Those unique items found throughout Diagon Alley in the Harry Potter books? Plan on buying some while in Diagon Alley. You'll be able to snag Skiving Snackboxes and Pygmy Puffs from Weasleys' Wizard Wheezes, your own wand from Ollivander's, robes from Madam Malkin's, a broom or Bludger bat from Quality Quidditch Supplies, and so much more.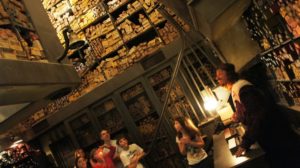 You can also purchase an interactive wand, which allows you to interact with several of the shops and spots throughout Diagon Alley. A beautiful map of the area will show you where you can use Alohomora, Reparo and more.
6. Enjoy live performances
In the bustling Carkitt Market area of Diagon Alley, you'll have to catch a couple of wonderful live performances. We know how much Molly Weasley loves Celestina Warbeck, but after seeing the renowned singer and her backup singers the Banshees in person you're sure to become a fan, too. Songs include "You Charmed the Heart Right Out of Me," "A Cauldron Full of Hot, Strong Love," and more created by J.K. Rowling herself. The only thing bigger than Celestina's personality is that incredible voice!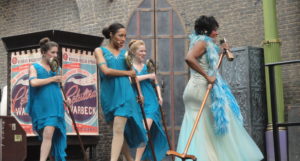 You can also catch a brilliant performance of the Tale of the Three Brothers, reimagined from that brilliant scene added to Harry Potter and the Deathly Hallows. The props and puppets in this performance are fantastic and bring the story to life in a whole new way.
7. Butterbeer 2.0 – ice cream!
Nothing quite matches the chilled sweetness of Butterbeer, already available in Hogsmeade. You can also grab a Butterbeer in Diagon Alley in places such as the Leaky Cauldron, but you can also get it in a totally new way – ice cream! Florean Fortescue's offers several incredible ice cream flavors, including strawberry and peanut butter, earl grey and lavender, and salted caramel blondie.
But the real attraction is the Butterbeer-flavored ice cream, allowing you to capture that creamy butterscotch flavor in a cup or cone. You'll definitely be stopping back in for more.
8. Weasleys' Wizard Wheezes
When you stroll into Diagon Alley, your eye will surely catch the brightly colored exterior of Weasleys' Wizard Wheezes. The large Weasley prop stands in the front window, tipping his top hat to entering patrons.
You feel the Weasley effect as soon as you walk in, with the very best joke items from the crafty twins lining every wall. There are things moving all through the store, and you can even catch sight of fireworks when looking up into the ceiling.
Whether you're looking for a bit of mischief, the most novel of toys, or maybe even a love potion, Weasleys' Wizard Wheezes is a must-see!
9. Dare to wander down Knockturn Alley
Diagon Alley wouldn't be complete without the dark detour of Knockturn Alley. Just a peek down the beaten path creates an ominous feel, daring you to venture into darker territory.
You'll be able to take a look around, filled with dark objects, Death Eater materials, and even the vanishing cabinet. The entire area has a demented feel to it, matching Harry's wrong turn down the alley. You'll spot a few other shops, including one that is dedicated to poisons and venoms.
Do be careful, though – don't let one of the more regular patrons back you into a dark corner!
10. You feel like you're walking into Rowling's world
All of these individual experiences combine for an unparalleled immersion. The striking detail, fire-breathing dragon, interactive wands, brightly colored store signs, and everything else make you feel like you really are stepping right into J.K. Rowling's world.
Take a moment to stand in the middle of the alley as other patrons go about their business and do a 360-degree turn. You'll see that the magic is indeed all around you and feel like the Muggle world is very far away.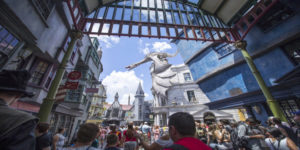 The Universal Orlando Resort creative team took no shortcuts in crafting this magical world, and they have created a new addition to the Wizarding World that any Harry Potter fan will love.
You'll have your chance to venture down Diagon Alley before long. The Wizarding World of Harry Potter Diagon Alley opens to the public on July 8!