Role Call: It's an Army…of News!
This week, an army practically takes over Role Call, the Dowager Countess dresses down, Santa is spotted, and Daniel Radcliffe's next magical role gets a title! All that and more in this edition of Casting News!
Stephen Fry is a busy lad. He will be returning to final film in The Hobbit franchise, The Battle of the Five Armies, continuing his role as the Master of Laketown. In a brief clip from the Desolation of Smaug Extended Bluray Edition, we see the actor behind the scenes of the film as he dons his costume and does some screen testing in addition to telling us about his character. Take a look!
Fry is also slated to appear in Bristol's Slapstick Festival in January at the Old Vic and has signed on to narrate the latest story in the Go the F*** to Sleep series with actor Bryan Cranston, called You Have to F***ing Eat. The audio book has been released in the US, Australia, and the UK. It is currently free until November 19th for UK customers, who can download it here.
Our favorite Headmistress is also busy with multiple projects at the moment. Dame Maggie Smith has been seen around London filming scenes for The Lady in the Van, looking dirty and homeless (as required based on the character from the story). Interestingly, in addition to the pictures, which you can see below, it was also revealed that Smith's HP co-star Jim Broadbent will also have a role in the film. The Lady in the Van is scheduled for release on November 13 in the UK.
Downton Abbey fans can rejoice! Not only does the US fifth season of Downton begin in January, but the sixth season of the series has already been approved! Executive Producer Gareth Neame told Entertainment Weekly:
We have had an amazing reaction to the story lines, acting and production values of Downton Abbey this year and the whole team is thrilled to be moving ahead with a new season of the show. This will provide audiences with a fresh opportunity to see what will befall our much loved characters.
UK fans of Maggie Smith can also get a look at her older work as BFI Southbank presents a look back at Smith's career in two parts during the months of December and January. A complete list for December (including both films and stage productions) can be found here while the second portion is set to take place in January and will include "Quartet, A Room with a View, Suddenly Last Summer, Tea with Mussolini, Harry Potter and the Philosopher's Stone, Ladies in Lavender and more".
Actor Guy Henry, best known to Potter fans as Pius Thicknesse from the films, appeared at Brockenhurst College earlier this month to help open facilities for people who experience difficulty in learning. The former Brockenhurst alumnus opened The Lodge, housing meant to aid those with learning difficulties gain "crucial life skills' before living on their own. There is also an inspiration room on the grounds that will create a peaceful environment for those students focus on work and social skills. Guy expressed his appreciation for his college years at Brockenhurst during his visit:
I came here not knowing I wanted to be an actor but fell in love with the profession. I'm so grateful to the college. It's a glorious place and we're all very fortunate that it's here.
A poster for Unbroken, starring Domhnall Gleeson, was released earlier this month for Australian audiences in preparation for the December 25 release date. While Domhnall is not directly featured, you can see him (if you look closely) in the lower left corner in the raft. You can view it below: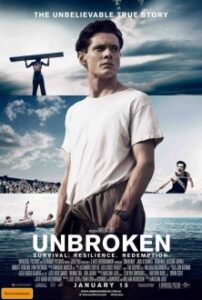 Domhnall may also be celebrating (we know fans are!) the fact that his Star Wars project now has a title, according to the Twitter account for Walt Disney Pictures:
Star Wars: The Force Awakens has completed principal photography. #TheForceAwakens #StarWarsVII pic.twitter.com/qBhel6CDjr

— Walt Disney Pictures (@DisneyPictures) November 6, 2014
So far, nothing has been confirmed regarding the plot of the film, but rumors are rampant in the fandom. The movie is tentatively scheduled to be released in December 2015.
Emma Watson's thriller Colonia has picked up a world distributor. German company Beta Cinema has picked up the world sales rights for the production, which is currently shooting in Germany. A brief synopsis of the film is below:
Lena (Watson) and Daniel (Bruhl), a young couple who get caught up in the Chilean military coup of 1973. Daniel is kidnapped by Augusto Pinochet's secret police and Lena has to track him down to a no-go area in the South of the country, the so-called Colonia Dignidad. On the surface, the Colonia is a charitable mission run by lay preacher Paul Schafer ( Nyqvist) but, no one, in fact, has ever escaped from there. Lena joins Schafer's cult in order to find Daniel and help him escape.
A release date was given for Gary Oldman's Criminal, which is set to debut August 2015 in wide release. You can read the press release below.
Actor David Bradley appeared earlier this month to honor William Shakespeare, giving the keynote speech at the launch of Friends of Shakespeare's Celebrations. The organization has an aim of making future Shakespeare birthday celebrations self-financing.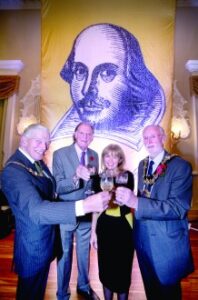 Bradley indicated to the audience that to celebrate Shakespeare and his importance to the world is for everyone to enjoy:
The Birthday Celebrations to me are part of the fabric of this town. They're an important and joyful occasion. We can't take them for granted, and that's why we're here this evening. We live in a place where arguably the greatest playwright in the history of the world was born, died and is buried. I, like many, are very proud to say I live here. He is a global phenomenon, and the reason for that is the universality of his works. He speaks to all of us. As Ben Jonson said, he's not just of an age but for all time.
The sequel to Now You See Me has been given a title and a synopsis has been revealed. Daniel Radcliffe is set to star as Michael Caine's son Walter Tressler in the new film, titled Now You See Me: Now You Don't with a release date of June 10, 2016. Read the synopsis below:
One year after outwitting the FBI and winning the public's adulation with their mind-bending spectacles, the Four Horsemen resurface in Now You See Me 2 only to find themselves face to face with a new enemy who enlists them to pull off their most dangerous heist yet.
A direct to DVD movie starring Verne Troyer (Griphook, SS) is scheduled to be released early next year. Gnome Alone is a horror flick about a magic amulet inherited by a college student. Read the synopsis below:
When timid college student Zoe witnesses a hit-and-run, the dying victim gives her a strange amulet. Suddenly, all those who have offended Zoe in her life begin dying horrible deaths at the hands of a malicious gnome (Troyer). When Zoe discovers the horrible history behind the amulet, will she be able to harness its magical power before the gnome begins killing those closest to her?
Jim Broadbent is set to star in Get Santa and we now have one of the first images from the film! We know Jim certainly has the wonderful smile and laugh to embody the spirit of Santa. Take a look at the photo and the synopsis below!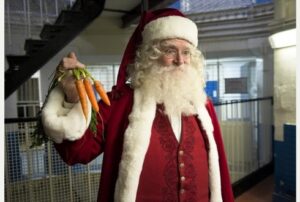 Get Santa tells the story of a young boy and his dad coming to the rescue of Father Christmas when he crash- lands his sleigh in the heart of London.
Finally, Alan Rickman is set to join the jury of the Marrakech Film Festival next month. The Theory of Everything, starring David Thewlis, will open the festivities as well. A full list of the movies playing can be found here.
That's all for this week's edition of Casting News – did any role or project make your ears perk up? Let us know what you think about the roles in store for our favorite cast members by commenting below, posting on Facebook, or by sending us a tweet! We love interacting with fans, so please don't be shy!
Want more posts like this one? MuggleNet is 99% volunteer-run, and we need your help. With your monthly pledge of $1, you can interact with creators, suggest ideas for future posts, and enter exclusive swag giveaways!
Support us on Patreon