Five Things You Should Know About Dudley Dursley
In this next installment of character fact posts, we're taking a brief trip out of the wizarding world to visit the Muggle world. It's time to return to Privet Drive and consider Dudley Dursley.
Thanks to J.K. Rowling, since the books have finished, we've learned a little more about Dudley's character and what happened to him after the series ended.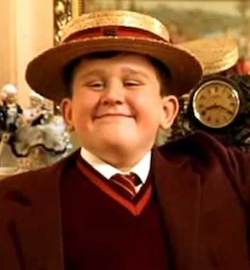 1. Early in the series, we learn that Dudley is spoiled by his parents, unlike Harry. On the infamous birthday where Harry releases the boa constrictor from its glass enclosure, Dudley receives 36 presents, which are not enough for Dudley. The presents include a racing bike and a second television.
2. Although Dudley is foul to Harry growing up, he begins to make amends in Harry Potter and the Deathly Hallows, leaving Harry a cup of tea outside his room and then uttering the words "I don't think you're a waste of space."
3. Fans have often wondered – as well as Harry – what Dudley saw when faced with the Dementors in Harry Potter and the Order of the Phoenix. Jo gave us the answer in an interview.
My feeling is that he saw himself, exactly for what he was, and for a boy that spoiled, it would be terrifying. So he was jolted out of it. Dementor attacks aren't usually good for people, but this one was.
4. In interviews after the release of Harry Potter and the Deathly Hallows, J.K. Rowling revealed that Harry and Dudley remained on Christmas card terms.
5. Jo also revealed that Dudley married and had two children – and for the sake of their children, Harry and Dudley met up, sitting in silence so that their children can spend time with one another, although Jo added that Harry's three children dread these visits.
What do you like most about Dudley's character – if anything? Is it the way he matures throughout the series? What's Dudley's most memorable moment? Share your thoughts in the comments.
Next time, we return to the wizarding world with a look at Professor Flitwick.
Want more posts like this one? MuggleNet is 99% volunteer-run, and we need your help. With your monthly pledge of $1, you can interact with creators, suggest ideas for future posts, and enter exclusive swag giveaways!
Support us on Patreon