Who Wore It Better: Ron Weasley or CeeLo Green?
Good morning, evening, or midday to all of you wonderful, magical folk out there. No matter when or where you are reading this, know that I am smiling fondly at the fact that you are, in fact, reading my words. I am always humbled by the loving devotion that my millions of admirers show me in the form of letters that sing my praise. I enjoyed reading all of your responses to last month's edition of "Who Wore It Better" and am equally enthusiastic about hearing more about what you think of this month's pairing and how ardently you agree with my commentary. Now, I doubt very much that you would have missed last month's column, but in case you did (it must have been due to an emergency) I will recap: I was offered this lovely position as a contributing author to Witch Weekly magazine. As clearly the most qualified person to write about fashion and appearance, I was assigned this column. Each month I will select a pairing of a famous witch or wizard and a popular Muggle who happened to wear a similar fashion trend. From there I will perform a highly informed analysis and let you all know who wore it better. Let's take a look at this month's pairing.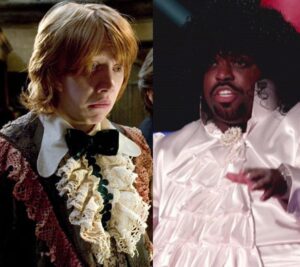 Pictured above is Ronald Weasley (left), famous merely by association with Harry Potter, and the Muggle singer CeeLo Green (right). At least, I think he's supposed to be a singer. I will admit that I was only able to endure a few moments of one of his records since I was suddenly overwhelmed with the urge to silence the noise immediately. Although I have no memory of my research for my book Break with a Banshee, I am sure the scream of a banshee could boast similarities to Green's voice. They don't pay me to critique music and the spreading of noise, now do they? So I better get down to business. We can immediately spot the influence of ruffles behind each of these gentlemen's choice of attire. Weasley is going for a vintage look, while Green has modernized the style a bit with an eye-catching, shiny fabric choice. I do enjoy the great dimension that Ronald's lace is taking on since there are multiple layers in varying colors, topped off with quite the dapper bow tie. Green's hair is much more exciting, though. It has the personality and enthusiasm of a Niffler on a treasure hunt. I have to give this one to Mr. Green. I do enjoy a good hair-piece. Make no mistake, had I been in the running I clearly would have won, but I was told I have to choose one of the people pictured, so I made the best choice I could with the material I was given. Until next time my lovely readers. Stay radiant!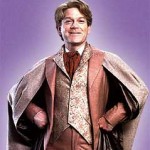 Gilderoy Lockhart
Order of Merlin (Third Class)
Honorary Member of the Dark Force Defense League
Five-Time Winner of Witch Weekly's Most Charming Smile Award
Check out all of our "Who Wore It Better?" posts.
Did you know that MuggleNet is 99% volunteer-run? With your monthly pledge of $5, you can provide monetary support to our volunteers while becoming eligible for exclusive swag giveaways!