Role Call: Summer Isn't Over Yet!
The return to Hogwarts is nearly here! Before you pack your trunk or start studying for Charms class, why not make the most of your time by checking out what the Potter cast and crew are up to? We've got zombies, a sea witch, and an Irish love triangle to keep you occupied, so keep reading!
It's nearly time for Downton Abbey fans to wish the cast goodbye! Before you do, however, you can join us in honoring the series as the final season wraps. The US premiere of the sixth season has been set for January 3, which was announced during the Television Critic's Association summer tour earlier this month.
Much of the cast was on hand for the premiere announcement, and creator Julian Fellowes kept the possibility of a feature film alive, saying,
There's speculation about whether we'll ever make a Downton movie, we might, but there are no firm plans. But it means there's a lot of rich [remaining] territory.
The series was also honored at a special BAFTA event last week, "BAFTA Celebrates Downton Abbey". Dame Maggie Smith (Minerva McGonagall) was in attendance, alongside her former on-screen grandson-in-law, Dan Stevens, who will star with Emma Watson in Disney's live-action film, Beauty and the Beast. Julie Walters (Molly Weasley) presented the award and the entire ceremony will be aired later this year. You can view the arrivals of many of Downton's stars in the video here and hear their take on the BAFTA honor, as well as read the press release from BAFTA below:
Additionally, Smith attended a screening of the first episode of the final season late last week, telling viewers:
I'm just surprised that I got to the end! Just before this I had done about 10 years of Harry Potter so I felt very, very old indeed by the time I got to the Dowager. So I'm honestly just surprised that I got through it and I'm still here.
When asked what she would be doing next, her response indicated she would catch up on some much-needed rest:
I'm going to be lying down. I believe for quite some time. The other thing I'm going to be doing is watching it [the Downton series]. I will get the box set and have a good look.
The US trailer for Helena Bonham Carter's (Bellatrix Lestrange) The Young and Prodigious T.S. Spivet was released in preparation for the US release, which is currently playing in select theaters. Take a look below!'
Fan-favorite Nat Tena (Nymphadora Tonks) is taking on another witchy role! The actress is set to voice the character Tootega the Sea Witch in a new animated film featuring claymation and paint-on-glass drawings, titled Once Upon an Iceberg.
According to the Facebook page for the project, the synopsis reads as follows:
Derek is a merman. More fish than man really, and, to put it frankly, a bit of an eyesore. Not only an eyesore, but an earsore to boot. For unlike most of his mythical race, Derek cannot sing. He hasn't a note in his gilled green head. This minor detail doesn't bother Derek however and he spends his time joyously rollicking around the ocean, oblivious to the fact that his dreadful singing is the reason he finds himself unable to make friends.

Tootega is a witch. An unsavoury truth, and one which she is bitterly aware of and unable to change. As a result of this, she has chosen to isolate herself on an iceberg far out to sea and uses her powers to inflict misery on anyone who comes too close. Tootega has no time for friendship and cannot even remember how to smile.

Once Upon An Iceberg is the story of what happens when these two unlikely characters are thrown together. It is a quirky fairytale about accepting others and about the importance of learning to accept ourselves for who we are.
In another animated tale created for BBC and based on the book by Raymond Briggs, Jim Broadbent (Horace Slughorn) will voice the male titular character. Ethel and Ernest, a book about the author's parents and focusing on their marriage of over four decades, has Broadbent excited.
It's such a beautiful book by a wonderful artist. It's truly inspiring; a great, honest story of a whole generation. It's lovely and irresistible.
Domhnall Gleeson's (Bill Weasley) Brooklyn has moved up its premiere date in the UK! The film was originally slated for release in late November but has now been given a November 6 release. Take a look at the international trailer for the film below:
Friend of MuggleNet and Harry Potter fan-favorite Warwick Davis (Filius Flitwick/Griphook) is bringing a familiar British character back to life! Davis is set to voice the iconic Gordon the Gopher for at least the pilot and possibly up to six episodes in a web-only comedy for BBC. This is the first time the character will actually have a speaking role since his creation in 1985. The pilot will air on the Taster section of the website.
The first poster and trailer for the film remake of the British television show Dad's Army has been released! The comedy stars three familiar faces from the Potter universe – Bill Nighy (Rufus Scrimgeour) as Wilson, Sir Michael Gambon (Albus Dumbledore) as Godfrey, and Toby Jones (the voice of Dobby) as Captain Mainwaring. Take a peek at the poster, trailer, and synopsis for the film below!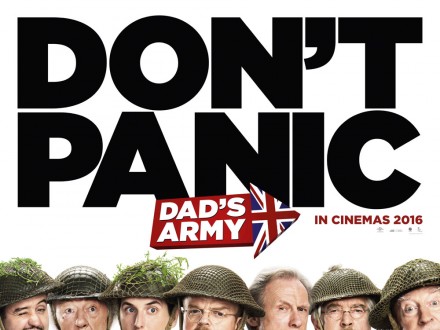 It is 1944 and World War II is reaching its climax. The Allies are poised to invade France and finally defeat the German army. But in Walmington-on-Sea morale amongst the Home Guard is low. Their new mission then – to patrol the Dover army base – is a great chance to revive spirits and reputation, that is until glamorous journalist Rose Winters arrives to write about their exploits, setting the pulses racing and putting the local women on red alert. MI5 then discover a radio signal sent direct to Berlin from Walmington-on-Sea. There's a spy on the loose! The outcome of the war is suddenly at stake, and it falls to our unlikely heroes to stand up and be counted.
Finally, The Walking Dead fans eager to see the Sunday premiere of the spin-off series starring Frank Dillane (young Tom Riddle) can rejoice! The first three minutes of Fear the Walking Dead have been released and you can see it here, if you dare, and watch the series this Sunday on AMC. Check your local station for showtimes!
That's it for this week's Casting News. Which projects have you excited? Tell us in the comment section below and make sure to include which projects you want our cast to take on next. You never know who might be reading!
Don't forget to join us in celebrating our return to Hogwarts with MuggleNet Movie Chat on September 1 – you can check out the event here!

Want more posts like this one? MuggleNet is 99% volunteer-run, and we need your help. With your monthly pledge of $1, you can interact with creators, suggest ideas for future posts, and enter exclusive swag giveaways!
Support us on Patreon