The Cosplay Minute: Wizard World Chicago 2015!
This past weekend, MuggleNet again had the opportunity to attend Wizard World's Chicago Comic Con at the Donald E. Stephens Convention Center in Rosemont, Illinois. Just as we had done at last year's con, we scoured the convention floor in search of those fan attendees who were dressed as characters from Harry Potter's world. Again, our search was not in vain! You can see all of the fans' wonderful costumes, and read their stories, below.
Megan as "Book Girl"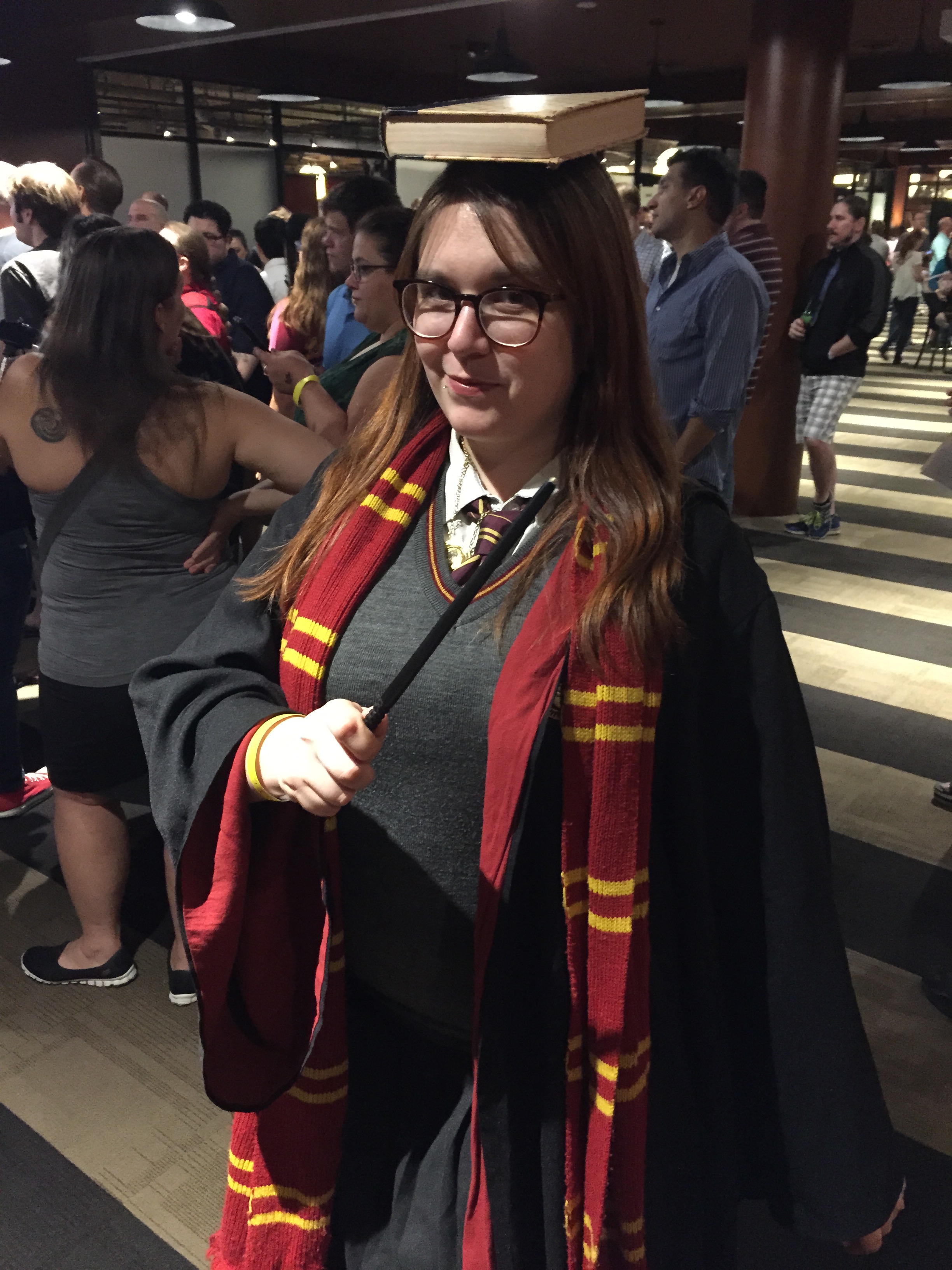 Our first Potter cosplay sighting took place at the Press and VIP fans gala held at Level 257 arcade and restaurant in Schaumburg, IL the day before the con. Megan, cosplaying as "Ginny from the Future," was recently at San Diego Comic-Con as her character, where she asked a question during the Star Wars panel and gained the nickname "Book Girl" for her character. Most impressively, the book on Megan's head is balanced there without any additional support. She prefers to attend cons that way and states that the balanced book, ever threatening to fall, is a great way to clear space around her as she travels the floor. That's one heck of a technique!
Angela Groves as McGonagall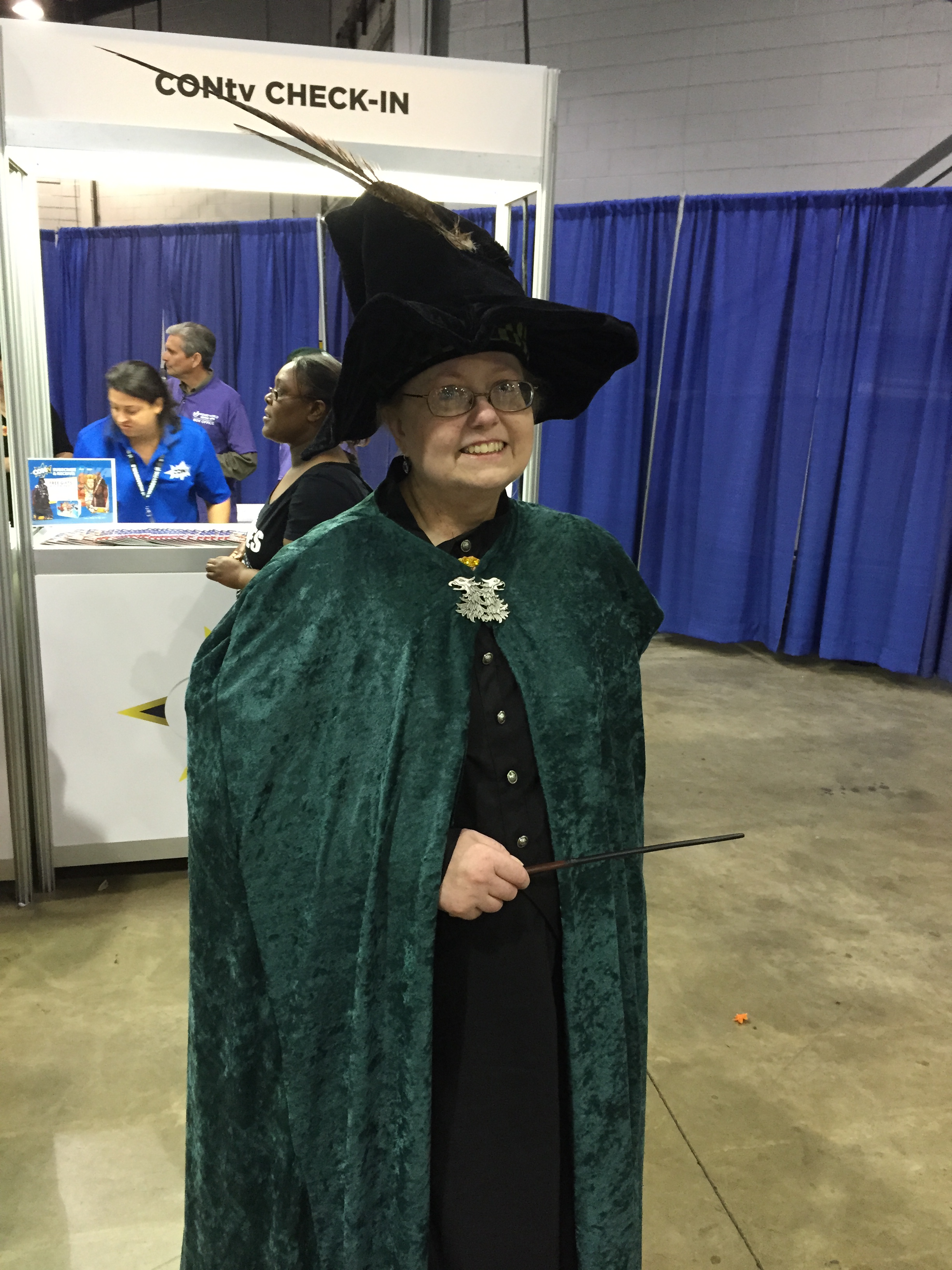 A former costume designer, Angela WOW'ed us with the level of detail present on her McGonagall costume. The broach is hand-crafted like the rest of the costume, and the cloak in particular strikes us with deep evocations of the first Harry Potter film. Of particular interest: Angela stated that she very nearly decided to attend the convention instead as Darth Vader. We certainly would have loved to see that!
Family and friends group cosplay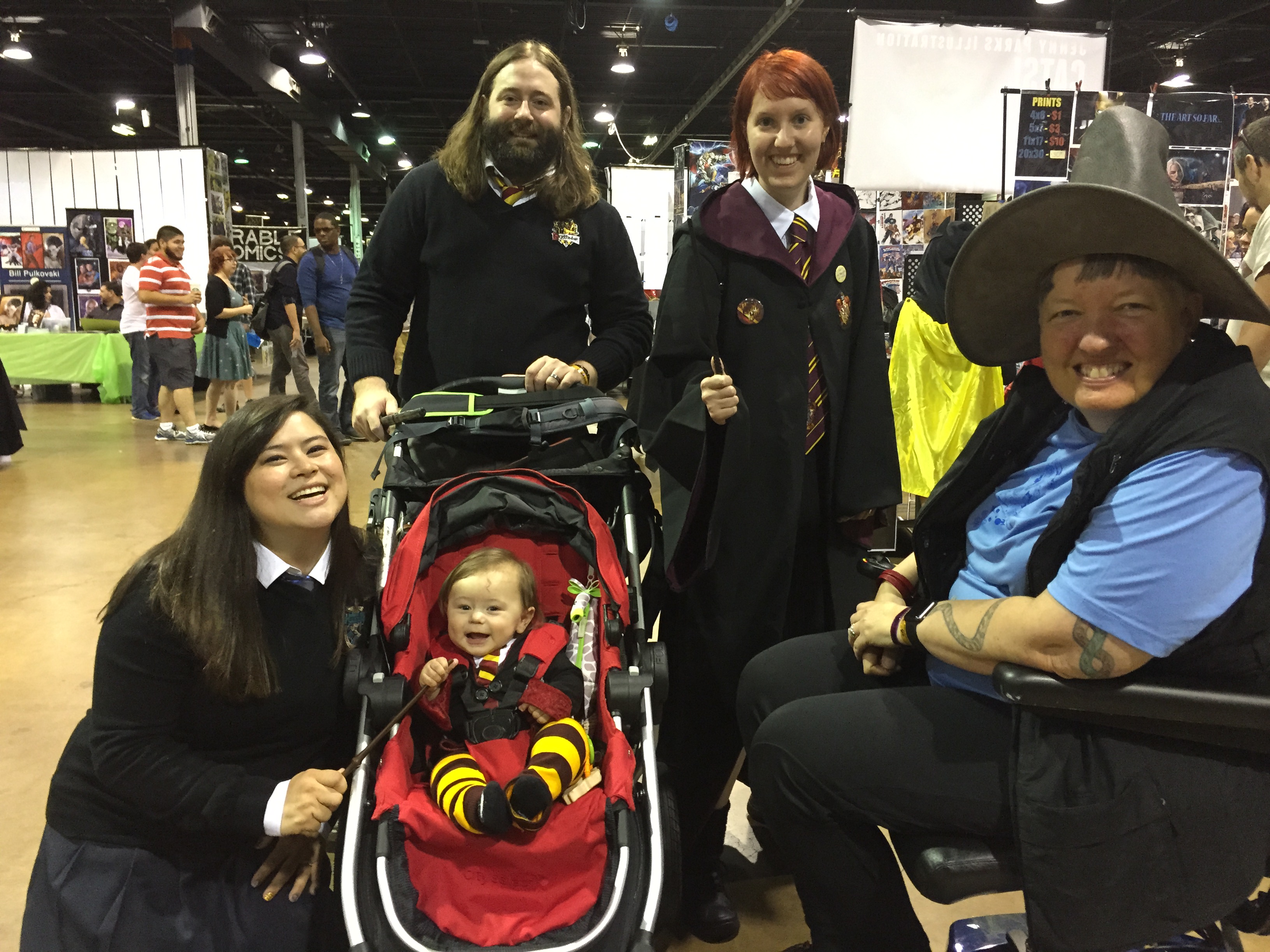 This group of convention-goers all happened upon each other at the convention. The mother and father, with baby Jack as young Harry Potter (left) were joined by their friend with the very cool hat and a lovely Ginny as they wandered through Artists Alley. The adorable baby Jack is only 7 months of age.
Jessica and Brittany as Fred and George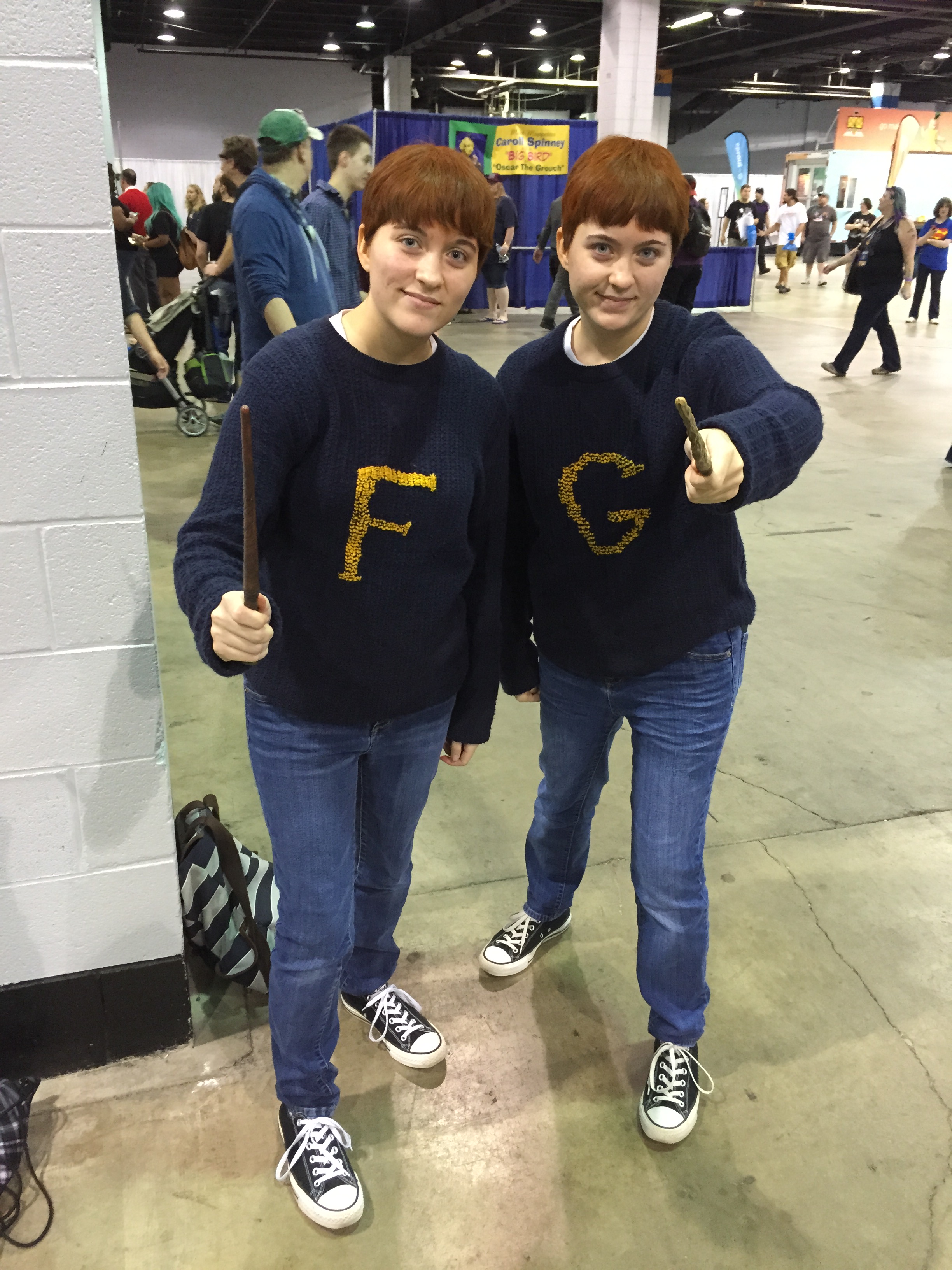 It was wonderful fun to run into identical twins Jessica (Fred) and Brittany (George) once more as they continued to up their Weasley twins cosplay game. Their Fred and George costumes distinctly improved from last year, when they were also featured in our costume recap article. This year, clad in famous Weasley sweaters, the twins could be found all about the convention center having a good time.
Top student Hermione Granger
When we spoke with Jessica and Brittany we were thrilled to hear that their friend had attended the convention's previous day as Hermione Granger, complete with her busy student desk. In this photo from Wizard World's official Facebook page, all of the stunning detail is captured.
Shannon as Hermione Granger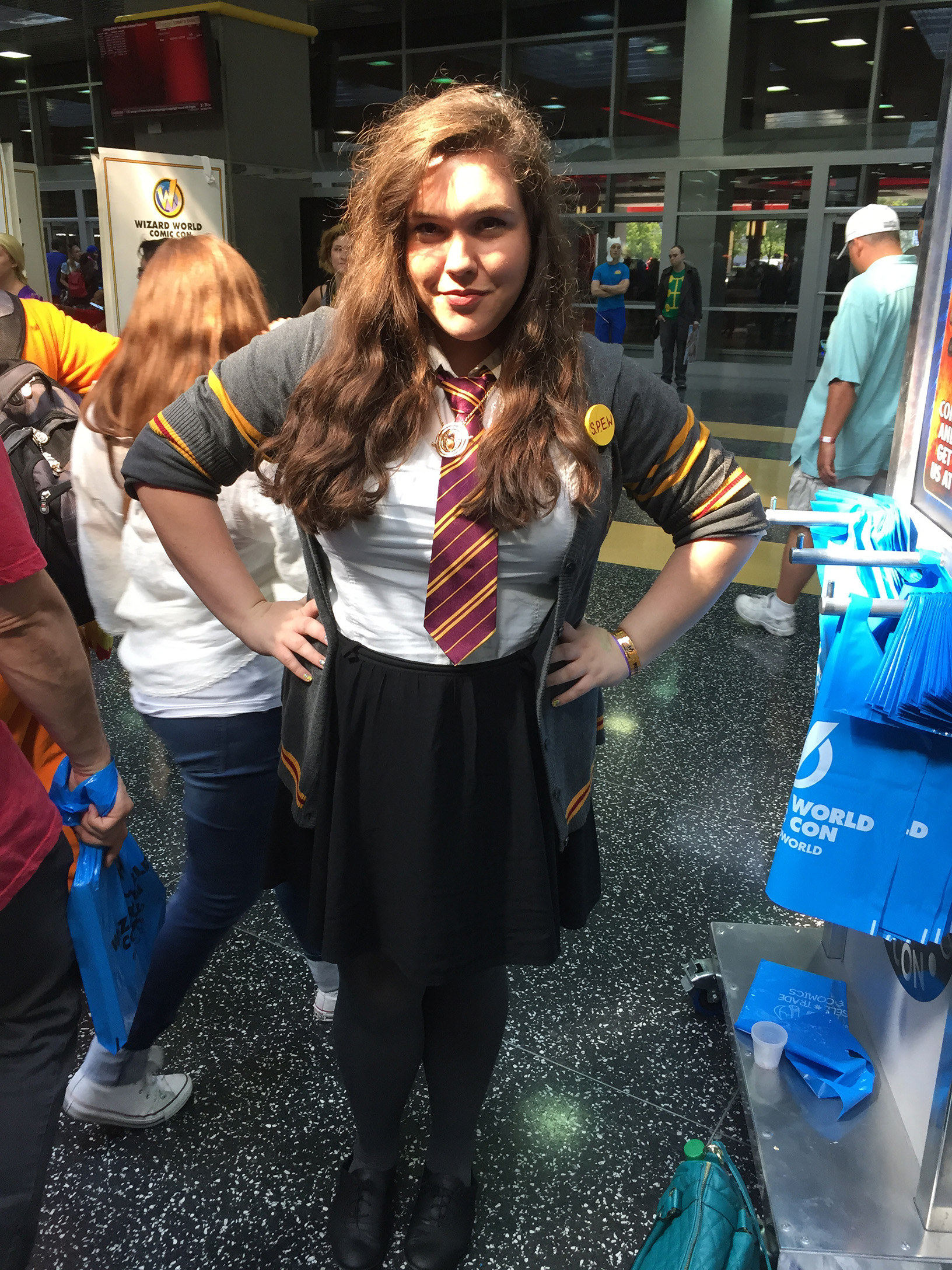 Toward the end of the convention we found this sassy Hermione Granger (complete with Time-Turner and SPEW badge) in the lobby, promoting house-elf rights.
This author with Hermione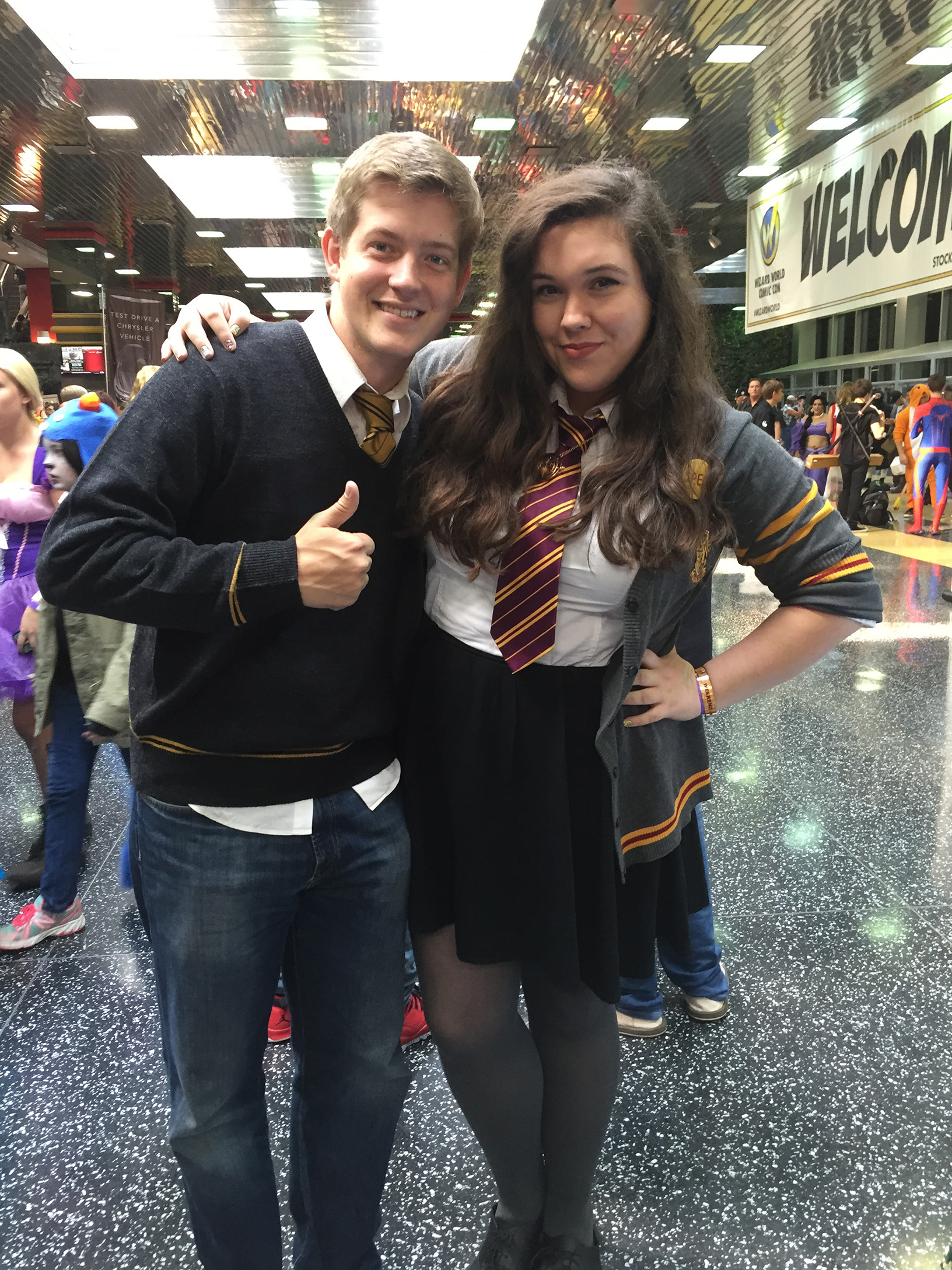 And finally, I myself attended as a Hufflepuff student, bowing to my Pottermore House assignment for one of the first times in public. It was such a pleasure meeting everyone once again and hearing how their love for Harry still lasts.
This was the second year of Wizard World Chicago without any celebrity guests who were involved in Harry Potter; The 2013 convention did feature the Phelps twins. Still, in the absence of Potter star power, the Harry Potter fan attendance was not diminished, as evidenced by the cosplays at the convention (including a stunning Rubeus Hagrid that apparently eluded us!).
Given that the Fantastic Beasts and Where to Find Them film will be released next November (2016), it is foreseeable that, at next year's convention, the hype will have increased, and we'll have even more coverage to report! We would like to thank Wizard World for granting us the opportunity to report, on site, the goings-on as they related to Harry Potter, our first passion.