Scholastic Continues 20th-Anniversary Celebrations at BookExpo 2018!
It's still a few more months until the 20th anniversary of the US publication of Harry Potter and the Sorcerer's Stone (that's coming up in September), but Scholastic already has celebrations underway, including last week at BookExpo and BookCon in New York City, where they gave away exclusive swag and gave visitors an early glimpse at the finished set of Brian Selznick's new 20th-anniversary Harry Potter covers.
The publisher began the event with a Harry Potter party in New York, where Brian Selznick debuted finished copies of books with his illustrations on them, and notable figures from Scholastic and elsewhere spoke about the importance of Harry Potter.
Scholastic CEO Dick Robinson shares his first memory of meeting J. K. Rowling.

"After she left, I sat down in the conference room and read the book straight through."#HarryPotter20 pic.twitter.com/Ve9MGGpXgH

— Scholastic (@Scholastic) May 31, 2018
And now, Brian Selznick, the illustrator of the covers of the 20th anniversary editions of the Harry Potter series is here to talk about his new artwork…with some help from Hedwig! ?#HarryPotter20 pic.twitter.com/MJBMXrgll1

— Scholastic (@Scholastic) May 31, 2018
Brian Selznick has just revealed the 20th anniversary edition of Harry Potter and the Sorcerer's Stone in person for the first time! We can't wait to have one of these on our shelves! ?⚡#HarryPotter20 pic.twitter.com/ZpR4HkC4gL

— Scholastic (@Scholastic) May 31, 2018
But even for those unable to attend the party, there was plenty of Harry to go around at the convention itself. The 20th-anniversary covers were on display, and visitors had a chance to walk through Scholastic's booth, which was all about celebrating Harry Potter. Fans were also given the chance to get a glimpse of Brian Selznick's box set design for his new covers. This preview is especially exciting given that the box set of the 20th-anniversary covers won't be available until September (though the individual books will go on sale later this month).
Fans also had a chance to get exclusive 20th-anniversary swag at both BookExpo and BookCon. Brian Selznick signed gorgeous posters connecting all seven of his new Harry Potter covers, and the giveaway of stylish Harry Potter tote bags clogged up nearby aisles as fans waited for a chance to get one for their own.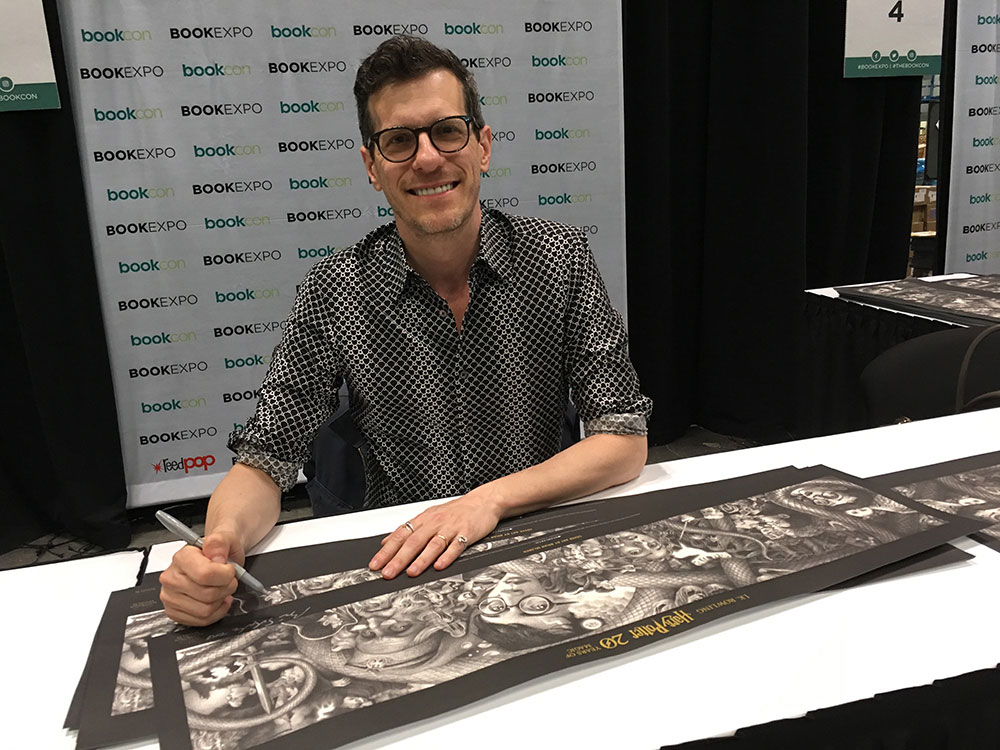 All in all, it was a great weekend to be a Harry Potter fan in New York City! For those unable to attend the convention, never fear – Brian Selznick's 20th-anniversary covers are on sale starting June 26, meaning you can bring a little bit of the celebration right to your own bookshelf.
Were any of you at BookExpo or BookCon? What did you think of Scholastic's festivities?
All photos were taken by Matt Adelman.