EXCLUSIVE SNEAK PEEK: Look Inside "Movie-Making News: The Stories Behind the Magic"
We've already told you about Jody Revenson's Movie-Making News: The Stories Behind the Magic, and now we have the chance to give you a preview of the book's content. If you've ever wanted a closer look at some of the MinaLima-designed papers in the Potter films, Movie-Making News is probably the best thing you can get this side of Hogsmeade.
The spreads below give an idea of what kind of information Movie-Making News will contain about the making of Fantastic Beasts and Where to Find Them. The book will also include a sneak peek of Fantastic Beasts: The Crimes of Grindelwald, but that information is strictly under wraps for now!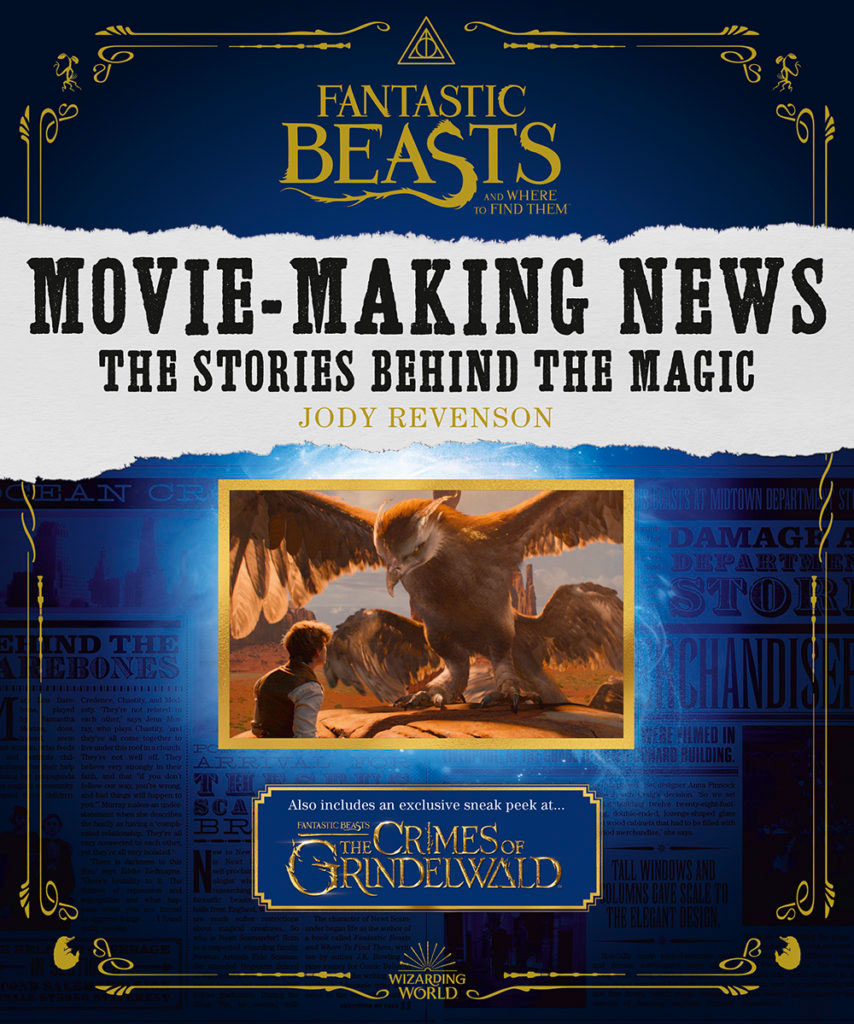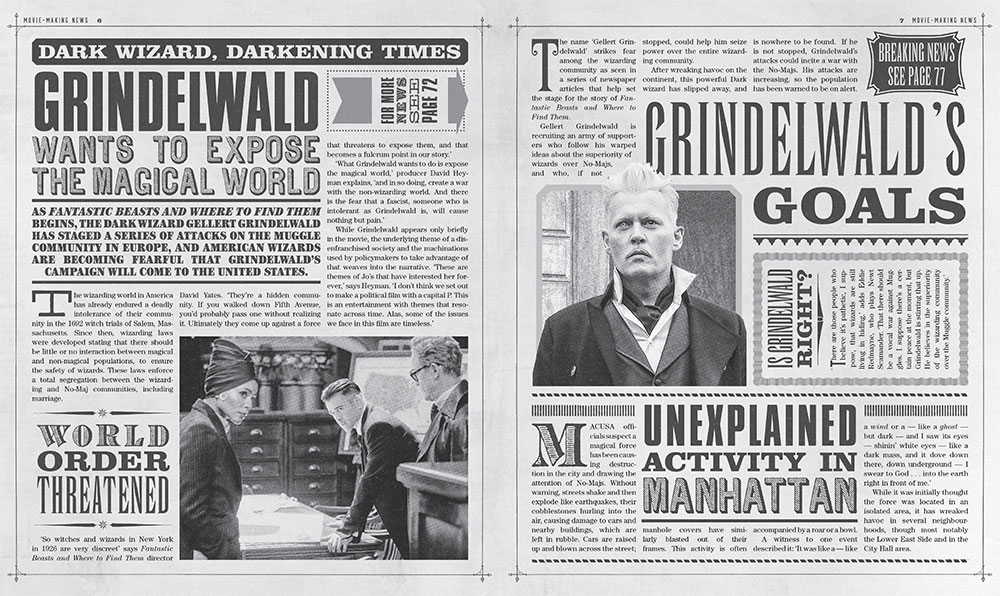 So witches and wizards in New York in 1926 are very discreet. They're a hidden community. If you walked down Fifth Avenue, you'd probably pass one without realizing it. What Grindelwald wants to do is expose the magical world, and in doing so, create a war with the non-wizarding war. And there is the fear that a fascist, someone who is intolerant as Grindelwald is, will cause nothing but pain.

– David Yates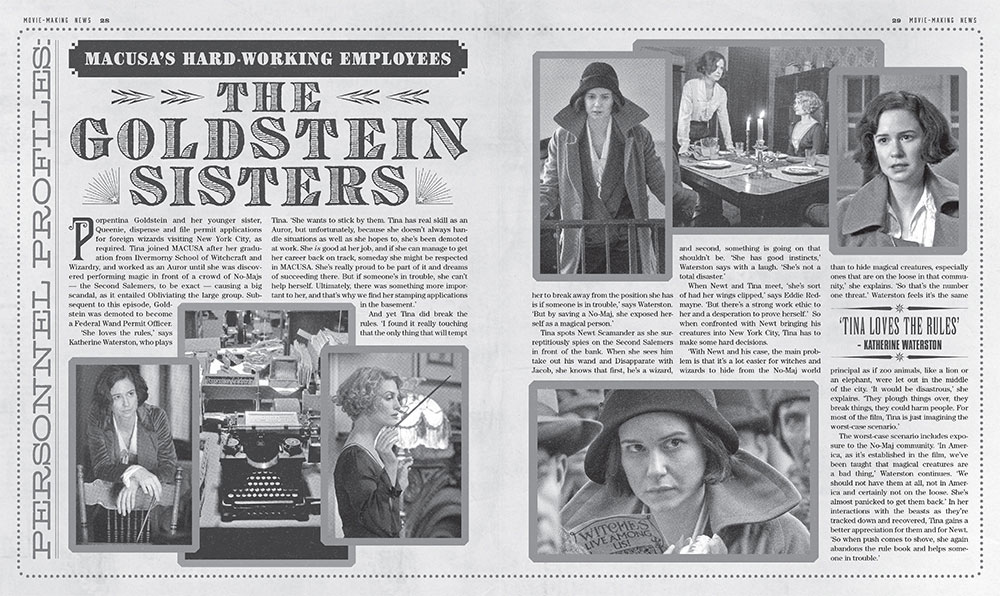 [Tina] loves the rules. She wants to stick by them. Tina has real skill as an Auror, but unfortunately, because she doesn't always handle situations as well as she hopes to, she's been demoted at work. She is good at her job, and if she can manage to get her career back on track, someday she might be respected in MACUSA. She's really proud to be a part of it and dreams of succeeding there. But if someone's in trouble, she can't help herself.

– Katherine Waterston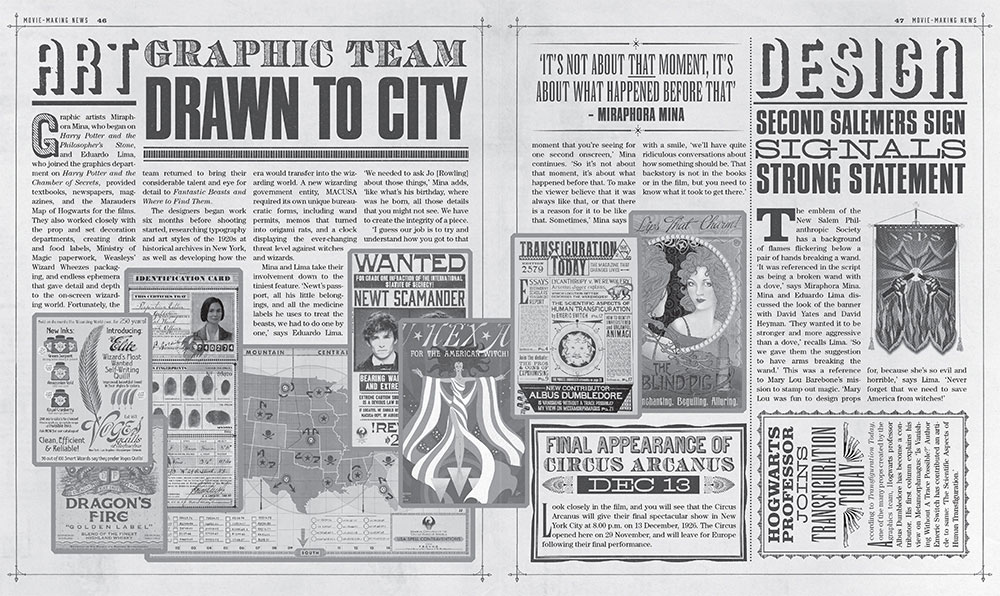 Newt's passport, all his little belongings, and all the medicine labels he uses to treat the beasts, we had to do one by one. We needed to ask Jo [Rowling] about those things, like what's his birthday, where he was he born, all those details that you might not see. We have to create the integrity of a peace.

– MinaLima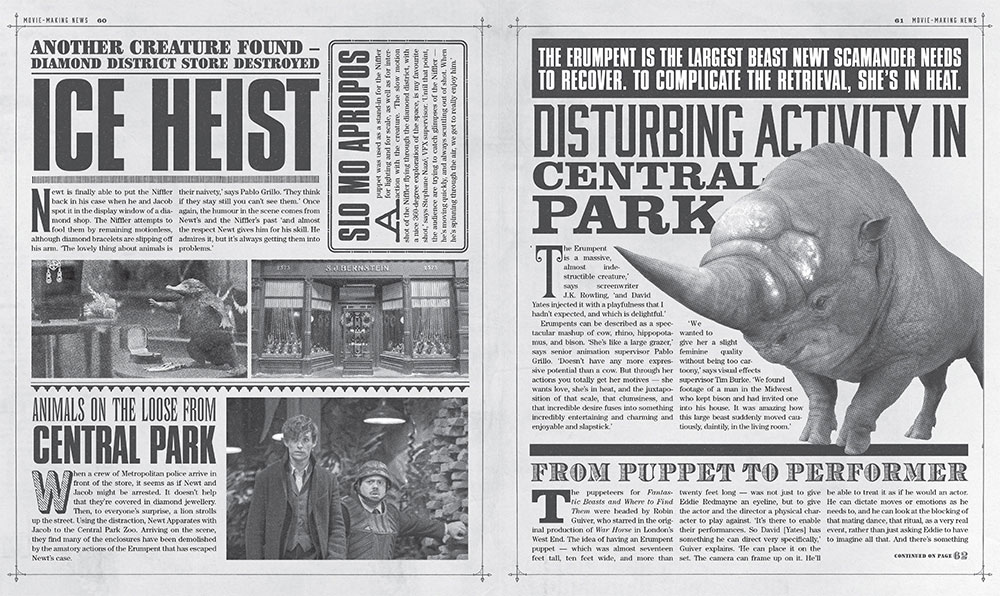 The Erumpent is a massive almost indestructible create, and David Yates injected it with a playfulness that I hadn't expected, which is delightful.

– J.K. Rowling
Movie-Making News: The Stories Behind the Magic will be released on October 2. Preorder your copy here!