Waterstones Offers Fans the Chance to Own Original Chris Riddell Art
After nearly a year of waiting, Chris Riddell's illustrated edition of The Tales of Beedle the Bard is set to be released in the United Kingdom on October 2 (the United States is getting a different illustrated edition of Beedle on October 9). To celebrate, Waterstones is offering fans the chance to get something very special with their preorders: an original illustration of Dumbledore by Chris Riddell himself.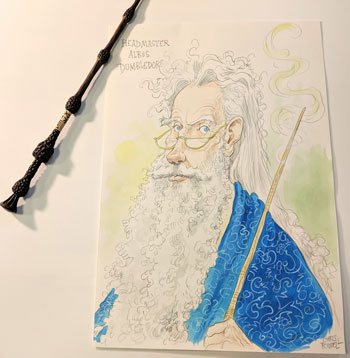 For the chance to own Riddell's artwork, all you have to do is preorder either the standard or deluxe edition of the illustrated Tales of Beedle the Bard from Waterstones before midnight on October 1. Once your payment is processed, you'll be automatically entered. The only catch is that the contest is limited to residents of Great Britain – the rest of us will just have to pine away in vain.
Check out the video below for a glimpse of Riddell completing the illustration.
Chris Riddell is also making appearances across the UK to celebrate the book's release. Click here for more information about the prize draw and to read the official rules.