Review: An Evening with Jim Kay
Recently, the illustrated edition of Harry Potter and the Goblet of Fire was released, and to celebrate, Jim Kay went on tour to share insights into the illustrations and how they came about. I was lucky enough to see him on October 10 at Blackwell's in Oxford. The room was packed with children and adults, all eager to hear from Kay. He came armed with a presentation filled with pictures of his work and went through the images. He covered so much in about an hour that it's a struggle to go through everything. Keep reading to find out a little bit from this fascinating evening.
He discussed how he had to start from scratch to try to rebuild the world that everyone knows from the films and their own imaginations. He went through how he built models of landscapes and creatures from the wizarding world (including Hogwarts, Dobby, and Thestrals) so he could figure out how to light it before he would draw it. The image below shows one of the slides he showed us.
Another difficulty was how to draw the portraits of the characters when Daniel Radcliffe, Rupert Grint, Emma Watson, and the rest of the Harry Potter film cast were already embedded into our minds as their respective characters. Kay explained that in order to overcome this, he had to seek inspiration from the real world. A fascinating fact I learned is that Ginny, Molly, and Ron Weasley were inspired by a real-life family. Plus, his Draco came from a schoolchild he saw. When he approached his mother for permission to draw her son, she gave it as long as he wasn't an inspiration for a baddie. He even told us that he saw someone who reminded him of Umbridge. One day, he briefly spotted a woman who looked like her and had to recall her features to draw her.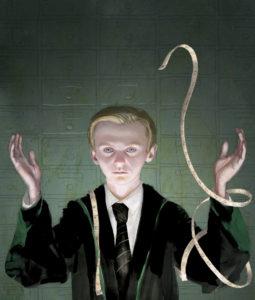 Bringing some of the magical elements to life wasn't easy. He explained that one of his techniques to bring the ghosts to life was to paint a watercolor in negative, scan it, and digitally reverse it using photoshop. Then, any white spaces would turn to black and red to blue. Plus, the running colors would create a spectacular ethereal effect.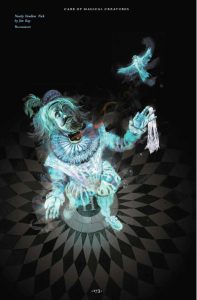 It was incredibly interesting hearing about his illustration process and how the inspiration for his pieces came about. It was fascinating to hear about how he built his own magical world, separate from the ones we've all seen on our screens for years. I particularly enjoyed when he gave MuggleNet's "Easter Eggs in Jim Kay's Illustrations" series a shout-out, even commenting that our writers thought of hidden motifs that he himself hadn't considered. His struggles to turn J.K. Rowling's descriptions into something we can see on the pages are something I never considered before the night. Not only was he incredibly interesting, but he was friendly, funny, and passionate about his work too.
My evening with Jim Kay was a great experience. I can't wait to see how he tackles moments, characters, and landscapes from Harry Potter and the Order of the Phoenix.