CC #436: Week of December 13, 2020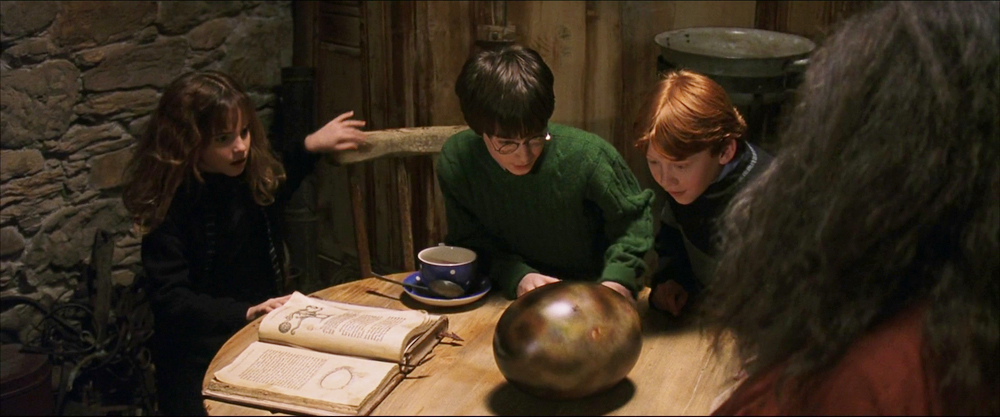 ---
⬇️⬇️ Scroll down in the below area to read all captions from this week! ⬇️⬇️
---
Hagrid: "Best-looking potato I've harvested in years!"
—Vikki
---
Hermione: "Ooh, that's not allowed! I'm telling!"
—Hufflepuff Girl
---
Harry: "Hagrid, you laid an egg?"
Hagrid: "Of course not, 'Arry. This is a dragon egg."
Harry: "Sorry. I'm still new to the world of magic."
—Josh
---
If this was the size of the egg, Ron couldn't wait to see how big the bacon would be!
—Grace
---
Hermione: "What species is this?"
Hagrid: "Uh, it's a velociraptor."
(Camera zooms in on Hermione as dramatic music plays.)
Hermione: "You bred raptors?"
—Sam
---
Ron: "Whoa, a dragon egg!"
Hagrid: "Nah, it's just bread I left in the oven too long."
—Emma
---
Harry: "Wizards breed dragons…"
Ron: "Dragons destroy wizards…"
Hermione: "…Witches inherit the Earth."
—Linnz
---
Hagrid: "I call it Ultimate Gobstones!"
—Harry
---
Ron: "I must be getting better at Divination. I can actually see something in this crystal ball."
Hermione: "That's not a crystal ball, Ronald! That's a dragon egg, and it's hatching!"
—Sam
---
Bertie Bott had, to mixed reception, expanded his wares from every-flavor beans to questionably colored melons.
—Grace
---
Hagrid: "It sings sometimes, too."
Ron: "Okay…"
—Hufflepuff Girl
---
Harry: "Hagrid, what is that?"
Ron: "Is that a Norwegian Ridgeback?! Those are really rare!"
Hermione: "But it can't be! According to Fantastic Beasts and Where to Find Them, Norwegian Ridgebacks have black eggs! That one is gold!"
—Jack H.
---
Ron: (to the egg) "How you doin'?"
Hermione: "Why did I let him watch the Friends marathon?"
—Emma
---
Ron: "This is a Norwegian Ridgeback egg. The Norwegian Ridgeback dragon…"
(20 hours later…)
Ron: "…and so the Norwegian Ridgeback is my favorite dragon."
—Josh
---
Hagrid: "I won it off a stranger I met down at the pub."
Harry: "What'd this stranger look like?"
Hagrid: "Well, he looked a lot like Professor Quirrell, except that he wasn't wearing a turban. Oh, and he had the face of Lord Voldemort on the back of his head. Funny folks you get in the Hog's Head, huh?"
—Sam
---
Ron: "Charlie says that if you touch it and it hatches, it means you'll be the next dragon rider!"
—Grace
---
Ron: "Hagrid, why does the egg have bite marks?"
Hagrid: "I thought it was chocolate."
—Rosanna
---
Even to a dragon hatching, Hermione will still bring a book.
—Katie G.
---
Harry: "I see Draco."
Hermione: "Very good, Harry. Draco is indeed Latin for 'dragon.'"
Harry: "No, I mean I see DRACO MALFOY LOOKING IN THE WINDOW!"
Hagrid: "Oh, dear."
—Sam
---
Ron: "Hagrid, this is one of the rarest Pokemon eggs you can find!"
—Sondra
---
Cadbury Cream Eggs are getting bigger and bigger every year.
—Tarrin
---
Promotional image from the upcoming How to Train Your Dragon prequel.
—Sidney
---
Harry: "Uh, Hagrid, the point of Easter eggs is to make them HARD to find."
—Sam
---
Return to Caption Contest Home
Want more posts like this one? MuggleNet is 99% volunteer-run, and we need your help. With your monthly pledge of $1, you can interact with creators, suggest ideas for future posts, and enter exclusive swag giveaways!