CC #440: Week of February 7, 2021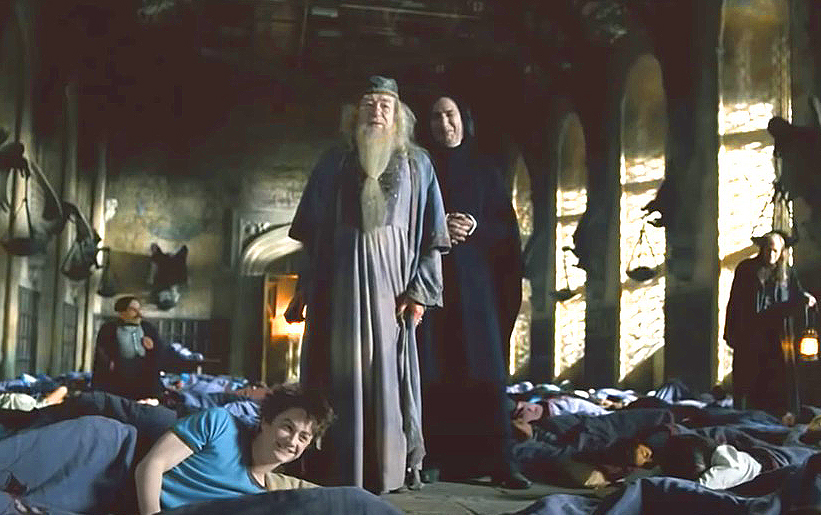 ---
⬇️⬇️ Scroll down in the below area to read all captions from this week! ⬇️⬇️
---
Riddikulus!
—Nainika P.
---
Dumbledore: "For in dreams we enter a world that is entirely our own. Except for Harry, of course – a lot of his dreams are Voldemort's."
—Collette
---
"Severus, I don't want to interfere with your teaching methods, but we need to talk about you taking 'infinite points from Gryffindor.'"
—Sam
---
What appears to be a smile is actually a grimace as Dumbledore steps on Harry's hand.
—Friend of Fawkes
---
Sir Michael Gambon had thought his first day on the new Harry Potter would have more magic and fewer sleeping bags.
—Polly
---
Heartwarming: Headmaster and professor set up a plan to kill a teenage boy so the wizarding world can be saved.
—Nico
---
Of all the many oddities of Hogwarts School, Argus Filch's habit of carrying around a lit lamp in broad daylight was perhaps the strangest…
—Grace
---
Snape: "Potter's been laughing like that for hours. We can't seem to get him to stop and go to sleep."
Dumbledore: "How did it start?"
Snape: "Someone told him that Cursed Child is canon."
—Sam
---
Snape: "Stop fooling around, Potter. This is for the yearbook."
—Monica A.
---
When your friend's parents know you're not asleep at the sleepover, and you're trying to pretend you are, but nobody's buying it.
—Harrison
---
Director Alfonso Cuarón decided that the Great Hall tables were really messing with the feng shui of the room.
—Maddie
---
Snape: "Why do they all look like they're from Beauxbatons?"
Albus: "It will all blow over in a few days…"
One week later…
Snape: "Now Fleur's head is on their shirts!"
Albus: "Okay, now it's a problem."
—Hufflepuff Girl
---
Dan: "Can you put me next to the girl that I like in this scene?"
Alfonso: "Sure!"
Gambon: (in secret) "Shh, Alan! I put a fart machine in Dan's sleeping bag. Hee hee!"
Five minutes later…
Girl next to Dan: (gets up and leaves, disgusted)
Dan: "Michael! Alan!"
Gambon: "It was just too perfect of an opportunity!"
—Katie G.
---
Flitwick: "Dementors everywhere around Hogwarts this year! Look, there's even one above Mr. Filch!"
—Eric (Staff)
---