Castium Revelio: Cruella de Vil, Dorian Gray, and House Targaryen
by Brienne Green · Published · Updated
Sometimes, the villains get to take center stage, and this is one of those weeks in MuggleNet's Casting News. We finally have about 101 updates (okay, not that many) for you on Cruella, starring Dame Emma Thompson. Alfred Enoch and Stephen Fry will be helping to bring a modern online production of The Picture of Dorian Gray to life. And finally, find out which Wizarding World alumnus has just joined the cast of Games of Thrones prequel House of the Dragon. Let's see Batman take on those baddies… Oh, wait – he can't. Filming on The Batman has been delayed again. Well, you can read about that below as well. Castium Revelio!
Harry Potter Cast & Crew
It's been a few months since we last had an update for you on Cruella, starring two members of the Awesome Emmas Club – Emma Stone and Dame Emma Thompson (Sybill Trelawney) – so we're going to make this one count!
Cruella is, of course, the long-awaited (and awaited, and awaited...) backstory of 101 Dalmatians villain Cruella de Vil, in which Stone stars as a young Cruella and Thompson as the Baroness, the woman who apparently set Cruella on a path to becoming the puppy-hating monster we all know and loathe. We have a synopsis that finally gives us a clear picture of the film's plotline, an official trailer, a new movie poster, and some film stills featuring Thompson. It's an embarrassment of bi– er, riches! Enjoy all of it below, and keep your fingers crossed about the movie's optimistic release date of May 28.
'Cruella' is set in 1970s London amidst the punk rock revolution and follows a young grifter named Estella, a clever and creative girl determined to make a name for herself with her designs. She befriends a pair of young thieves who appreciate her appetite for mischief, and together, they are able to build a life for themselves on the London streets. One day, Estella's flair for fashion catches the eye of the Baroness von Hellman, a fashion legend who is devastatingly chic and terrifyingly haute, but their relationship sets in motion a course of events and revelations that will cause Estella to embrace her wicked side and become the raucous, fashionable, and revenge-bent Cruella.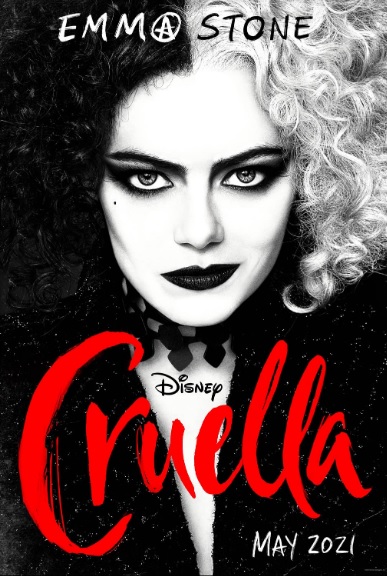 An online production of The Picture of Dorian Gray is on its way, and burgeoning theater buddies Alfred Enoch (Dean Thomas) and Stephen Fry (narrator, United Kingdom Harry Potter audiobooks) are among the cast. Enoch and Fry appeared together late last year in an online presentation of What a Carve Up!
This time around, Dorian is going modern, moving from a vain Victorian guy to a smartphone-obsessed social media influencer. Fionn Whitehead (Dunkirk) will be playing Gray alongside Enoch as his corrupter, Lord Harry Wotton. Fry will serve as the interviewer, and the play will also feature Joanna Lumley (Absolutely Fabulous) as Lady Narborough, Emma McDonald (Get Luke Lowe) as Sibyl Vane, and Russell Tovey (Flesh and Blood) as Basil Hallward. Performances are scheduled from March 16 through March 31, and you can purchase your tickets online now.
Remember that Game of Thrones prequel that had a bunch of Wizarding World alumni in it, which made everybody all excited, which in turn made everybody all the more disappointed when HBO dumped it after filming only a pilot? Well, it was beginning to look as if the other prequel, House of the Dragon, was going to be devoid of wizarding stars, but Deadline Hollywood announced last week that Rhys Ifans (Xenophilius Lovegood) has signed on!
As you may have guessed from the title, the series is going to feature a whole load of Targaryens, but despite his hair, Ifans won't be one of them. He'll be portraying Ser Otto Hightower, the Hand of the King. In this setting, 300 years prior to Game of Thrones, that king is Viserys Targaryen (Paddy Considine, Hot Fuzz). Apparently a pretty perceptive guy, Hightower believes the greatest threat to the crown is the king's brother, Daemon Targaryen (Matt Smith, Doctor Who). The first ten episodes of House of the Dragon are expected to launch in 2022.
The Batman has unfortunately not been doing the best job of keeping cases of COVID-19 out of its filming bubble, and another positive test – this time for Robert Pattinson's (Cedric Diggory) stuntman – has once again delayed filming. NME reports that production is still expected to wrap in March ahead of the film's March 4, 2022, release date.
The post-Brexit visa rules for those working in the entertainment industry are truly heinous, and if you're unfamiliar with them, Tim Burgess, lead singer of the Charlatans, does a great job of keeping up with the issue on Twitter. Now, the Guardian reports, the UK's acting royalty is speaking up, with Dame Julie Walters (Molly Weasley), Miriam Margolyes (Pomona Sprout), Sir Ian McKellen, and Sir Patrick Stewart recently adding their names to a letter penned by the performing arts union Equity. "Before, we were able to travel to Europe visa-free," the letter states. "Now we have to pay hundreds of pounds, fill in form after form, and spend weeks waiting for approval – just so we can do our jobs." Let's hope this changes sooner rather than later.
Back in October 2020, we learned that filming was finally about to begin on the Apple TV series Slow Horses, starring Gary Oldman (Sirius Black). Last week, the Daily Mail spotted Oldman on set in Westminster, London, England, with costar Kristin Scott Thomas. An adaptation of Mick Herron's Slough House novels, the series is anticipated to consist of 12 episodes, the first six based on Herron's first book, Slow Horses, and the second on his second novel, Dead Lions. You can view Oldman and Scott Thomas in action below.
Deadline Hollywood reports that Helena Bonham Carter (Bellatrix Lestrange) has been cast in the upcoming BBC comedy The Cleaner. A remake of a German comedy series, the show will center around "Paul 'Wicky' Wickstead, who mops up crime scenes after the police have concluded their detective work." Filming has begun, and the series is expected to premiere later this year.
After 2020, we're going to need a lot more movies about adorable talking bears that wear clothes, so fortunately, a third installment of the Paddington film series is on its way. Variety reports that David Heyman's (producer) Heyday Films is again attached, but whether or not any previously associated Wizarding World stars – such as Dame Julie Walters, Michael Gambon (Albus Dumbledore), or Imelda Staunton (Dolores Umbridge) – will reprise their roles is unknown. We'll keep an eye on it!
Filming is underway on the new Alibi drama Annika, with Katie Leung (Cho Chang) joining Nicola Walker (Unforgotten) and others in the cast of the six-part show. Originally a Radio 4 series, Annika will follow DI Annika Strandhed, leader of a marine homicide unit in Scotland. No release date is yet available, but you can check out a photo of Leung and her castmates below.
Those of you who enjoyed Season 1 of Staged – BBC One's hilarious comedy about a pair of actors continuing to rehearse for a West End play despite a COVID-19 shutdown, starring David Tennant (Barty Crouch Jr.) – will be pleased to know that Season 2 is headed to Hulu. The second season consists of eight episodes and will hit the streaming service on March 16. Season 1 is also still available on the platform.
It seems like only yesterday that we were updating you on After sequel After We Collided, and that's because it basically was. They're slinging these things out faster than we can come up with jokes about their titles, so get ready for After We Fell any moment now. Starring Hero Fiennes-Tiffin (11-year-old Tom Riddle) as Hardin Scott and Josephine Langford as Tessa Somethingorother (that's not meant to be funny; we really don't know if this character even has a last name), this latest installment finds Tessa having another crisis – apparently to do with her and Hardin's families – and yet again, their future is in doubt. But don't worry too much – the fourth film is called After Ever Happy, not After Ever Alone, Miserable, and Stress-Eating Jaffa Cakes. Anyway, here's a trailer.
As
MuggleNet let you know in August 2020
,
Frank Dillane
(teenage Tom Riddle,
Harry Potter and the Half-Blood Prince
) is set to star as Christophe in Season 3 of Starz's
The Girlfriend Experience
, and Starz announced via Twitter on February 10 that the season would premiere at the online SXSW festival March 16–20. There's no definite word yet on when it will subsequently hit Starz, but we'll keep an eye out!
Finally in Harry Potter news, the Radio Times reported last week that Toby Regbo (young Albus Dumbledore) will be part of the cast of Season 3 of Sky One's A Discovery of Witches. Regbo will portray an older version of Matthew and Diana's adopted son Jack, played by Joshua Pickering in Season 2. Regbo told the Radio Times that he's excited about the opportunity:
I'm really excited to be joining the excellent cast of 'A Discovery of Witches.' Jack is a wicked character, and it was great fun bringing him to life.
Fantastic Beasts Cast & Crew
What's red and black and moves a lot more slowly than its name would imply? The Flash! But take heart, lovers of DC and Ezra Miller (Credence Barebone) – producer Barbara Muschietti has shared a behind-the-scenes photo that appears to constitute actual proof that this movie is going to happen after all. Legend has it that The Flash is set for a November 2022 theater release, so let's all hope that whatever is going on inside that large building behind director Andy Muschietti continues going on without further interruption.
View this post on Instagram
Meanwhile, we'll all be able to see Miller's Flash much more quickly as part of Zack Snyder's Justice League, which is set to hit HBO Max on March 18. Behold the trailer, released last week.
MuggleNet
let you know
way back in February 2019 about
Amundsen: The Greatest Expedition
's release in Norway, but the film – which stars
Katherine Waterston
(Tina Goldstein) as Bess Magids, fiancée of famed Arctic explorer Roald Amundsen – has now had its United States rights acquired,
Deadline Hollywood reports
. Samuel Goldwyn Films is hoping for a March theatrical release and a video-on-demand release in April, so we'll keep you posted on that.
In keeping with literally everything else, the Dublin International Film Festival (DIFF) will be an online-only event this year, but that just means we'll all have the chance to enjoy an intimate conversation with Colin Farrell (Percival Graves). Raidió Teilifís Éireann reports that Farrell will join festival director Gráinne Humphreys in a discussion about the experience of bringing new films to festivals. Farrell says he's also looking forward to the expanded audience a virtual event provides:
What this does is open festivals up to a greater panoply of people and a wider audience, and allows people to get a sense of the opportunities and films at a film festival and the passion that fuels film festivals. They are incredible experiences.
The DIFF will run March 3–14, and tickets are available for purchase now.
Casting continues on an untitled A24 film that will be director Darren Aronofsky's first since Mother, and Deadline Hollywood says Samantha Morton (Mary Lou Barebone) is in talks to sign on. The project had previously been known as The Whale and is expected to star Brendan Fraser in the lead role as a reclusive English teacher suffering from severe obesity who is attempting to reconnect with his estranged teen daughter.
Cursed Child Cast & Crew
The Make-Up Artists & Hair Stylists Guild (MUAHS) announced its nominations last week for the eighth annual MUAHS Guild Awards, and several projects involving Wizarding World alumni received nods for the visionary visages and charming coiffures therein.
To start, the hairdos of Harry Potter and the Cursed Child will be up for Best Hair Styling in a Theatrical Production. Also nominated – with involved alumni listed for reference – are the following films:
Killing Eve for Best Contemporary Make-Up in a Television Special, One Hour or More Live Program Series, or Movie for Television – Fiona Shaw (Petunia Dursley, Harry Potter)
Bridgerton for Best Period and/or Character Hair Styling in a Television Series, Television Limited or Miniseries, or Television New Media Series; and Best Period and/or Character Make-Up in a Television Series, Television Limited or Miniseries, or Television New Media Series – Freddie Stroma (Cormac McLaggen, Harry Potter)
The Queen's Gambit for Best Period and/or Character Hair Styling in a Television Series, Television Limited or Miniseries, or Television New Media Series; and Best Period and/or Character Make-Up in a Television Series, Television Limited or Miniseries, or Television New Media Series – Harry Melling (Dudley Dursley, Harry Potter)
The Crown for Best Period and/or Character Hair Styling in a Television Series, Television Limited or Miniseries, or Television New Media Series; and Best Period and/or Character Make-Up in a Television Series, Television Limited or Miniseries, or Television New Media Series – Helena Bonham Carter (Bellatrix Lestrange, Harry Potter)
Mank for Best Period Hair Styling and/or Character Hair Styling in a Feature-Length Motion Picture; and Best Period and/or Character Make-Up in a Feature-Length Motion Picture – Gary Oldman (Sirius Black, Harry Potter)
Lovecraft Country for Best Special Make-Up Effects in a Television Series, Television Limited or Miniseries, or Television New Media Series – Wunmi Mosaku (Beryl, Fantastic Beasts)
The awards will be presented during a virtual gala on Saturday, April 3.
Mosaku picked up an award last week at the British Independent Film Awards (BIFAs), taking the Best Actress prize for her work in the horror film His House. Congrats!
We hope you enjoyed this week's wicked edition of Casting News. Now, unhand that puppy, stop looking at yourself in the mirror, and drop that dragon egg before something really bad happens. And don't forget to check back next week for more updates on your Wizarding World faves.
Want more posts like this one? MuggleNet is 99% volunteer-run, and we need your help. With your monthly pledge of $1, you can interact with creators, suggest ideas for future posts, and enter exclusive swag giveaways!
Support us on Patreon