CC #441: Week of February 21, 2021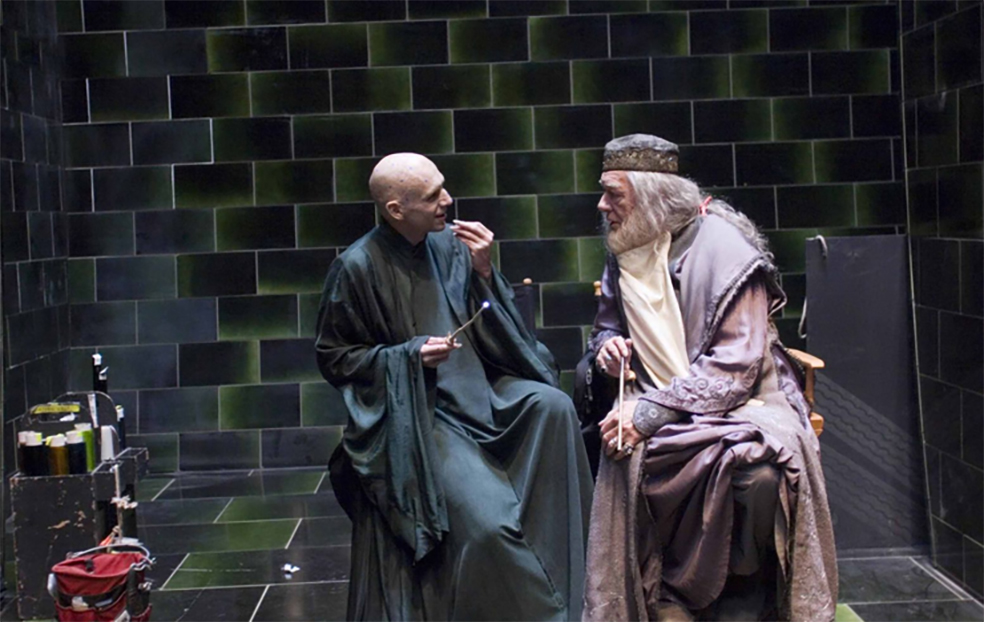 ---
⬇️⬇️ Scroll down in the below area to read all captions from this week! ⬇️⬇️
---
Michael Gambon: "Ralph, where is your bib? The lobster feast starts in ten minutes."
—Allan
---
Voldemort: "Have you tried the sandwiches at Madam Puddifoot's?"
—Harry
---
Dumbledore: "Hey! You look familiar! Have we met?"
Voldemort: "Oh, I just have one of those faces…" (adjusts fake nose nervously)
—Grace
---
"Earwax? In a jelly bean? You're pulling my leg!"
—Friend of Fawkes
---
Dumbledore: "So that's really all it took?"
Voldemort: "Yep! I got my nose back, and I instantly turned good."
—Sam
---
Dumbledore: "Tom, we found your diary. We saw you were having problems on the Quidditch field."
Voldemort: "I have 99 problems but Quidditch ain't one."
—HumbleHufflepuff
---
Picard: (as Voldemort) "Are you sure you programmed the Holodeck correctly? This doesn't look like my Dixon Hill episode."
Riker: (as Dumbledore) "There may be a computer glitch. Let me get out of this beard napkin, and I'll go check it out."
—Friend of Fawkes
---
Voldemort: "Have you seen my invisible beard?"
Dumbledore: "No, let me look closer."
—Sana
---
When you agree to stop trying to kill Harry Potter in exchange for a nose.
—Shrivaani
---
Long-time friends Lord Voldemort and Albus Dumbledore discuss methods of killing teenage boys over tea.
—Ella
---
It doesn't matter if you are lifelong friends or bitter enemies: everyone stops to socialize at tea time.
—Troi
---
Voldemort: "Hey! Wanna hear some gossip?"
Dumbledore: "No! Why would I be so nosy?"
—HumbleHufflepuff
---
Gambon: "That cavity looks serious. You better call a dentist."
—Summer
---
It was only when they met during the filming of the fifth movie that Michael Gambon learned that Ralph Fiennes had a nose in real life.
—Sam
---
Voldemort: "They edit out my nose, can you believe? The beauty standards for villains these days…"
Dumbledore: "You're not going to believe what they asked Sauron to wear!"
—Grace
---
"It's right there, in your teeth. No, more to the right. Look, do you want me to get it?"
—Hot Stu
---
When you pretend to like the popular girl just so you can come up with an elaborate plan to kill her.
—Shrivaani
---
My friend listening to my problems.
—Sofia T.
---
Return to Caption Contest Home
Want more posts like this one? MuggleNet is 99% volunteer-run, and we need your help. With your monthly pledge of $1, you can interact with creators, suggest ideas for future posts, and enter exclusive swag giveaways!