CC #464: Week of January 30, 2022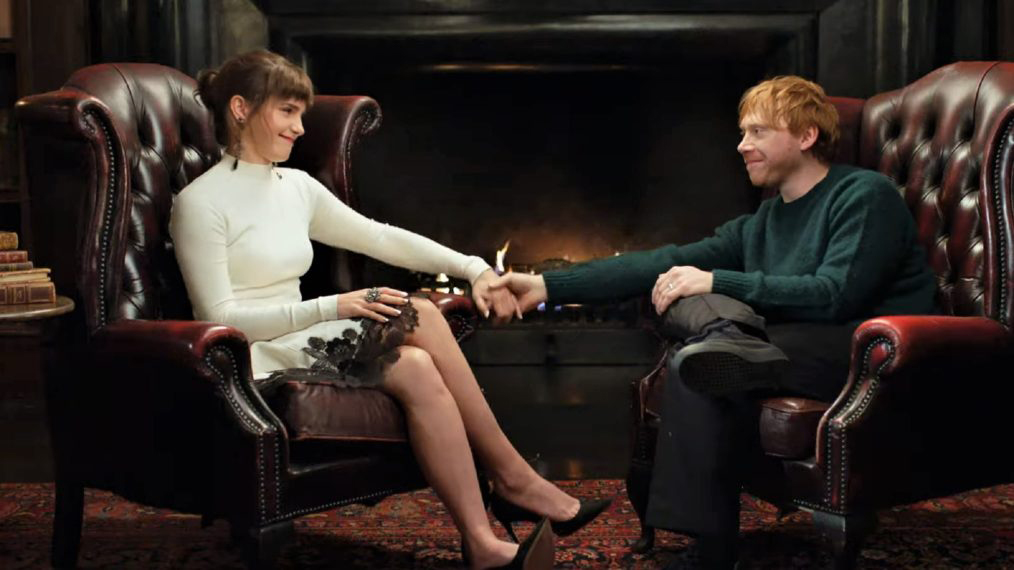 ---
⬇️⬇️ Scroll down in the below area to read all captions from this week! ⬇️⬇️
---
Hermione: "Wow! Ed Sheeran?"
—Nav
---
Emma: "I got you to hold my hand."
Rupert: "I got you to understand."
Sonny and Cher: "You got nothing on us!"
—Friend of Fawkes
---
Emma: "Wow. You're real and not digitally added."
—Liam
---
Rupert: "Sorry, Watson, but you will never love Tom Felton as much as I do."
—Aaron
---
Emma: "Help me up. The ring on my hand weighs 15 pounds."
—Fiendfire
---
Lee Jordan: "Welcome to the 20th year of 'Hold My Hand, Stare into My Eyes, and Grin.' The two remaining competitors, Hermione Granger and Ron Weasley, still show no signs of giving up considering the grand prize of two million Galleons is at stake. While Hermione's talent with spells has enabled her to maintain a stylish appearance and outstanding hygiene, Ron has only managed to enlarge the clothes he started with when the competition began years ago, and the look on Hermione's face confirms that Ron never mastered the Scourgify spell."
—Friend of Fawkes
---
Ron: "Remember when I called you a nightmare, Hermione?"
Hermione: "Yes, I remember."
Ron: "Well, now I think you look like a dream. A good dream."
—Grace
---
Ron: "Well, here we are at our school reunion."
Hermione: "I'm here at my reunion. You and Harry didn't graduate. You're here as my plus one."
—Josh
---
Ron: "Hermione, I can finally accept you've sorted out your priorities."
—Lucy L.
---
Return to Caption Contest Home
Want more posts like this one? MuggleNet is 99% volunteer-run, and we need your help. With your monthly pledge of $1, you can interact with creators, suggest ideas for future posts, and enter exclusive swag giveaways!