CC #468: Week of March 27, 2022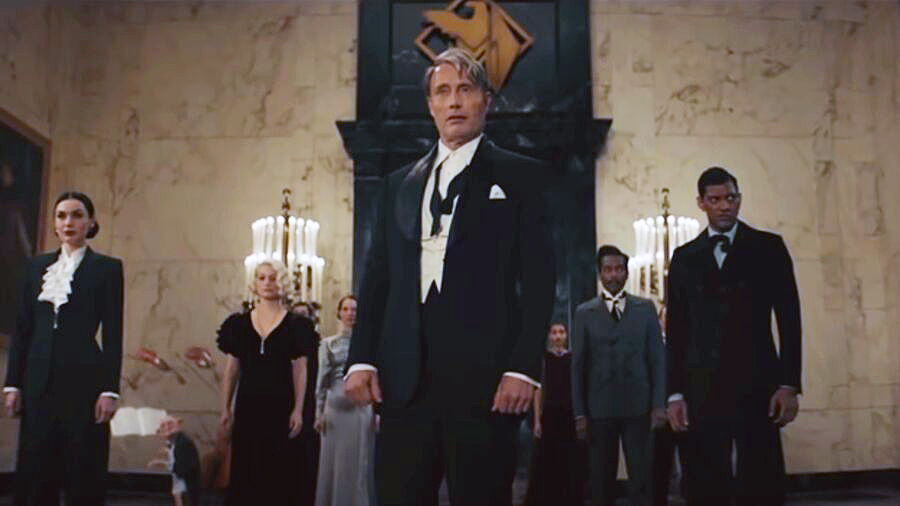 ---
⬇️⬇️ Scroll down in the below area to read all captions from this week! ⬇️⬇️
---
Arguably the biggest moment of the evening happened when Gellert Grindelwald made an insensitive joke about Aberforth Dumbledore, prompting brother Albus to approach Grindelwald on the stage and slap him on the face, leaving him disheveled and speechless. Moments later, Albus won the award for Most Supreme Mugwump, lending even more awkwardness to the event. Albus later posted an apology to his Wiz-stagram account, condemning violence; the next day, he had his Wizengamot membership revoked.
—Daisuke
---
Grindelwald: "Is this not the audition for Magic Mike 3?"
—Chapin
---
Grindelwald: "Wait… there's another qilin chillin' out there that I gotta be killin'? You gotta be kiddin' me."
—Nav
---
Grindelwald: "As everyone knows, I hate music, so my Spotify playlist consists of silent audio."
—Fiendfire
---
Grindelwald: "Everyone, look under your seats. If there is a ticket, you have won a trip to Disneyland."
—Josh
---
Grindelwald: "I am now taking over this party."
(There is a scream.)
Grindelwald: "Don't be scared."
Man in audience: "I didn't scream. I was watching a goat video on my phone."
—Josh
---
Grindelwald: "I know it's not my turn to decide the theme of the party, but I really must insist – we're doing a ballroom blitz!"
—Troi
---
Grindelwald: "It's time… for 'Grindelwald's Favorite Things'!"
(Everyone cheers.)
Vinda: "What are you doing?"
Grindelwald: "It's 'Grindelwald's Favorite Things.' Like Oprah, I'm giving away free things."
Vinda: "Why?"
Grindelwald: "How else do you expect me to gain followers?"
—Emma
---
Grindelwald: "Now that we're all dressed appropriately, let's go kill some people!"
—LLTMB
---
Grindelwald: "Okay, now we're going to destroy Newt, Tina, Theseus, Jacob, and all the others!"
Queenie: (thinking) "Suddenly, I'm regretting siding with Grindelwald."
Grindelwald: "Wait. On second thought, spare the Muggle."
Queenie: (thinking) "Now I'm regretting regretting siding with Grindelwald."
Grindelwald: "For now."
Queenie: (thinking) "Now who do I side with?"
—Luna Lovegood
---
Grindelwald: "Welcome, fellow dreamers. I want to thank you for believing in me. Witches and wizards will take over the… Oh, SHOOT! I must go home. I forgot to feed my cat."
—Lisa
---
Mads: "My tie is askew; my hair is un-coiffed! I promise you, heads will roll in the wardrobe and hair departments!"
—Friends of Fawkes
---
Me and the boys when JKR appears in the Secrets of Dumbledore trailer.
—Nav
---
"Muggles – YUCK!"
—Aubrey
---
That look when your sibling just destroyed your LEGO Hogwarts Castle.
—Half-Blood Princess
---
Grindelwald: "The invitation said 'casual,' so I undid my tie."
—Carol P.
---
The bachelor party was a success until the moment when the girl jumped out of the cake and transformed into a giant snake.
—James H.
---
Return to Caption Contest Home
Want more posts like this one? MuggleNet is 99% volunteer-run, and we need your help. With your monthly pledge of $1, you can interact with creators, suggest ideas for future posts, and enter exclusive swag giveaways!