CC #035: Week of June 15, 2003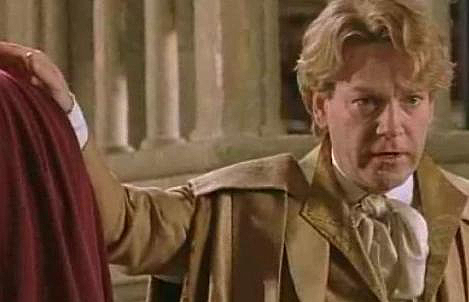 ---
⬇️⬇️ Scroll down in the below area to read all captions from this week! ⬇️⬇️
---
Lockhart: Think carefully, take your time.
Harry: Umm… Cage #2!
Lockhart: …And in Cage Number Two is… an autographed picture of me! Aren't you a lucky fellow?
Ron: *whispers to Harry* I told you to pick Cage Number Three…
-Carolyn
---
Hermione: You look fabulous today, Professor!
Lockhart: You mean to say that I look merely fabulous and not stupendous?! What an outrage! Fifty points from Gryffindor!
-Morgan
---
Where will you be when your laxative starts working?
-Gwen W, Ed, and Lou
---
Lockhart: My name is Gilderoy Lockhart, but in the Mutiny Circus, they called me the Amazing Nightcrawler…
-Melissa
---
'I can't believe it! We waited all this time to find out what the Order of the Phoenix is, and it's a hamburger, large fries, and coke!'
-Jon
---
Lockhart: Who wants cookies?!
Class: we do!
Lockhart: Hey! Who stole the cookies from the cookie jar? There's only one way to figure this out…
Hermione: I bet he is going to do a spell, he is really smart, you know!
Lockhart: Harry stole the cookies from the cookie jar!
Harry: Who, me?
Lockart: Yes, you!
Harry: Couldn't be!
Lockart : Then who?
*15 minutes later*
Ron: We've gone through the whole class and still dont know who stole them!
-Arri
---
'…And now, my smart look!'
-Jessica
---
Lockhart: Harry, your worst fear is in this cage! Are you ready?!
Harry: I just have one question–How can you fit in a cage that small?
-Lucy
---
'Toro! Toro!'
-Aline
---
Lockhart: I finally found it. After months of ingenious work and battle, I caught him… and before your very eyes….
Students: Who?! Who?!
Lockhart: Waldo!
-Ryan
---
'What do you mean I didn't win 'Witch Weekly's Most Charming Smile Award' this year?!?'
-Maureen
---
'…and this is the face that won me Best 'Surprised, Yet Angry' Face from Witch Weekly magazine! '
-Rachel H.
---
'..And under this cloak….my newest book entitled, 'I love me. Don't you love me too?'!!!'
-Lisa
---
Harry: What happened to Lockhart?
Ron: Someone got a hold of the fifth book … Sent him a scan of the page where the character dies …
Harry: *shakes head*
-Chipmunk McFleury
---
'So this is what thinking feels like!'
-Sammy G.
---
'Never fear, Boys and Girls! My speech bubble is under this cloak!'
-Sophie
---
Lockhart: I know the real reason Eric isn't currently judging the Caption Contest! Not because he's planning parties, but because I have him right here in this cage!
-Nancy
---
Lockhart: Hey! If I cross my eyes like this, I can see my nose!
Girls: *sigh* Oh, he's so clever…
-Cadyn
---
Hermione: Your look was almost complete, Professor, but I think you forgot your pants this morning…
-A-Rei
---
Lockhart: Now, I ask you not to scream, even though this image may be quite horrifying!
Class: *gasp* Is that…?
Lockhart: Yes, it's Draco MalfoyL the Incredible Bouncing Ferret!
-Caitlin
---
Gilderoy: And in this cage… is the most dangerous creature you will ever come across…
*pulls sheet off*
Class: Eric?
-Kris
---
Lockhart: Oh no!
Class: What is it?
Lockhart: I haven't won the Crazy Caption Contest!!!
-Raven
---
'Is it even possible that I look better today than yesterday?'
-Morgan
---
'Class, guess who's brain is in this cage!'
-Connie
---
Lockhart: Now, when I lift this cover off the cage, Harry will have totally vanished…just like magic!
-Chrissy
---
The truth behind the curtain was too much for Professor Lockhart.
-Natyle
---