CC #050: Week of September 28, 2003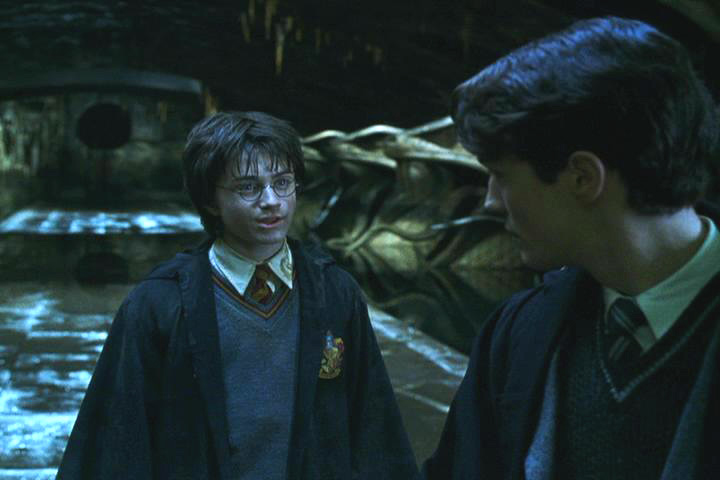 ---
⬇️⬇️ Scroll down in the below area to read all captions from this week! ⬇️⬇️
---
Harry: Who are you? Wait-wait! I know!
Tom: Oh yeah? Well, what?
Harry: Knock, knock!
Tom: Who's there?
Harry: You Know!
Tom: 'You Know' who? Oh, Merlin! How did you guess?
-Sammy
---
Harry: You wanna take this outside?!
Tom: Yeah!
Harry: Bring it on!
Tom: Yes! I love that movie too!
Harry: Err…
-Melissa
---
Harry: Oh, this has just been one heck of a great day! First, everyone still thinks I'm the heir of Slytherin, I had to find the entrance to the Chamber of Secrets to save a silly little girl, I fell into a pit of rotted skeletons, I nearly had all my memories erased, I had to dodge a ton of boulders that nearly fell on me, and now I have to fight a hundred-foot snake that can kill me by either direct eye-contact or its venomous bite! The only thing to top that off would be you telling me you're Lord Voldemort!
Tom: Well, now that you mention it…
-Emeyers
---
Tom: Harry… there's a huge snake about to bite your head off!
Harry: Oh, no, I am not falling for that one!
-Nyx
---
Tom: …For the past few months, actually, my new target has been you… wait… what's that noise?
*Ringing sound coming from Harry's pocket*
Harry: Oh, sorry.. that's my phone, it's been ringing on and off. It'll only be a minute…
Tom: Sure.. I'll just wait here…
Harry: *Shouting into mobile phone* No, Hermione! How many times do I have to tell you? I can't come over to the girls' dormitory to have fun now, I'm about to defeat the heir of Slytherin! *Turns phone off and calmly walks back* Sorry about that…
Tom: Ah, it's nothing. So… as I was saying…
-Alyssa M.
---
Harry: 'Aha! I have you now, Tom! Now where's the plutonium?!'
-Sophie
---
Harry: What are you looking at?
Riddle: Who said I was looking at anything? I wasn't looking at anything!
Harry: *Sarcastically* Yeah, sure you weren't. Let me see… You were looking at my forehead and about to ask me how I 'escaped with nothing but a scar while Voldemort's powers were destroyed'.
Tom: *Muttering* Darn.. how did he know?
Harry: I know my lines.
-Natalie C.
---
Tom: Lord Voldemort is my past, present, and future…
*Tom writes 'Tom Marvolo Riddle' and waves his wand*
Harry: Oh my…
*Grinning, Tom turns but gasps. The letters now read 'VOMITED ARMOR DOLL'*
Tom: How did you know about that? You mock me? Again, then…
*Tom waves his wand again, they now read 'VIOLET RAMROD MOLD'. Soon 'VOIDER MARMOT DOLL' and 'DEVOID ROT MOLL ARM' are formed*
Tom: Why is this happening to me?!
*The letters end at 'MARVEL IT, DOOM LORD' and disappear*
Hermione: *Behind Invisibility Cloak, grinning widely* Tee-he-he…!
-Carly
---
Harry: You're Lord Voldemort?
Tom: Well duh, when you're stuck inside a diary for fifty years you've gotta have something to do!
-Charles
---
*Eeeerrrrp*
Harry: What was that?
Tom: Oh, that stupid snake! I told him if he ate that Malfoy kid he'd get gas; it's no wonder, the way he runs his mouth non-stop!
Harry: But wasn't the basilisk supposed to try and eat me?
Tom: Damn! I knew I should have read the book more closely! Ms. Rowling's going to have a fit over this one…
-Chay Nicole
---
Harry: *Gasps* You're Lord Voldemort?
Tom: Yes, Harry.
Harry: *Confused* But, you look relatively normal. Last time I saw you, you looked like the south end of a north-bound camel…
Tom: *Mutters* Yes… well when you go to Michael Jackson's plastic surgeon you must expect mishaps…
-Natalie14
---
Harry: I'll never follow you! You killed my mother and father!
Tom: No, Harry, I am your moth- no, wait… I am your father!
-Paige
---
'Killing Mudbloods doesn't matter to me anymore! For the past few scenes, my goal has been finding Waldo!'
-Koala
---
Oh yeah? Well if you're so great, how comes you don't have such a cool scar?
-Hilary
---
Tom: In a few moments… Ginny Weasley will be dead.
Harry: Oh, please, no! *Falls to knees* She was my only chance for a date!
-Molly
---
*Cell phone ringing*
Harry: Hello? I see… *holds phone away from ear* Tom?
Tom: Yes?
Harry: It's your mom…
Tom: Tell her I'm dead.
Harry: *Picks phone back up* He says he's dead…
-Flowerbaby
---
Harry: You know, Tom, I think that the only reason you're into this whole 'Take over the world' business is because of the unintelligible insecurities within yourself…
Tom: You're right! It's all true!
Harry: Why don't you meet me here tomorrow – we can all sit down and have a self-exploration lesson…
Tom: *Sniff sniff* Okay….
-Nichole
---
Tom: Harry, you probably don't know this – but from here it looks like a bunch of enormous cement serpents are licking your ear…
-Emma
---
Tom: Harry, how on Earth did you manage to get your face that dirty when you slid down that tube on your back?!
Harry: Hmm…
-Chelsea
---
Harry: 'Do we have to play Follow The Leader all night?'
-Elvin
---
Harry: Umm, you have something on your nose…
Tom: Don't try that one on me…
Harry: No, seriously, you have something on your nose…
Tom: *Goes cross-eyed to see what's on his nose*
Harry: Now say 'Cheese'! *Takes a photo*
-Spazzo
---
Harry: So Hagrid really didn't open the Chamber? It was you?
Tom: I'm afraid so, Harry…
Harry: And you are Lord Voldemort?
Tom: Yes… any other questions you'd like to ask before I kill you?
Harry: Boxers or Briefs?
Tom: …
-Jane P
---
Harry: hiss shh ssss…
Tom: sssss hawshh…
Harry: Tom?
Tom: What?
Harry: We really should stop talking in Parseltongue now…
Tom: How come?
Harry: Because if we don't, nobody will be able to read the caption…
-Tiffany L
---
Harry: You can't have Ginny! She's mine! She loves me!
Tom: Harry, what are you talking about?
Harry: Did I say that out loud? Uh-oh…
-Mary Margaret
---
Harry: Why can't we be friends and have fun, Tom?
Tom: Friends? Fun? What is 'fun'?
Harry: Fun is… fun is… well let's sing it:
F is for friends that do stuff together,
U is for you and me,
N is for anywhere and any time with my enemy!
Harry: Now you try!
Tom: *Looks at Harry and starts to sing*
F is for fire that burns down the whole castle,
U is for you and me,
N is for no survivors…?
Harry: No, no! Like this… Sing with me… *Gets behind Tom and shows him*
F is for frolic through all the flowers,
U is for ukulele,
N is for nose picking, sharing gum and sand-licking here with my best buddy!
Tom: *Turns and eyes Harry* When I die… You stay far away from my funeral…
-Alicia
---
Harry: Hey, Tom, I'm getting a bit hungry… I think I saw a McDonald's back a little way along the tunnel, near the patch of mud and pile of rat skeletons… Want anything?
Tom: Sure! I'll have the Double Cheeseburger Meal with a Coke…
Harry: Great! Be right back!
*Ten minutes later*
Tom: Hey.. wait a second…
-Amanda 'Elle'
---
Harry: Okay, what do you want to trade?
Tom: I don't know, maybe this wasn't such a good idea… I don't think you keep your cards in very good condition… *starts to walk away*
Harry: Wait! I'll give you my Pikachu for your Squirtle?
Tom: I don't know…
Harry: Okay, how about my Pikachu and Charmander for your Squirtle?
Tom: Now you're talking…
-Abby
---
Tom: What was that, Harry?
Harry: We… we look so much alike…
Tom: Well of course we do, I'm your long lost brother!
Harry: *Gasps* But that can't be!
Tom: Okay, no… maybe not… but it was still really cool to see the scared look on your face when I said it!
Harry: *Glares*
-Spideria
---
Harry: *Trying to buy time* Uh… Did you know that it's physically impossible to lick your elbow?!
Tom: What?! Nothing is impossible for the evil Lord Voldemort! *Tries to lick elbow, cursing madly and twisting into a pretzel*
Harry: Haha! Told you so!
–Seventy-five percent of those who read this will attempt to lick their elbow–
-Molly
---
Harry: You know, Tom, under the right light… you look a little like that Muggle guy, Jim Carrey…
Tom: Really?!
Harry: Sorta…
Tom: Cool! Hey! Do you think I'd make a good Bruce Almighty?! *Starts dancing* I've got the power!
Harry: …
Tom: How about my Ace Ventura?! *Takes off robe revealing Hawaiian shirt and khakis* Do not – go in there! *Points to the basilisk cave*
Harry: …
Tom: Ooh! Or my Riddler! *Waves wand into question marks* Who's afraid of a big, black, bat?!
Harry: Forget I mentioned it!
-Thanks to Angie for the preliminary lines!
-Eric [Staff]
---