CC #176: Week of March 20, 2006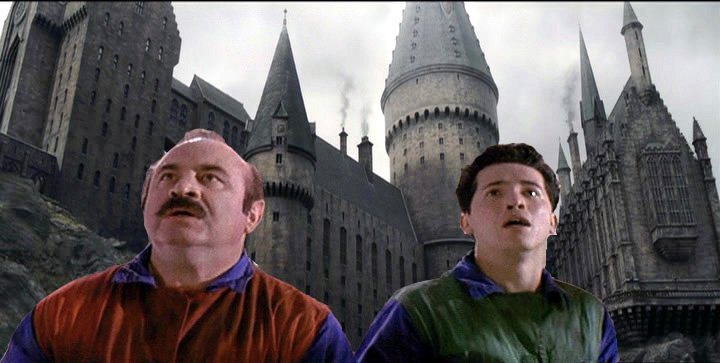 ---
⬇️⬇️ Scroll down in the below area to read all captions from this week! ⬇️⬇️
---
Mario: 'Wow! I guess Bowser's application to the council to have his castle refurbished was successful…'
-Jake A. Ralphing
---
Luigi: It's a plumbing marvel!
Mario: Careful, I've heard that giant snakes crawl all up in them.
Luigi: Is that all?!
-Figgy S.
---
Mario and Luigi have just arrived for their new job after Filch quits
Mario: 'There you are Luigi… Hogwarts Castle. 52 bathrooms, 213 separate cubicles, and 5000 square metres of mopable floors. Oh, and one extremely enchanted sink.'
-Jared H.
---
Mario and Luigi land on Hogwart's grounds and turn to look at the castle.
Mario: I know our mission! There's a princess trapped in that castle!
Luigi: No…. I think it's a giant plumbing problem that we're after.
Myrtle: *Squeals and takes both by the arm* You can both share my toilet!
-Davy
---
Mario: .Wow, Bowser's career as a real-estate agent has really taken off…'
-Green
---
Mario: 'This beats the pants off the haunted mansion!'
-Angelbot
---
Luigi: Hey, Mario. I don't think we're in Brooklyn anymore….
Mario: This is the last time I let you follow a whining ghost down a pipe.
-Jamie
---
Preview of movie 7: Hagrid's clan of giant brothers come to Hogwarts.
-MiA
---