CC #256: Week of March 9, 2008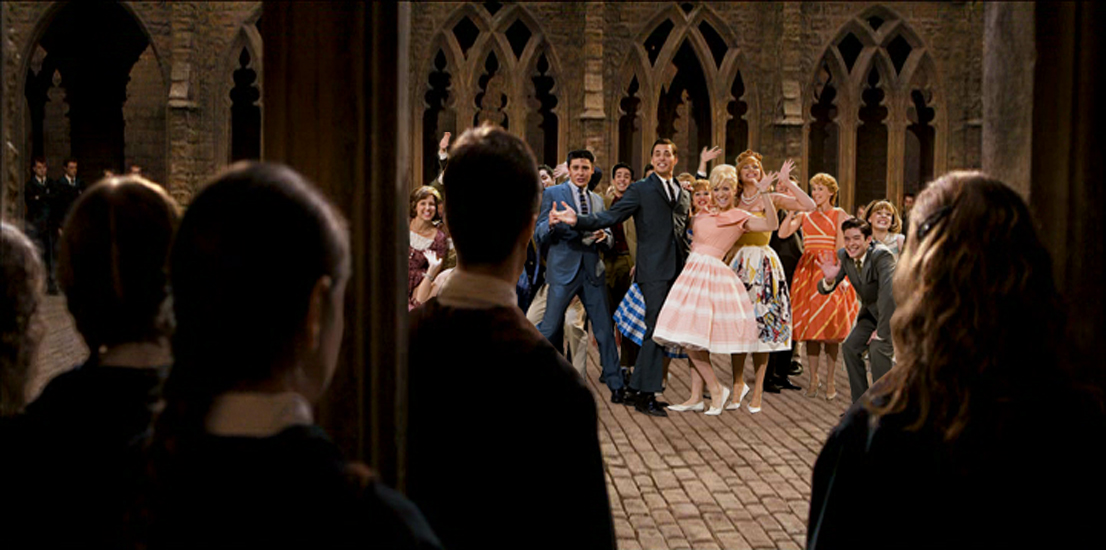 ---
⬇️⬇️ Scroll down in the below area to read all captions from this week! ⬇️⬇️
---
Hairspray Cast: *Singing* You can't stop an avalanche as it races down the hill…
Harry: Well, actually, I probably could.
Hairspray Cast: *Still singing* You can try to stop the seasons, girl, but you know you never will…
Hermione: Oh yes I can! Library, here I come!
Hairspray Cast: *Still singing* And you can try to stop my dancing feet, but I just can not stand still…
Ron: Hah. Have fun with a Full Body-Bind Curse!
-Amandaaa
---
Announcer: And up this week… 'The Potter Spotter'!
Ooo-ooh… ooo-ooh! Ye-eah!
Well, I was walkin' along
Under true blue skies
When, guess who I saw?
What a surprise!
*mashed potato, mambo, mashed potato, mambo*
It was Harry Potter, the boy who's alive
Oh Harry, won't you please be mine?
There never ever was a boy who was hotter
Than good old famous Harry Potter!
*right stomp, left stomp, crazy crowd cheer, rush forward*
-Maddalinea
---
Harry: I can't believe Dumbledore actually hired actors to brighten up Hogwarts with song and dance. I mean, no one even likes them! Right, Hermione?
Hermione: *Breathing heavily* Link…. LARKEN!!!
-Elsa
---
Hermione: 'Corny Collins'? What a stupid name!
Ginevra Weasley: Yeah, what were his parents thinking?
Xenophilius Lovegood: He must have been made fun of alot in high school.
Albus Severus Potter: Who has a name like Corny Collins anyway?
Scorpius Hyperion Malfoy: Yeah, why doesn't he get a normal name like the rest of us?!
-Dan C.
---
Harry: 'Well, Hermione, your spell succeeded. The Slytherins are now the nicest kids in town!'
-Rogue
---
Hermione: 'Apparently, not even all the security surrounding Hogwarts can stop the beat…'
-HMD
---
Dumbledore: Who names their kid Link?
Link: Who names their kid Albus Percival Wufric Brian?
Dumbledore: You did not just say that!
-Betz
---
Harry: *Upon opening the door to the Room of Requirement* What, exactly, did you ask for, Hermione?
-Alex
---
Harry: Hermione, how much Hairspray did you need?
Hermione: …not this much…
-Douglas
---
Dan and Emma could do nothing more than exchange confused glances when they were introduced to the cast of Harry Potter: The Musical.
-Kaity V.
---
No caption could possibly make this any less embarassing.
-Smirk & Gouda
---
Harry: *Singing* We're all in this together –
Hermione: No, Harry, this is Hairspray, not High School Musical.
Harry: But look! There's that guy that plays Troy. What was his name again?
Crazy Fangirls: WE LOVE YOU ZAC EFFRON!!!
Harry: Yeah, that was it.
-Julia
---
Harry knew that the war had started when the Durmstrang students arrived, Confunded into thinking that they were American teenagers. Krum was especially revolting in his pink dress.
-Isabel
---
Dan: …It was either be naked in Equus or join that.
Emma: Good call.
-Theresab
---
Corny: *Singing* Nice pureblood kids who like to lead the way. And once a month we have our –
All: MUDBLOOD DAY!!!
-Ashley R.
---
Hermione: …
Harry: You know, I've read some pretty strange fanfics, but this is definitely the worst.
-Blynn
---
Luna: *In background* 'Nargles!!!'
-xhermioneluvsronx
---
'If we get any more Muggles in here, it's gonna be a suburb.'
-Selly
---
Harry: I'll bet Umbridge is behind this!
Dumbledore: Ah, Harry! I see you've met some of my friends.
Hermione and Harry: …
-GFW
---
Voldemort: Roll call!
Death Eaters: I'm Bellatrix! Amycus! Narcissa! Fenrir! Alecto! Crabb! Goyle! Blaise! Vicki! Wormtail! Dolohov! Draco! And I'm… LUCIUS!
Hermione: Wow! Since Umbridge joined Voldemort's image marketing team, the Death Eaters have really spiffed up!
Harry: Yeah, who knew Draco would look so good in a beehive?
-Tenorspaz
---
Hermione: American foreign exchange students came via time travel?
Harry: I hate fanfictions…
-Natalie
---
Harry: I have fought everything from blast-ended skrewts to Lord Voldemort, and now I have finally found something that scares me. And it scared me A LOT.
-Elvenwitch
---
Harry: 'It could have been worse. It could have been John Travolta in drag…'
-Mala
---
Harry: Silencio!
Hermione: Looks like we can stop the beat!
-Kupkake
---
In an effort to boost enrollment in Muggle Studies class, Professor Burbage got the go-ahead from Professor Dumbledore to have Hogwarts do a production of Hairspray. Sadly, the production was planned by The Daily Prophet and The Quibbler, the students fell asleep during the performance and Professor Burbage now works as a stagehand at a dinner theatre in Ocala, Florida.
-Mike Fangman
---
Corny Collins: And now, for our new Miss Auto Show champion couple, Harry Potter and Hermione Granger.
Harry: You sure picked a good place to apparate, Hermione.
Hermione: Well, at least we're safe from Voldemort.
Voldemort: Oh, no, you aren't!
Harry: Great, now Voldemort's gonna kill me and I have to be Mister Auto Show 1963.
-Lou
---
Corny Collins: Are you both here to audition to be one of the nicest kids in town?!
Hermione: No, actually, we were just passing throu-
HarrY: YES!!!
Hermione: You've got to be joking…
-Breanna
---
Hairspray Cast: Come down and meet the nicest kids in town!
Girl: *Whispers to boy* I really hate these Muggle appreciation seminars…
-Gabrielle A.C.
---
Harry, Ron and Hermione attend the Lovegood family reunion.
-Hannah
---