CC #284: Week of November 9, 2008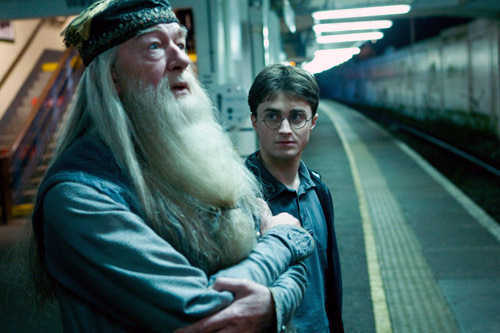 ---
⬇️⬇️ Scroll down in the below area to read all captions from this week! ⬇️⬇️
---
Dumbledore: *Musing* 'Maybe I should tell Snape to kill me… just for kicks… and leave you with nothing, Harry.'
-1MgglePlz
---
Dumbledore and Harry staring at a subway wall…
Dumbledore: 'Hand me the spray paint, Harry, and I will show you a Muggle tradition.'
-Ell
---
Harry: I think we're at the wrong station.
Dumbledore: Let me consult the map birthmark. *Begins to lift robe*
Harry: No! No, let's just take this next train wherever it goes.
-Phantom
---
Harry: Erm, sir? What are you doing?
Dumbledore: I believe that Voldemort would want to weaken his enemies before having them enter his cave. Therefore, I must make a blood sacrifice to enter.
Harry: No, really, Professor, let me do it.
Dumbledore: Nonsense, Harry! *Takes out knife*
Harry: Really, sir, all you need is a fare ticket.
-Alyssa
---
Harry had always admired Dumbledore's unique taste in beard styles. This season it was the fuzzy banana.
-2muchrain=D
---
'Alas, Harry, it seems destroying the Horcruxes was not the only way to defeat Voldemort. Getting him run over by the subway works just fine, too…'
-Emma the Evil
---
Dumbledore: Oh, Harry, I just enjoy hugging myself.
Harry: …
-Catherine S.
---
Dumbledore: You see, Harry, you are the Chosen One.
Harry: Yes, Santa. I mean……. Professor.
-Mad
---
Harry: Professor, why are we still waiting here?
Dumbledore: You see, Harry, the Caption Contest Staff took an evil oath many years ago. A dark, evil oath.
Harry: …
Dumbledore: It was a pact so hideous that I am waiting here until they rectify the situation.
Harry: What did they do?
Dumbledore: An act, so heinous few would believe it to be true.
Harry: …they didn't pick your caption, did they?
Dumbledore: …no, they didn't.
Harry: *Walks away*
-toomanycurls
---
Dumbledore: I understand. It's not easy being banished. Take my buddy Bigfoot. When he was banished, he fashioned an enormous diaper out of poison ivy. Wore it on his head like a tiara. Called himself 'King Itchy.'
Harry: A Tiara… that's it!
-Inzucke
---
Harry: Erm, Professor?
Dumbledore: *Distracted* Yes, Harry?
Harry: Erm, sir, you were looking out in space for a minute there.
Dumbledore: Ah, dear Harry, was I looking out in space? Or was space looking out in me… that is the question we must ask ourselves.
Harry: …
-ShezzyPants
---
Dumbledore: 'You DID NOT just say that periwinkle is last season!'
-Kemmy
---
Harry: Wow, sir, you are so great, is there anything you can't do?
Dumbledore: Yes. I cannot slam a revolving door, sneeze with my eyes open, eat just one Lay's potato chip, kill two stones with one bird, lead a horse to water AND make it drink, count to infinity… twice, and my tears do not cure cancer.
Harry: Well, is there anything that you can do that Chuck Norris can't?
Dumbledore: Of course not! What do they teach you in Muggle studies?
-muggle:)
---
Dumbledore: The next train will arrive in… two minutes.
Harry: Are you using long-range Legilimency again?
Dumbledore: The conductor is very hungry.
-Phantom
---
Dumbledore: *singing* 'Dale a tu cuerpo alegria Macarena. Heyyyyy, Macarena!'
-Alanna
---
Harry: Where are we going, Professor?
Dumbledore: Alright! I can't keep it in any longer! Cedric Diggory didn't die! We transported him to America and now he's a vampire named Edward Cullen under the Wizarding protection program! And now we're taking you to NYC so that you can be undercover as a horse fondler.
Harry: …
-RaeLynn
---
Harry: Where exactly are we, Professor?
Dumbledore: Well, I was going to ask you that. Where would you say we are?
Harry: It looks like the London Underground… except a lot cleaner… and empty… and there are no trains as far as I can see.
Dumbledore: *Chuckles immoderately* The London Underground? Good gracious, really?
Harry: Well, we are in the middle of the Credit Crunch. Times is hard, Sir…
-Loup
---
Dumbledore: Anyway, like I was sayin', shrimp is the fruit of the sea. You can barbecue it, boil it, broil it, bake it, saute it. You got shrimp-kabobs, shrimp creole, shrimp gumbo. Pan fried, deep fried, stir-fried. There's pineapple shrimp, lemon shrimp, coconut shrimp, pepper shrimp, shrimp soup, shrimp stew, shrimp salad, shrimp and potatoes, shrimp burger, shrimp sandwich. That – that's about it… I think.
Harry: …
-Inzucke
---
Harry: 'It's no fair. You get to have eye surgery and no longer need glasses, but I have to keep mine because it's "part of my character".'
-Cobra B.
---
Dumbledore: 'Pull my beard, Harry.'
Harry makes expression in picture.
-Sam
---
Harry: Sir, I thought you were dead? Wait… does that mean I'm dead, too?
Dumbledore: Yes, and no. Unlike me, you have a choice, Harry. You can either go back, finish Lord Voldemort, and you might die for sure, or you can go on with me. You choose.
Harry: Well, of course I don't want to die again. I choose to go on.
Dumbledore: ….
-Peeves
---