CC #302: Week of June 28, 2009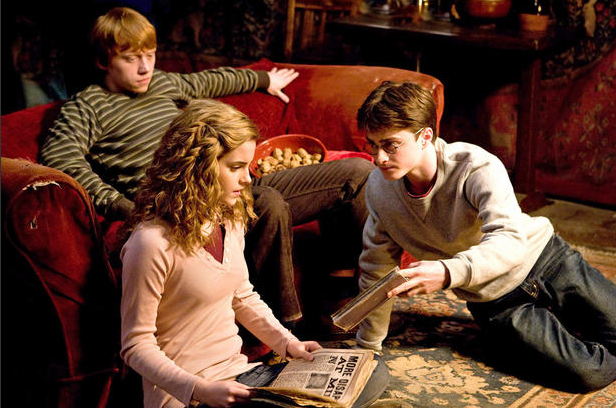 ---
⬇️⬇️ Scroll down in the below area to read all captions from this week! ⬇️⬇️
---
Harry: 'Hey, Hermione, I just found this really great book. It's called Harry Potter and the Sorcerer's Stone! Weird, huh?
-Leanna E.
---
Harry: Read it.
Hermione: Harry, honestly, I've read it 18 times already!
Harry: Hermione, you must read it! It's very important!
Hermione: *Sigh* Fine. *Reads* 'Mr. and Mrs. Dursley, of number four, Privet Drive, were proud to say that they were perfectly normal, thank you very much…'
-Dr. Awesome
---
Harry: 'You don't think things are bad, Hermione? Then why is Dumbledore selling his magic rotisserie barbecue in the Sunday classifieds?'
-Biff
---
Hermione: I'm sure you did okay on your History of Magic essay without me. Now let's see what you wrote.
Harry: It's a persuasive essay describing how guilty you will feel after I fail History of Magic.
-Sam
---
Ron: Harry, you're being ridiculous.
Harry: No, really, I mean it!
Hermione: It's impossible, Harry.
Harry: No, look, Hermione! It's right here. It's titled Harry Potter and the Sorcerer's Stone… it's all here!
-Callie Marie
---
And as Ron takes a kip, Harry and Hermione peruse his diary and smirk as they read the contents – his secret obsession of and innermost feelings for striped shirts.
-Cara
---
Harry and Ron decide it would be best to confront Hermione after discovering that she has been publishing books about their lives under the alias of 'Joanne Kathleen Rowling.'
-TheChosenOne
---
Harry: Hermione, explain this.
Hermione: It's not mine…
Harry: I found it under your bed and it says 'Property of Hermione Cullen.'
Hermione: …
-Lexi
---
Hermione: 'Why did you buy me Ron's action figure?'
-hermy_1
---
Harry: Hey, I got a ninety-nine! Looks like I'm gonna pass Potions after all!
Hermione: You're holding it upside-down.
[Harry makes expression in picture]-Sam
---
Hermione: 'That's nice, Harry. But I still don't see how The Complete Works of Dr. Seuss is going to destroy Voldemort.'
-Dobby's Sock
---
Harry: So I was in the library, searching for a book on Transfiguration, and then I found this.
Hermione: What is it?
Harry: Defeating Voldemort for Dummies.
Hermione: That's useful! Are you gonna read it?
Harry: Heck, no! It says 'for dummies,' so I'm not going to read it!
Hermione: But you can't just waste the opportunity and leave it unread!
Harry: You're right. I'll give it to Ron, instead!
-Adam
---
Jeopardy, Family Game Night Edition
Ron: Okay, I'll take 'States that end in -hampshire' for 200.
Hermione: Okay, *reading card* 'This is the only state that ends in -hampshire.' Ron?
Ron: Uhhhhh… South Hampshire!
Hermione: *Facepalm*
-Lulukachu
---
Ron: I never thought I'd live to see the day… Hermione actually refuses to read a book.
Harry: C'mon, Hermione, But I AM the Chosen One is my best-seller!
-Kazikstan
---
Harry: Hermione, why have you written the words 'Team Jacob' on every page of the Half-Blood Prince's book?
Hermione: Erm… well, you see… after reading Breaking Dawn, I found my loyalties had changed a bit…
Ron: And last year you wasted all that time knitting the House-Elves 'Team Edward' sweaters…
-OTJF
---
Harry: I know all about your little secret, Hermione…
Hermione: I have no idea what you're talking about.
Harry: Oh really? *Pulls out photo album filled with pictures of Ron's head pasted onto male models' bodies* Does THIS look familiar?
Hermione: Oh, that. I found that under Ron's bed.
Ron: I… uh… hang on, what were you doing under my bed?
-Nosilas
---
Hermione: *Alarmed* Harry? What's wrong?
Harry: *Fighting tears* Look. Emerson thinks I should have died.
-Vandallizm24
---
Harry: Check this out.
Hermione: The Seven Habits of Highly Annoying People? By Colin Creevey? What the-
Ron: -Well, at least he knows what he's good at.
-Kevin
---
Emma: THAT is how much you got paid to take your clothes off in Equus?!
Rupert: I've never seen so many zeros!!!
-brother_dave
---
Harry: Hermione, will you open this Howler, please?
Hermione: Sure. *Slowly opens*
Snape: 100 POINTS FROM GRYFFINDOR!!!
All: ?!?
-Josh
---
Harry: I'm not coming back to Hogwarts even if it does re-open… now that Dumbledore's gone, Hogwarts isn't safe anymore. I'm going to look for Horcruxes, and you can't come. It'll put you in danger.
Hermione: You need us, Harry.
Ron: Yeah, whatever happens, Mate, we'll be there for you.
David: Cut cut cut! could have honestly been any cheesier?
-KingofGondor
---
Harry: If you want the book, Hermione, you'll have to come get it…
Hermione: No… I swore off reading… For the rest of the year, I can only read… The Daily Prophet…
Ron: You're clearly torturing her Harry… Keep it up!
-Nosilas
---
Ron: Hermione, we need to talk.
Harry: You've been hiding something from us.
Ron: You didn't tell us you were a world-famous author!
Hermione: I have no idea what-
Harry: *Shows her the book*
Ron: When we told you to write a book translating all the mad things girls do so boys can understand them, we weren't serious!
Hermione: Twelve Fail-Safe Ways to Charm Witches? Ronald, I didn't write that! I left it here so you might get the hint!
-Julia Evans
---
Harry: See, Hermione, it says right here, Harry Potter is 'The Chosen One.'
Hermione: You wrote that in yourself. You know you can't fool 'The Brightest Witch of Our Age.'
Ron: *Pouting* Why do they have cool titles and I'm stuck with 'Ginger Kid'?
-Onja P.
---
— In honor of Harry Potter 'The Musical' —
Hermione: Harry, don't you think you should be preparing for the First Task?
Harry: No. Can't you just do it for me? I mean like, can't you just prepare all of my stuff for me? What are you doing right now?
Hermione: Writing your Potions essay.
Harry: Oh, well, do that first, because it's due tomorrow.
-Acromantula
---
Harry: What's that, Hermione? Are you reading up on the Horcruxes?
Ron: Quite the opposite, mate. She's reading something else that has the ability to rip apart a man's soul. Cosmo.
-MissingOctober
---
–Tribute to Austin Powers—
Harry: Hermione, I found a bottle of Sleekeazy's Hair Potion in your bag.
Hermione: That's not mine.
Harry: Also, one mail-order receipt for Sleekeazy's Hair Potion, signed by Hermione Granger.
Hermione: I'm telling ya, baby, that's not mine!
Harry: One warranty card for Sleekeazy's Hair Potion, filled out by Hermione Granger.
Hermione: I don't even know what this is! This sort of thing ain't my bag, baby.
Harry: And one book, Sleekeazy's Hair Potion and Me: This sort of thing is my bag, baby by Hermione Granger.
Hermione: ….
-Julia Evans
---
Harry: 'Please, Hermione, take this box of mints. Your breath isn't exactly pumpkin juice on Christmas morning.'
-L.I.L.Y
---
Harry: I've finally found Nicholas Flamel!
Hermione: Big deal. I friended him on Facebook weeks ago.
-Anna Tam
---
Harry: Please, Hermione, explain it to me one more time.
Hermione: Okay. Twitter is the website, posts are called tweets…
Harry: So when I am twittering…
Hermione: tweeting…
Harry: But I thought tweets were posts.
Hermione: It's also a verb to describe the actual posting of tweets.
Harry: Ron, do you get any of this?
Ron: Don't drag me into this conversation, mate. Whenever Hermione starts talking about tweets and twittering I have flashbacks of mental canaries.
-Allison
---
Harry: Look at this! The yearbook's voted me 'most likely to give my son a stupid name.'
Ron: Will you?
Harry: I won't give them the satisfaction. In fact, I've decided to name my son 'Albus Severus Potter' instead of 'Finlay Brandt Patricia Screwball Moldyshorts Kitten Potter.'
Ron and Hermione: …
-Sam
---
Daniel: Look here, there's a cure for the swine flu in here.
Emma: That's wonderful news, Rupert, now you'll make a full recovery!
Rupert: Actually, guys, I just ate half this bowl of peanuts and just remembered that I'm deathly allergic to them.
Emma: *Facepalm* Is there a cure for absence of mind in there, too?
-David
---
Harry: *To Hermione* 'See, you all worry about the Dark Lord and the Death Eaters… you COULD be one of Jon and Kate's kids…'
-CDS
---
Hermione: What's an eleven-letter word for self-centered loony?
Ron: Harry Potter.
Harry: What?
Ron: No, that's the answer. *Snickers* 'Harry Potter.'
Harry: *Grumbling* I hate these Ministry-Made crossword puzzles…
-Felicia
---
Hermione: Hey, Harry, what's a 3 letter word for 'a feline, the popular pet of many wizards, which chases rats?'
Harry: …?
Ron: …?
Harry: Uh…cat?
-KingofGondor
---
Ron: Any luck with finding out about the Half-Blood Prince?
Harry: No.
Hermione: Well, the headlines in the Prophet every day this week have been about the shocking death of the Half-Blood Prince of Pop.
Harry and Ron: ….
-Émilie
---