Pumpkin Pasties by Misty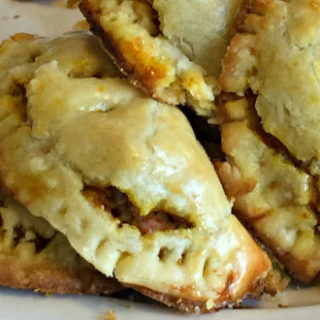 Pumpkin Pasties by Misty
Misty
This fine dessert was purchased on the Hogwarts Express by Cho Chang as Harry Potter watches on. (Well, in the movie, anyway.)
Ingredients
15

oz.

pumpkin pie filling

3/4

cup

evaporated milk

2

egg

slightly beaten

9

oz.

pie dough

1/4

cup

butter

melted

cinnamon sugar mix

(if desired)
Instructions
Bake the pie filling ONLY in a large dish at 350°F for 1 hour. It is done when a knife inserted in the center of the dish comes out clean. Cool on wire rack.

Roll pie crust thin (about 1/8" thick) and cut into 4-inch circles. Keep pie crusts cool.

Combine pumpkin pie mix with evaporated milk and egg. Mix until uniform.

Put a spoonful of the prepared pumpkin filling in the center of the pie crust rounds.

Fold crust in half around filling and crimp edges closed.

Cut three small slits in top of each pastry for venting. Brush with melted butter. If desired, sprinkle cinnamon sugar mixture on top.

Place on parchment-lined baking sheet and bake until crust is a light golden brown.