Cauldron Cakes by Erika, Jessica, and Sommer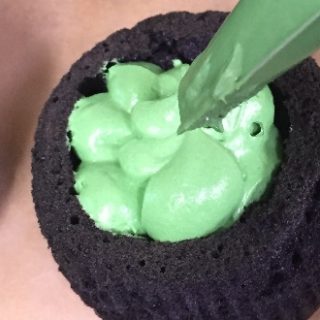 Cauldron Cakes by Erika, Jessica, and Sommer
Erika, Jessica, and Sommer
These Cauldron Cakes have their own tiny pretzel fires to brew their frosting potions. Make them at home and feel like you're on the Hogwarts Express sharing snacks with Harry and Ron!
Ingredients
Cupcakes
1

box

Krusteaz Pumpkin Spice Quick Bread Mix
Decorations
1

can

frosting

white

1

bottle

food coloring

orange, green

5

oz.

chocolate chips

(as desired)

licorice wheels

black
Instructions
Cupcakes
Bake muffin mix as directed by box. Allow to cool completely.
Decorations
Divide the frosting into three bowls. Color 1/4 of the frosting orange, and the remainder two different shades of green. Set frostings aside.

To create the burning logs, cut two pretzels in half. Dip ends into orange frosting. Set the four pretzel halves together in an X on a baking sheet. The frosting should hold them together. Place baking sheet in refrigerator to harden.
Assembly
Flip cupcakes upside-down. Scoop out a 1/2" cavity from each cupcake.

Fill cupcake hollow with green frosting and swirl around, creating a two-toned look.

Melt the chocolate chips and pour into piping bag (or zip-top bag).

Cut licorice into 4" pieces. Use melted chocolate to secure each end of a piece of licorice to opposite sides of cupcake (as a handle).

Use melted chocolate to secure pretzel fire to bottom (rounded) of each cupcake.