Fever Fudge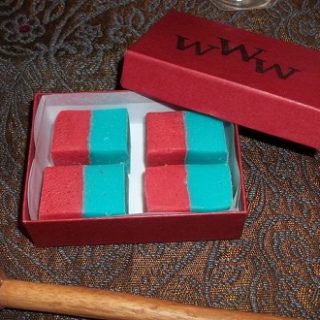 Fever Fudge
S.M. Radtke
Inspired by the inventions of the Weasley twins in the Harry Potter books, these two-sided confections are the perfect blend of hot and cool. Eating the red half will cause the heat to rise in your head. Cool the heat by biting into the blue half. This version of Fever Fudge may not affect muggles as strongly as it does wizards.
Ingredients
3

cups

white chocolate chips

14

oz.

sweetened condensed milk

food coloring

red, blue (paste, powder, or gel)

1

tsp.

cinnamon

1/2

tsp.

cayenne pepper

(double for more spice)

1/2

tsp.

vanilla extract
Instructions
Line small loaf pan with parchment paper and grease.

Place white chocolate chips and sweetened condensed milk in a medium microwave-safe bowl. Microwave in 30-second increments until melted and sweetened condensed milk is incorporated, stirring between each interval.

Pour half molten fudge into another microwave-safe bowl and set aside.

To one bowl, add cinnamon, cayenne pepper, and red food coloring. Stir to blend. Add more red color or cayenne as desired.

Pour red spicy fudge into the loaf pan. Tap the pan on the counter to level the top and release air bubbles. Refrigerate until set.

Once the red fudge is set, warm the uncolored half of the fudge by microwaving and stirring as before until fudge is runny.

Add vanilla extract and blue coloring. Stir to blend. Add more blue food coloring until the desired shade is reached.

Pour blue fudge over red and chill until set. The heat from the warm blue fudge should be enough to weld the colors together.

Once fully set, remove fudge from the pan. Cut into strips that are half and half.
Notes
Vanilla extract can be replaced with mint extract, but note that the mint will not calm the cayenne as well as vanilla will.