Deathly Hallows Shortbread Cookies
The Elder Wand," he said, and he drew a straight vertical line on the parchment. "The Resurrection Stone," he said, and he added a circle on top of the line. "The Cloak of Invisibility," he finished, enclosing both line and circle in a triangle, to make the symbol that so intrigued Hermione. "Together," he said, "the Deathly Hallows." (DH 409)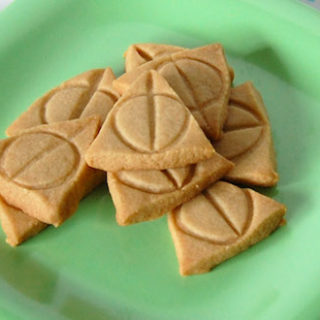 Deathly Hallows Shortbread Cookies
Mary
Next time you attend a Harry Potter party or decide to just sit at home and watch one of the movies, be sure to make these delicious shortbread cookies.
Ingredients
1

cup

butter

softened

1/2

cup

brown sugar

packed

2 1/4

cups

all-purpose flour
Instructions
Preheat oven to 300°F.

In bowl of stand mixer, beat together butter and brown sugar.

Add flour slowly until all ingredients are fully incorporated.

Place dough onto a floured surface and knead until smooth. Roll the dough out to 1/3" thickness.

Cut out triangle shapes using a cookie cutter.

Press a bottle cap (or other circle) into the dough. Use back of a butter knife to add line down center of cookie.

Place onto baking sheet lined with parchment paper (or wax paper). These cookies don't spread out in the oven, so they only need about 1/2" of space.

Bake for about 20 minutes, or until slightly golden and firm.

Remove from oven and allow to cool slightly before transferring to wire rack.
Notes
Lemon zest or vanilla could be added to these cookies if you find them to be a bit plain.
Roll the dough thinner to make sandwich cookies with a chocolate ganache or caramel filling.