Pumpkin Pasties by Sophie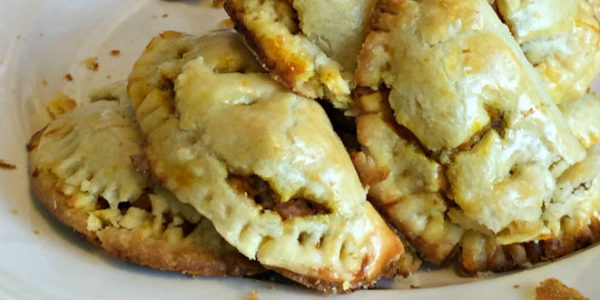 Pumpkin Pasties by Sophie
Sophie
Pumpkin pasties are one of the many treats served on board the Hogwarts Express. However, Sophie's version here is probably a bit more savory than what Harry and his friends ate.
Ingredients
Filling
16

oz.

pumpkin

skinned, seeded

2

potatoes

large

1

onion

large, diced

1

tsp.

chives

chopped

2

tsp.

soy sauce

(to taste)

2

tsp.

hoisin sauce

(to taste)
Dough
2

sheets

puff pastry dough
Instructions
Filling
Preheat the oven to 375°F. Fill a pot of water to boil on the stove.

Clean and peel potatoes. Chop potatoes and pumpkin into rough 2–3 cm cubes. Move cubes to boiling water. Return pot to boil and cook for 15–20. Cubes should be tender.

Gently fry diced onion in a small amount of oil until it is soft and slightly browned (but not caramelized).

Drain potato and pumpkin. Mash them until they form a smooth paste uing a potato masher. Mix in fried onion and chives.

Add hoisin sauce and soy sauce to taste. Set filling aside.
Egg Wash
Whisk the egg and water together. Set aside.
Building & Baking
Cut 3" rounds out of pastry sheets. Scoop about 1 1/2 to 2 tablespoons of filling onto each piece of pastry. Brush egg wash around the edge of each round and fold in half. Use a fork to crimp the edges.

Bake pasties for 25 minutes, or until outside is golden and flaky.
Notes
Additional pumpkin can be substituted for the potatoes if desired. Use 5 oz. pumpkin for each large potato.
This recipe may yield more filling than needed. Increase the number of puff pastry sheets as required.