Review: Pottermore at PlayStation Home
by Eric Scull, Kat Miller · Published · Updated
Pottermore, everybody's favorite (or not so favorite) online book companion to the Harry Potter series, recently announced that it would be expanding into online social gaming, via Sony's PlayStation Home network. PlayStation Home is a unique online gaming community that allows players from all over the world to not only play games virtually together but also interact and chat as easily as making a phone call.
MuggleNet was very excited to be asked to participate in the beta process for Sony. As you know, all the staff on MuggleNet are big fans of Harry Potter, but the reviews of Pottermore have been varied. Some of us love it; others very much dislike it. If you're in the latter camp, then this new experience will very much change your view on this virtual slice of Potter.
Eric's Review
Some people may not be familiar with PlayStation® Home. A couple of my friends who have had PlayStation 3s for a while have yet to try it. I first logged in about two months ago because I was interested in the idea of an Internet hub for gamers, different from stuffy forums or stodgy chat rooms. Well, PlayStation® Home didn't disappoint me and is actually altogether very neat and exciting.
In short, you create a character (an avatar) that may or may not resemble you as closely as you would like. There are several "hub spaces," which are environments that you can visit, where everyone else who is logged on to PlayStation® Home - at that time, and in your region - will also be located. These locations include a town square, a mall, a cinema, a pier park complete with a Ferris wheel, and more. All these locations have different games and items you can interact with (such as riding the Ferris wheel, even with a friend if you choose). The experience is free, and all run through your PlayStation's Internet connection. Playing different games will award you the opportunity to change outfits and add features to your avatar or apartment. It's an online place for you to explore, where you can hang out with your friends... digitally. The environments are well designed, and it was sunnier more often online than it was outside of my real apartment.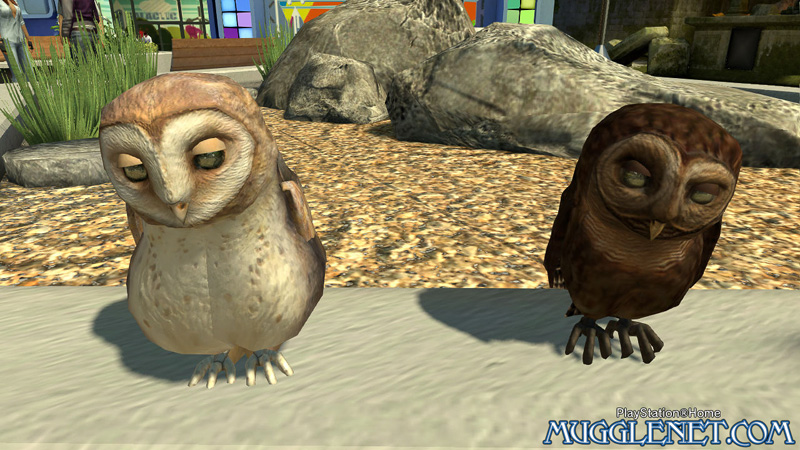 Fast-forward to this week. Heaps of owls (which are actually referred to as parliaments, I am told) have invaded Home Square! They're next to park benches, on top of the large cinema screen, and can be seen generally swooping around the area. The main video screen in each of PlayStation Home's environments is displaying the wonderful Pottermore trailer. For me, this assortment of strigiform – owls – reminds me of the first chapter of Harry Potter and the Philosopher's Stone, when owls are seen in broad daylight all across Britain, following the defeat of the Dark Lord (and no doubt carrying good tidings to wizards everywhere). This time, the good tidings are that Pottermore is coming to PlayStation® Home.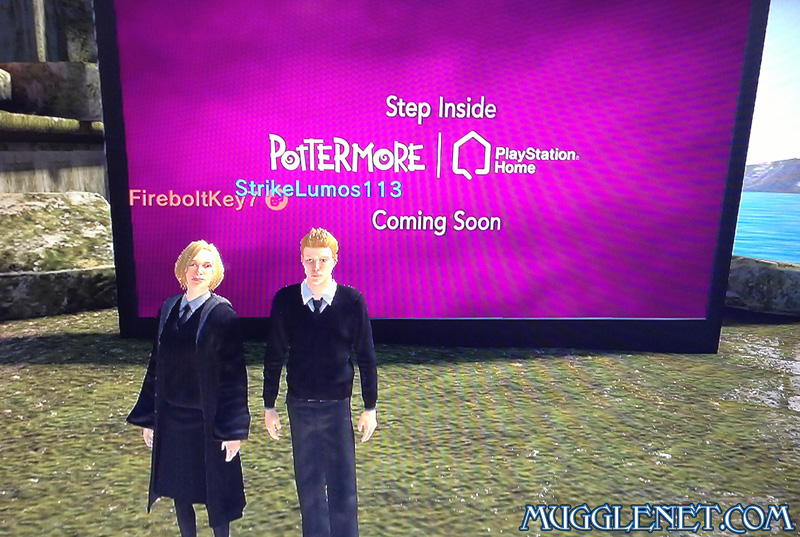 Something else has happened. When I arrived in Diagon Alley, my character was clothed in school robes! This gray set of nondescript wizard robes is pretty fetching. After quickly traveling to my wardrobe (a feature of PlayStation® Home where all avatar particulars can be changed) I see that I've actually been given a full set of jumper, pants, shoes, and robes and, if I want to, I can take the robes off and travel around lighter.
Pottermore at PlayStation® Home initially offers two environments: Diagon Alley (that's in London), and the Hogwarts Express! With the click of a button, my avatar has been transported from Home Square into the magical world of Harry Potter, in Diagon Alley. Next to me is my friend Kat, who has been here before. Together we walk the narrow, cobbled streets and I am told multiple times by her to STOP - and LOOK - at all of the detail, each of the storefronts and shops on either side, that have been decorated and presented to us for our perusal. There's Wiseacre's Joke Shop, Quality Quidditch Supplies, Flourish and Blotts, Madam Malkin's Robes for All Occasions... up ahead of me is Gringotts Wizard Bank, and to the right down the street is Ollivander's. The size and scope of this environment is fitting - it's small enough to feel intimate and special, but large enough to excite me for the time on September 1 when I'll no doubt be bustling through, trying to get my school supplies with a couple hundred other PlayStation and Pottermore users.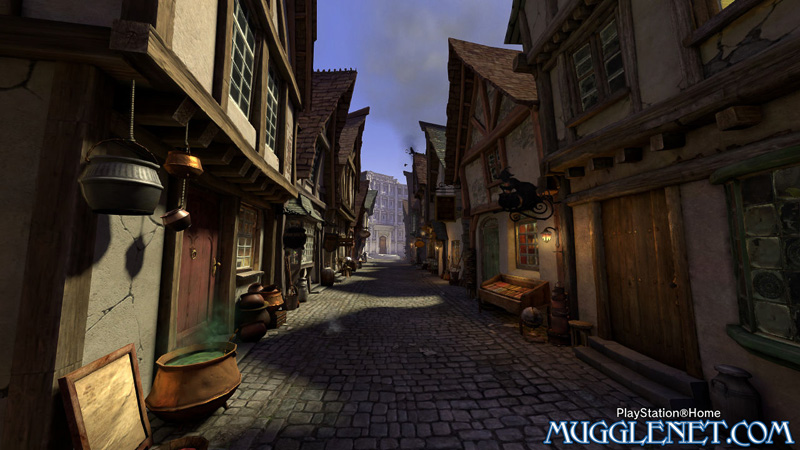 Diagon Alley has shops and a lot of them! And there are four that you can enter, where you can purchase accessories for your digital character. What's important to note is that your outfit will follow you outside of Pottermore, and anywhere you go on PlayStation Home you will and can look however you choose. Thus, in Madam Malkin's, I can get proper Hogwarts House-specific robes. In Twilfit and Tattings, I can get cool-looking wizard- and witch-style hats! In Eeylop's, I can buy owls, and in Magical Menagerie I can buy a cat or a toad! It is unclear at this moment what buying a cat will do, but I've noticed other areas of PlayStation® Home where users have pets that follow them wherever they go. I am hopeful that this will be the same!
Book Herding, as the instructions explain, is all about getting your (or your team's) books back from all four corners of the courtyard, safely tucked away in your cage. The books are like Monster Books in that they've been bewitched to wiggle and move around, so it takes a firm hand to guide them in the appropriate direction. But that's not all - along the way, certain icons will appear that (if obtained) will cast spells on your opponents! You can drop dung bombs, release sticky goo (Flobberworm mucus) that will trap all books that come in contact, slow your opponent down (with Impedimenta), release a smokescreen that blocks their character from view, Confund them (which reverses their controls!), and even open their cages with Alohomora, letting all the books they've collected so far spill back out! When we played this game (several times), it was just the two of us. As evidenced in the Pottermore trailer, it seems more people would change the dynamic, and add potentially even more excitement or difficulty to the game.
With Book Herding alone, Pottermore had me on the edge of my seat leaning in towards the screen as I tried to outsmart my opponent. Right there, my joy as I maneuvered my character through a bright, sunny courtyard in earnest of trapping some renegade books, there I found the glee that has thus eluded me on Pottermore. And it's only the beginning.
Card Trading is a pleasant experience! Your deck is available once you've linked your Pottermore account with the PlayStation application. And with a series of symbols you're able to see which cards you have in your possession, your duplicates (if any), and which cards you have that your opponent needs. Not all trades are even; you can give four cards away for one or two if you really need it!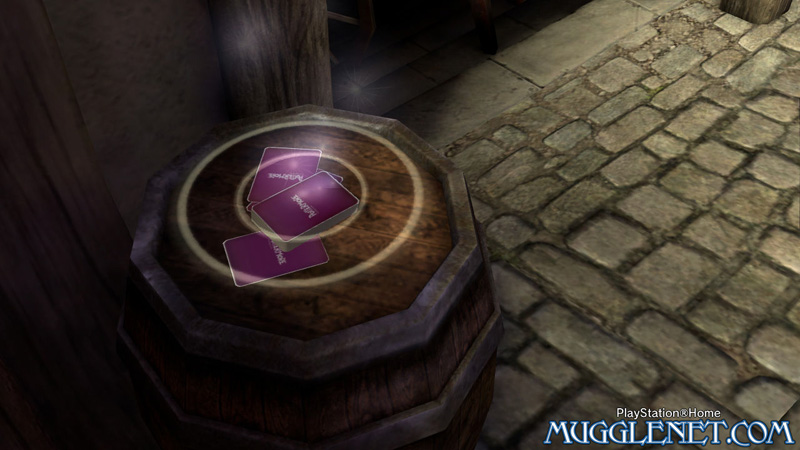 There were two places in Diagon Alley that functioned as signposts, which included the exclusive content from J.K. Rowling present on Pottermore In a storefront, you can read about Clothing, and if you climb the Gringotts stairs to the front door, you can read her writing about Gringotts. This brought to me the exciting possibility that I may be able to progress in Pottermore through my PlayStation console! But so far, that feature does not seem implemented.
Another feature of PlayStation® Home is that you can make your character perform certain actions, such as applauding, leaping for joy, getting down on one knee, sitting cross-legged on the ground, dancing (a surprising variety of dance moves), and many others. Kat and I took turns posing in front of Ollivander's, and I enjoyed showing off in front of the Nimbus 2000 display at Quality Quidditch Supplies.
When I feel like I've peered closely into every nook of Diagon Alley (including my discovery of not one but TWO dark entrances – barred off – to Knockturn Alley), I want to visit the Hogwarts Express. This is done via the PlayStation Home Navigator function. As before, Kat is waiting for me when I arrive. I quickly run to a compartment and peer out the window. The train is rocketing through the countryside!
In Pottermore Quiz, your character is given a Puffskein, which will represent your trivia answers on the screen during the game. The cuteness of the puffs as they hover over your answer, make little noises when you are right or if you are wrong, is not to be underestimated. There are categories to choose from in trivia, and I found the questions to be rather challenging at times (like the one about the school in Japan)! This game is for up to 6 players at a time, and the first person that gets ten questions correct wins the match. Due to the gaming interface, the ease by which you can use the PlayStation controller to indicate which answer you would like, and the animation of the puffs as they battle for you, this potentially disastrous game is actually very memorable.
A feature that I have, up until now, neglected to mention, is the chat function present throughout all of PlayStation Home. You can constantly, at will, type whatever you would like using your controller and a pop-up keyboard, and it will appear in a dialogue box which can be hidden and pushed out of the way when not interacting with others. But the purpose of the chat is to interact with others, and anyone else in that environment can see what you say. Since the Hogwarts Express largely consists of cabins, and you can simply enter one and sit down with your friends, I foresee many-a-chat happening in the perfectly executed surroundings of the Hogwarts Express. When I first sat down, Kat and I re-enacted the scene where Hermione enters the cabin looking for Neville's toad. We much enjoyed doing these basic, geeky, Potter-referential things, which the circumstance evoked. Utter Potter fun.
In the last cabin of the Hogwarts Express, which is formatted with booths on either side and a central aisle, you can compete in Wizard Dueling! With three spells to choose from, the opportunity to block a spell, and certain safeguards to protect yourself, should you be hit with a curse, so that it doesn't take you out of the duel for good. Furthermore, if two opponents engage each other at the same time, one opponent automatically performs a Shield Charm, blocking the spell, and both players must execute a quick button combination (well-displayed) to see whose spell gets to proceed. The attention to detail in crafting the gameplay of this particular ritualistic event from the Potter series is especially notable. Before engaging in the duel, both players bow and take the appropriate distance. A tutorial is available to guide you through the basics and even to teach you some evasive maneuvers within your nearby surroundings.
I hope that this is only the first of what will be many Potter environments to feature on PlayStation® Home. These two environments are so beautifully crafted, it's so easy to forget you're not a wizard - doing the things that wizards do - on your PlayStation. The two environments alone will provide hours of entertainment for users, whether with their friends or without. And the opportunities for expansion are so great. The experience has left me with such giddiness that I am eager to see what else I will one day be able to explore. I remember feeling, years ago, the desire to time travel right after I would finish a Harry Potter book, to a time when the next one would be readily available. The success by which Pottermore and Sony have created these initial environments leaves me hungry, but in the best possible way, for more places in which to play.
I would love to see the functionality to progress on Pottermore on the PlayStation. I think it would be nice if, in-between moments or chapters or books on Pottermore, you could go run around Diagon Alley for a couple of minutes to "stretch," maybe duel a wizard or two, trade some cards, and then return to the books to continue unlocking and reading Rowling's exclusive.
Since you cannot currently enter Gringotts, I'd love to see the day when you can. Maybe to race mine-carts with your friends... do some treasure hunting, interact with goblins, or store your online money in a fancy vault with a dragon protector! The possibilities are endless, and for the first time in a long time I am feeling earnest for what is to come in the world of Potter content.

Kat's Review
Placing the Pottermore object in my virtual home was the first exciting thing I had to do. Immediately, I found myself sitting on the edge of my couch cushion, and when I pressed the button to launch the application, I audibly squealed. After seeing the amazing images in the trailer, I was so excited to enter the world. The first prompt popped up, and I decided to take advantage of the opportunity and link my Pottermore account. After all, what if I could earn house points for Ravenclaw? Naturally, I didn't want to miss the opportunity!
Since Harry's journey started in the magical marketplace of Diagon Alley, I decided that is where I would like to explore first. So, I clicked the X, waited for the world to download (this only happens once), and anxiously awaited what I had been dreaming for (and wishing about!) for many years: a chance to actually (or, at least, virtually) explore Harry's world. While I waited for Eric's version of the virtual world to load, I directed my avatar (fittingly in Wizarding robes) through the streets and took everything in. I couldn't wait to enter the shops, read all the information, and play all the games. The world of virtual Diagon Alley is so rich, vibrant, and full of life - I really, truly wish I could've jumped into my television. But, more on the details later...
I have mentioned several times now that entering this virtual world felt real to me as if I were really there. What else can I really say about it? To be honest, Eric and I were the only two running through the streets, so while it was nice to be able to explore undisturbed, it was also a little lonely. I truly think that this world is going to be amazing (if not a tad overcrowded - think Wizarding World of Harry Potter in Orlando crowded!), yet flourish when it's filled up with roaming wizards and witches all enthusiastically taking photos of the same boiling cauldron.
True to PlayStation's nature, the visuals on Pottermore at PlayStation® Home are simply stunning. The minute I stepped into the world, it felt like I was really there. The colors are rich, bold, bright, and effervescent. From the cobblestone on the streets to the smoking chimneys, and the fluttering owl shadows on rooftops, the details are striking. I was always impressed with the gorgeous, detailed artwork used on Pottermore, and it seems that Sony and Pottermore have carried that tradition of excellence into the PlayStation world. Just look at our photos to see what I mean!
There is also a plethora of stores that you cannot (sadly) enter, including Quality Quidditch Supplies (proudly displaying the Nimbus 2000!), Flourish and Blotts, Ollivanders, and of course, Gringotts - and yes, I realize it is not a store. Not being one to spend money on virtual purposes, I found the stores fun but didn't find the need to explore them in-depth. There are also two entrances to Knockturn Alley, which you, again - sadly, cannot enter.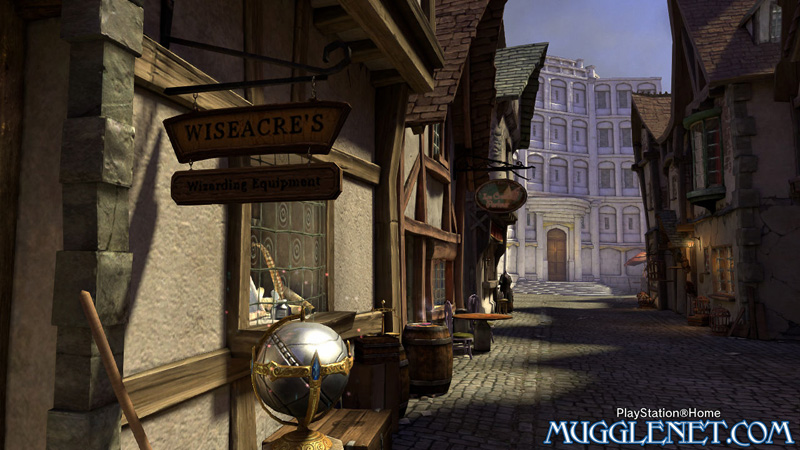 While roaming through Diagon Alley, one will encounter a few interactive points and amongst them are two games, Book Herding and Card Trading. All games require at least two people, but the advantage is that this will force users to interact with others, even if you couldn't meet up with your existing friends!
Book Herding is pretty much exactly what it sounds like: you herd books. Much like the online Pottermore game of trying to put Pixies into a cage, in this game you are trying to collect more books than your opponents before time runs out. Spells and curses appear randomly throughout the game, and if you are lucky enough to be the one closest and can activate it, then you will have a great advance. If you are unlucky enough to be on the wrong end of the Confundus spell... oh boy, good luck! It's a really fun, laugh-out-loud kind of game, and was a high point for me in this experience. Eric and I had a hard time leaving this game and ended up playing for quite some time. It was a blast with two players - I can only imagine how crazy it would get with more!
Card Trading is a game present in both Diagon Alley and on the Hogwarts Express. You earn cards by playing games, whether you win or lose you earn a card. You can then trade with your fellow witches and wizards to get a full set! It's fun, easy, and a great way to interact and connect with other collectors from around the globe.
If you're familiar with the Sony controller and general set of commands, then gameplay in Pottermore at PlayStation® Home will come naturally to you. Although I did, once, get stuck in card trading and it took me a few minutes to find my way out! The controls are easy, the avatars responsive, and overall, it's a very easy, intuitive world to navigate through.
Like you would expect from any Potter game or experience, the sounds in Pottermore at Home are very, well, magical! There are owls hooting, cauldrons bubbling, and toads croaking in Diagon Alley. On the Hogwarts Express the train creaks and moans and the suitcases flop on their racks. I was very happy when Pottermore added sounds to their online experience, as I truly believe that sound is the gateway to greatness (in movies, games, and otherwise), and this virtual world is no exception.
The Hogwarts Express virtual world is, well, quite simply - WOW. It is absolutely everything that I imagined it to be. I have yet to be lucky enough to ride on the actual Olton Hall, but this was close enough for the time being. The whole screen shakes and moves as if you are actually on the train; the scenery flashes by in a blur, and the compartments are every bit as dreamy, cozy, and warm as they appear on film (or in my head).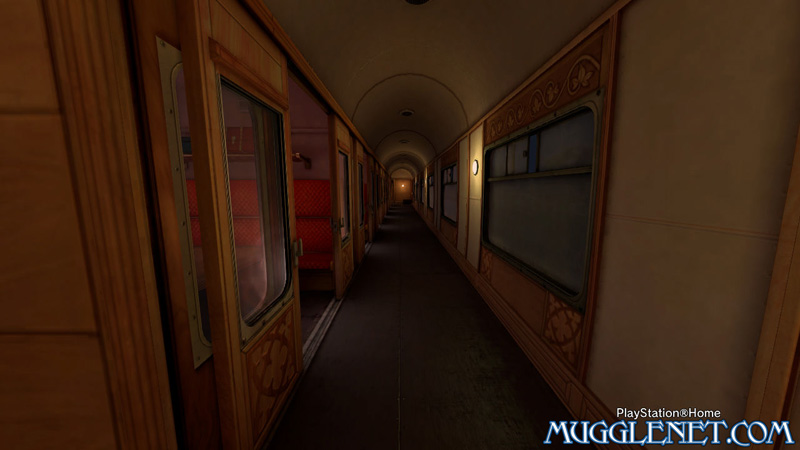 Two more wonderful games are present in Pottermore at PlayStation® Home in the Hogwarts Express area: Pottermore Quiz and Wizard Dueling. Now I definitely wasn't sure what to make of Pottermore Quiz before I selected the game (available in certain compartments where a large scroll is on the median table) - but it surpassed all of my hopes and expectations.
The trivia game in Pottermore is probably what I was looking forward to the most! There has been talk that it will be hard, all-inclusive and, I assumed, super fun. It was, in fact, all of those things! First off, the fact that Pygmy Puffs act as your "game piece" is just amazing. They coo, ooh, and awe all the way to the highest degree of adorable. They bounce and cheer when a question is answered correctly, and make a rather rude noise when you answer incorrectly. The goal is to get to 10 points before your opponent, but also to answer quickly, as the person with the quickest thumb gets control of the next question's category. Surprisingly some of the questions were tough. It took Eric and me 14 questions to get 10 correct - and he beat me out by one point! I want a re-match!!
Dueling on Pottermore is pretty much the bane of my existence. I fancy myself quite a coordinated person, but I have yet to win a single duel in the online version. Mind you, I can DO it, but apparently not accurately enough. The Pottermore at PlayStation® Home version of Wizard Dueling is much easier - but, then again, I am a gamer. You start off like any wizard duel naturally would, bowing to your opponent. You are then given four spells to duel with - three offensive, one defensive - and you go at it! If you are hit, you have to try and revive yourself, which is not always easy. The more you are hit, the harder it is to come out of the spell. The best part though is the Priori Incantatem-esque lockup that happens when you cast on each other at the same time. I remember audibly WOWing when it appeared on screen, and never wanting to hit the sequence of buttons that would get me out of it...which eventually led to Eric overtaking my spell! I got him back though, don't worry.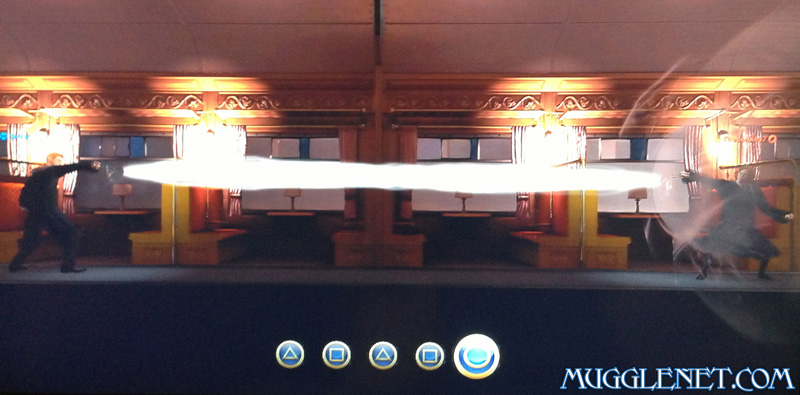 My experience overall with Pottermore at Home was incredibly positive - but, I do have a few things that I would really like to see before it opens to the general public, or somewhere in the future.
First, house points. I really thought that house points would be the reason for connecting your Pottermore account to the virtual world. It would make sense to somehow integrate the two platforms to allow all types of players/visitors to be able to partake in the earning of house points. I personally don't enjoy sitting at my computer and making potions online, but I would be happy to duel or win trivia challenges on my PlayStation for hours on end!
I would also like to see some "free" pets and/or objects. Part of the fun of the Potter world is all the extra bits that make you feel "more wizard-y", like owning an owl or wearing a pointed witch hat. As I mentioned, I am not one to spend money on virtual purchases, so I would like to see a way to earn points or credits towards purchases in the store. Or, have certain things be awarded at different points in the story, much like in the online version. I would really like to own an owl, but am unwilling to spend IRL money to do so.
I imagine that as time goes on more locations will open up - but I want that NOW! I want to be able to enter and explore every single location in Harry's world, even if it's just one tiny little room. I would love to be able to walk into Ollivander's and see an animation with my wand choosing me! Or walk into Gringotts and see the Goblins counting jewels and gold coins - or maybe even take a short ride down to my vault. The advantage to this, besides the obvious, is that it will open up more space for players to merely stand. The current virtual world is small and not very expansive. I truly, truly hope that Pottermore and Sony are ready for the amount of bandwidth a world like this requires. As we all know, Potter fans are enthusiastic, and will flood this world as soon as humanly possible!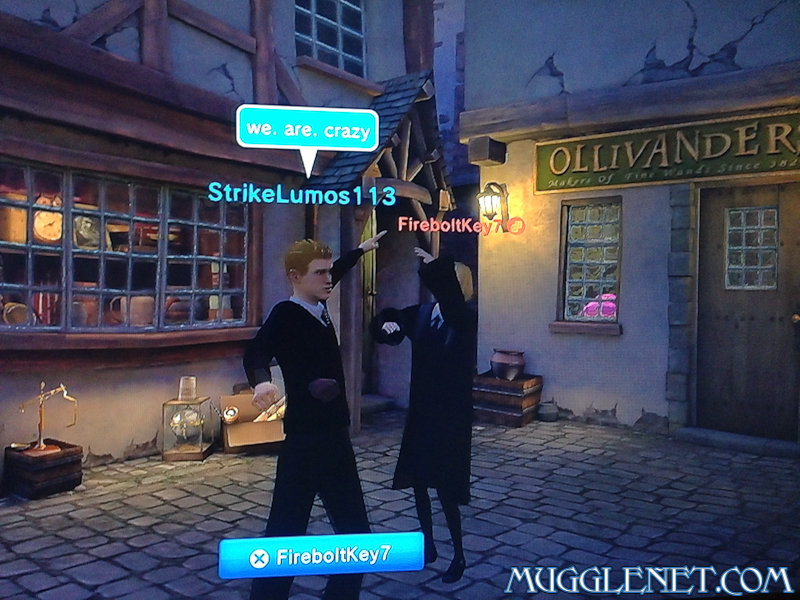 Did you know that MuggleNet is 99% volunteer-run? With your monthly pledge of $5, you can provide monetary support to our volunteers while becoming eligible for exclusive swag giveaways!
Support us on Patreon