CC #351: Week of July 14, 2013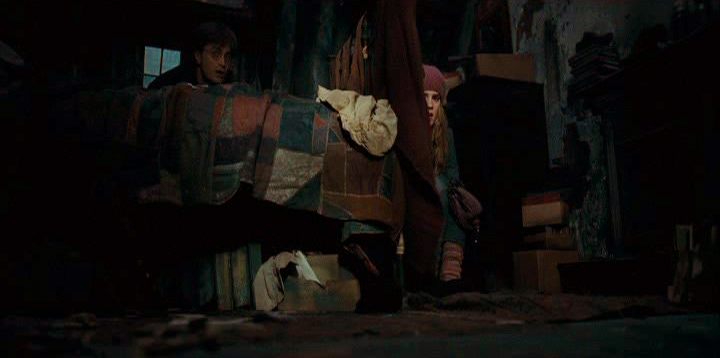 ---
⬇️⬇️ Scroll down in the below area to read all captions from this week! ⬇️⬇️
---
Hermione: No one here…
Harry: And the bed is bouncy…
Both: LET'S JUMP!
-Seria
---
Lockhart: Guess who finally got his memory back! Hey, where is everyone?
Harry: Hermione… don't… move… a muscle.
-Sam
---
Harry: Wow. That new Blu-Ray player we got really does make a difference.
Hermione: Yeah, it does…
-Claudia
---
Hermione: *Thinking* Is he gone? Please say he's gone. I'm sick of chasing after Horcruxes… I just want to go home and sleep.
Harry: Hermione?
Hermione: Dang. He's still here!
-Lilli H.
---
Hermione: Nope, it was just a cat… again.
Harry: What kind of haunted house is this?! Every time we hear a creepy noise, it turns out to be yet another cat! How many cats are there in this place?!
-Sam
---
'OH MY GOD, MOONY! WHAT ARE YOU DOING TO PADFOOT!?'
-Sarah
---
Hermione: That ghoul in the attic sure made a mess of Ron's room.
Harry: No, this is what it usually looks like.
-Elizabeth L.
---
Nagini: If you only knew the power of the Dark Side. Hagrid never told you what happened to your mother.
Harry: He told me enough! He told me Voldemort killed her!
Nagini: No; I am your mother!
Harry: No! That's not true! That's impossible!
Nagini: Search your feelings, Harry, you know it to be true.
Harry: NOOOOOOOOOO!!!
Hermione: Uh, excuse me. There's one person here who can't understand Parseltongue. What are you two talking about?
-Sam
---
TV Announcer: 'This week, on Magical Hoarders…'
-Biff
---
Harry: *Whispers* Hermione, look at those shoes!
Harry: *Whispers* I know. Do you think we could get them without being seen?
-Extreme
---
Hermione: I have a confession to make, Harry. I've been writing crime novels under a male pseudonym for some time now.
Harry: Really? That's very interesting.
Hermione: I've been pretty successful, too. My pen name is Raymond Chandler.
-Sam
---
Harry: Do you hear anything?
Hermione: SSSSSsshut up!
Harry: Was that you or the snake?
-Mikayla
---
Harry: I think there's a Boggart under my bed.
Hermione: Just use a Riddikulus charm to expel it.
Harry: Just one problem; my wand is under there, too.
Hermione: Mine is in my trunk at school. Let's just wait for Ron; he's bound to come look for us.
Harry: Okay, good idea. We'll just wait here.
Ron: *From downstairs* Harry, Hermione! Have you seen my wand? I think it's rolled under the desk. I can't find it anywhere.
-Ian
---
Luna: Hello? Isn't there anyone who wants to help me look for Crumple-Horned Snorkack tracks?
Harry: Oh, no – it's the cuckoo's calling!
-Sam
---
Harry: Hermione, if I don't make it out of this alive, tell Ginny I love her!
Hermione: Although I generally prefer not to think like that, all of the odds point to our dea-
Harry: Hermione, just tell the girl I love her!
Hermione: Don't be rash, Harry, if you don't make it, I won't either.
BOOM. Nagini jumps at them.
-Lauren
---
Harry: Hermione? Are you seeing what I'm seeing?
Hermione: Yeah, but I'm finding it very hard to believe.
Harry: Well, it's obviously right in front of us.
Hermione: Who knew that Voldemort and the Death Eaters were so good at doing the Macarena?
-Heather
---
Hagrid: If I'm readin' yer faces correctly, yeh want me to put my clothes back on… right?
-Sam
---
Many are under the impression that Ron left Harry and Hermione. It is scarcely known that they were all just playing a game of Extreme Hide and Seek, when players Apparate and hide across the country. Ron was 'it.' Games can last for days, weeks, or months.
-The Impossible Girl
---
Harry: Do you really think hiding is the best idea?
Hermione: If you don't like it, you can go down and tell them we don't have any more copies of 'The Cuckoo's Calling'!
-Rune G.
---