"Harry Potter and the Deathly Hallows – Part 2" Blu-Ray + DVD Combo Pack (Disc 2)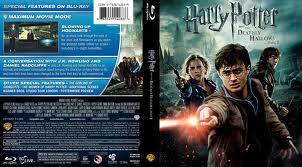 Upon opening the Harry Potter and the Deathly Hallows – Part 2 combo pack, a choice had to be made. Which disc would be played first? There is the first disc, sure to include Warner Bros.'s second iteration of "Maximum Movie Mode" in a Potter film, and the second disc, simply labeled "Bonus Features." I chose the second disc. And just as I am writing this review of Disc 2 first (some may consider it to be "backward") I also viewed each of the special features on Disc 2 backward. And that is how I will review them. There actually is a reason for this… if you follow the "tree" of features on the main menu of Disc 2, the features that last the longest are placed first and the features that are the quickest to get through are last.
Pottermore trailer: The last item on the menu is a trailer video for Pottermore, which is not the original teaser that was released over the summer to announce the site or its beta testing. J.K. Rowling appears here and says that the Potter books were missing a crucial element: "You," meaning us. Although this trailer is but a minute long, the various scenes in Pottermore are shown in real, animated detail. From the Dursleys' kitchen and the zoo to Diagon Alley and Charms class, all of the things that move (like the snake or the letters) do so. The reason it is notable is that these pages really look good in high definition. I'm looking forward to a time beyond beta-testing when I can play Pottermore on my HDTV and be really engulfed in the experience.
Studio tour trailer: Next I watched a trailer (provided) for Warner Bros. Studio Tour London – The Making of Harry Potter. This trailer seems very similar to the promotions already for the studio tour, which is not to say it's flawed. Several cast members talk about the tour, and the announcer says that "secrets will be revealed." Personally, I am looking most forward to learning about "how they did" the door to the Chamber of Secrets, which is shown again in this trailer (from the second film). Tickets, the trailer says, are available for pre-order only at www.wbstudiotour.co.uk.
Deleted Scenes
There are eight deleted scenes present on Disc 2 for the Blu-Ray. The total running time of all of them is 289 seconds, a total of 4 minutes and 49 seconds. Okay. I have to admit, even though my overall thoughts of Disc 2 are very positive, the quantity of deleted scenes for this movie leaves something to be desired. Let us consider that David Yates, David Heyman, and crew actually run SUCH a tight ship when it comes to directing and producing these films (they can spot a bad scene from kilometers away!) that there WERE only just about five minutes of extra stuff to put on the home video release. If that is true, then we can very well call J.K. Rowling the savior of this home video release, for reasons discussed below. But it does seem odd that, in a 130-minute feature film, cutting those five minutes of material really would have made a difference to the overall picture.
Regarding the clips themselves, all of them are of good quality. The first two, which take place at Shell Cottage, actually contain excellent character moments: first for Bill Weasley and second for Luna Lovegood. For the past couple of films, the response given to interviewers as to why "the Davids" have nixed many deleted scenes is "the pacing." And you know, that's a fine response. The filmmakers have a certain place to get to with the film, especially when it first opens, and I can understand that – if they didn't set up the Hallows/Horcruxes within the first ten seconds of the movie – it would have had a different feel to it. I am elated that these moments show up here, however, because we do get to see Domhnall Gleeson (Bill Weasley) really act in his scene (his talent was never in question, but sometimes brilliant performances remain hidden in the final versions of these films), and Evanna Lynch is better than ever in her scene, which takes place between Harry and Luna at Dobby's grave. That these scenes appear on home video as extras show that they are, indeed, of quality. These scenes are being "remembered" and shared here on the bonus features disc, and that is a good thing.
The remaining six clips are all under a minute long. Devon Murray (Seamus) appears to check on the "charges" to the Hogwarts bridge (yet has no additional lines), Ginny grabs Harry's hand as they go to confront Snape in the Great Hall, Tonks arrives and joins Lupin and Kingsley to stand guard, Ciarán Hinds (Aberforth) gets really into book (and character) in the Hog's Head, and a line of dialogue that Hermione utters to Ron as they run from Nagini is capable of bringing heavy laughs in a moment of otherwise fright. Also, the Slytherins are actually imprisoned by Filch as requested by McGonagall in the film – but it doesn't last long.
Even though they are of a short run time, each deleted scene is pleasant to watch and is worthy of its place on the bonus disc. Interestingly, as with the Deathly Hallows – Part 1 special features disc, the deleted scenes again are numbered. "Marble Staircase – Ron & Hermione" is Scene 346G. "Slytherin Dungeons" was Scene 274. This gives the impression that all of the deleted scenes were completely planned and not removed from the film until later in the planning. Or at any rate, it gives an authentic feel to the scenes as if we could count the camera edits on our own (between Parts 1 and 2) and place the scenes in ourselves. Though most scenes are good at showing the first few seconds and last few seconds of where they would have been inserted in the film. Overall, I'm just surprised that there are not more scenes here. The 7th and 8th films were a massive undertaking, with two separate versions of the epilogue being filmed (we have been told previously that the original epilogue on film contained Teddy Lupin). When it comes to extra scenes, this home video release feels like it's holding out for something bigger.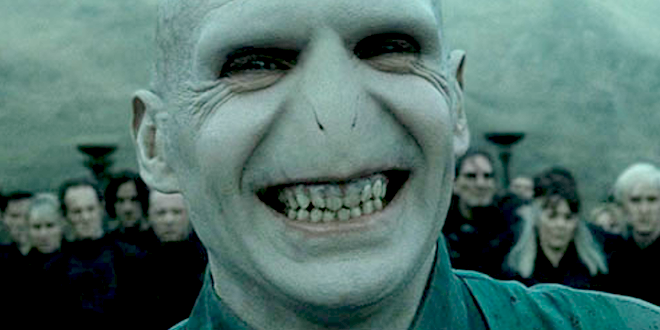 Behind the Story
This section of Disc 2 is the largest section and rather justifies the existence of a second disc for the home video format. While there are only three features here, each one is exceptional. I will review them from the shortest to longest clip in run time:
The Goblins of Gringotts: It is quite commonly understood by now, I feel, that a lot of planning and physical labor goes into any scene in a film or film series of this caliber. The traveling museum, Harry Potter: The Exhibition, exists solely as a testament to how much detail goes into designing the props and costumes for characters to wear, details that are in many ways lost on screen. This video's focus is not on costumes, however, but on prosthetics. It shows the casting process of some 50+ actors to play the goblins in the Gringotts bank break-in scene from Deathly Hallows – Part 2 AND the casting process for their prosthetic masks and their transformation from human to goblin!
Working with what had been done on the first Potter film, the director of the last film (David Yates) and the Deathly Hallows make-up team worked together to design an all-new, yet familiar look for the creatures of the wizarding bank. The video runs ten minutes, is at times narrated by actor Warwick Davis (who has played an impressive number of roles in the Potter films alone, it turns out), and seeing as how it's the only real "making-of" featurette appearing on this disc, it definitely holds its own. We meet several of the actors who play the different goblins and watch the make-up team struggle to create 45 separate prosthetic goblin heads (not to mention dozens upon dozens of nubby goblin hands!) each with their own individuality, as goblins would have.
The Women of Harry Potter: This feature is narrated almost entirely by Potter author J.K. Rowling herself, runs twenty minutes (four times the length of all deleted scenes), and offers MANY wonderful insights into the various female characters of the Harry Potter series, both in the books and on film. J.K. Rowling gets very personal very quickly, stating that she welcomed a baby daughter and lost her mother all while the Potter series was only starting to be written. The theme of the mother's love, therefore, is very prominent, as are the female characters in Potter being able to hold their own. As a self-proclaimed feminist, JKR explains that she at times reacted rather defensively to the notion that female characters in literature were simple or non-complex.
On this feature, we also hear from Bonnie Wright, Julie Walters, Emma Watson, Helen McCrory, and Helena Bonham Carter, who all agree that JKR has done tremendous good in creating strong and independent females. Whether hero or villain, the lady characters of Potter are multi-dimensional, and they grow with age. I think that this feature on the bonus disc has the most staying power, and that might be due to the girl power of it all. But it's true. Hearing these women talk about their characters, and their own experiences growing up is refreshingly vibrant. They also discuss their camaraderie with fellow actors, as Emma mentions having dinner at Helena's house and keeping a diary of her favorite advice, and receiving a nice letter from Jo during the filming of the third movie.
This feature sparked a positive reaction from me and also from the girl I watched it with. Given that Jo is so open about her feelings and the actresses each also open up on this topic, the video is set apart from special features found with other films. This feature feels like a literary discussion but by the people who worked on the films.
A Conversation with J.K. Rowling and Daniel Radcliffe: The premise of this feature, which runs almost an entire hour, is that Potter author J.K. Rowling and Potter star Daniel Radcliffe get to talk candidly and ask each other their experiences with the Harry Potter series and its success. Because the evidence of Jo's care has been present since the beginning, Daniel has nothing but nice things to say to her. Similarly, Jo took tremendous comfort once the trio of actors was cast and is very proud of how the actors have grown throughout the ten, frantic years of filmmaking. This much comes across very quickly in the "double-interview," but things only get better.
Throughout the feature, Dan and Jo discuss the following things: what the first days were like, certain cast members and how they fit their characters, different changes that were proposed and then nixed, Jo's understanding of where the (book) series was going, how Jo revealed secrets at different times to different people on the staff of the movies, what "the end" will feel like for each of them, how Potter has changed lives, Dumbledore being gay, personal moments with the crew, different premiere experiences, whether Potter is going to hold the actors back, and many more.
We hear that Dan grew emotionally attached to his makeup team because he had been with them so long yet would soon be departing, and how Jo lived with the Potter characters for nearly two decades before having to let them go. It would all be very sad if it weren't all very excellent. Dan and Jo are both excellent at their back-and-forth. The entire conversation is upbeat, with answers to questions often being interrupted by laughter and anecdotes. This feature does not disappoint at all, and viewers will come away from it feeling like they were part of something very intimate.
Final thoughts on Disc 2
The bonus features disc of Harry Potter and the Deathly Hallows – Part 2 has about 70 minutes of content that directly pertains to J.K. Rowling and just fifteen minutes of content that pertains directly to the film itself. Seeing as how this is the final film, it is perceivable that there would be content on the DVD that relates to cast members finding closure. Yet remarkably little content has anything to do with that. I think this result is due to three separate truths that exist concurrently:
1) The media and the press have been following "THE END OF HARRY POTTER" since before filming wrapped on the final film installments. Empire traveled the world to locate the various participants of all eight films just to get their thoughts on how Harry Potter changed the world. By the time the final film has come around on home video, any eager fan already knows that the filmmakers were all sad, that they staged several parting events both during and after filming in which to commemorate the times they spent together, and that ultimately closure was found. Even though I would like to see the final "ACTION!" captured here in a documentary, I understand that it was a very emotional time, and I am sure there is an article on it in print form in another publication. To add a feature here on this home video would possibly risk overkill.
2) The ending of Potter is a very personal thing, for each of us. Seeing what it means to the actors, which we can already do without the home video (See Point 1), is not going to help us to cope. Individually, we need to reflect on the experiences we have had and the journeys we have taken as a result of both the books and the efforts of the thousands of people who have come together for the films. No special feature is going to mean to us what the films or books mean, and why would they try?
3) This is not the end, after all. Having J.K. Rowling herself provide 82.35% of Disc 2's content (the percentage grows if you include the Pottermore trailer) proves that there is so much we still do not know about what happened, and we may never know everything. Yet the ability to have such enjoyable discussions such as the one on this disc about the women of Potter remains beyond this film. And lastly, it has been covered in various news stories that bigger, better box sets with greater, vaster, and more in-depth features will be released in the coming years. For now, the producers of Deathly Hallows – Part 2 on home video have chosen to celebrate the end with some really potent joy and exuberant reflection. This is the way that it should be.
For MuggleNet's review of Disc 1 of this home video release, click here.
Did you know that MuggleNet is 99% volunteer-run? With your monthly pledge of $5, you can provide monetary support to our volunteers while becoming eligible for exclusive swag giveaways!
Support us on Patreon