Review: "Harry Potter and the Deathly Hallows – Part 2" Blu-Ray + DVD Combo Pack (Disc 1)
After reviewing Disc 2 of the Harry Potter and the Deathly Hallows – Part 2 Blu-Ray + DVD combo pack, which is the bonus features disc, I knew that there would be one feature for sure to be on the first disc: "Maximum Movie Mode." I was surprised, upon searching the menus, however, to see that there were some more features on the first disc as well. Initially, I was confused because the second disc (labeled "Bonus Features") would seem to be the proper place for all featurettes besides the movie commentary, which must naturally run alongside the film. But after viewing "Maximum Movie Mode" and seeing first-hand how it worked, I understood why certain features had to be on the first disc. But, first thing's first…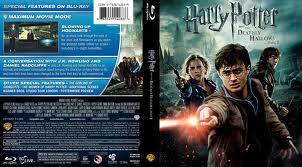 There are three advertisements that play prior to the main menu coming up:
1) LEGO Harry Potter, Years 5 – 7: This trailer, in typical LEGO fashion, is hilarious. It features Lord Voldemort practicing his "evil face" in front of a mirror, and he is eventually discovered by Bellatrix. This video game is being released on nearly all platforms on the same day that this film is coming to home video (Friday, November 11, 2013). I enjoy seeing LEGO's (and TT Games') take on Voldemort's character, and it's obvious that a lot of darkness will be lampooned in an entertaining way through the game. A very similar trailer to this one is available online.
2) Harry Potter – The Definitive Collection: This trailer is particularly notable. Harry Potter and the Deathly Hallows – Part 2 is coming to home video now, and that is what this review is for. But simultaneously with the release of this film on home video (and the LEGO video game) is an eight-film collection of all of the Potter movies on DVD and Blu-ray. It is a collection of the films in a special case, but there do not appear to be any unique features that come with that box set. It's simply a way to purchase all films at once.
However, the box set that this trailer advertises is called "Harry Potter – The Definitive Collection," and the advertisement provides a release date of 2012. The ad says, "From the first spell to the final battle." You can check out the actual advertisement on YouTube. Presumably, this "definitive" collection will have unique and special features on it. Call me old-fashioned, but I just don't see how it's tasteful at all when someone has just purchased a video, to advertise that same video but with more exclusive content. This kind of ad, even as a teaser (without a specific date attached to it), is trying to interest people who have already bought at least 1-8 of the films in the collection to buy the movie again, presumably for more features.
I hope that this advertisement does not appear on the first disc of the Deathly Hallows – Part 2 Blu-ray, which is part of the current eight-film collection. If I had just purchased that set, I would find it objectionable that they would release an "incomplete" – as it were – collection instead of just giving viewers everything they have to begin with. But this disc I am reviewing is not a part of that eight-film set, so I've tried not to be too judgmental here.
3) Pottermore: There is a Pottermore video appearing on the second disc of this same home video release, which we reviewed yesterday. This video, though, is more like the original Pottermore announcement from J.K. Rowling, now with the comment about e-books being for sale and beta testing removed from it (because the online store's release date has been delayed indefinitely). It's always good to see J.K. Rowling, and again, I would mention that there are 70 minutes of J.K. Rowling content on the bonus features disc.
Focus Moments and Farewell Clip
There are eight Focus Moments (I wonder if this was intentional; it's the eighth film, and there were eight deleted scenes on Disc 2…) that you can access via the main menu. Also, there is a clip titled "Final Farewells from Cast and Crew," which is next to the Focus Moments category. I wondered why these features were on Disc 1 when Disc 2 is a "Bonus Features" disc, but here's why: The predominant feature on Disc 1 is "Maximum Movie Mode," and "Maximum Movie Mode" has a ton of picture-in-picture moments that have different cast and crew members showing behind-the-scenes footage. But also, there are moments during "Maximum Movie Mode" when you can choose to leave "Maximum Movie Mode" to go watch each of these Focus Moments and the included farewell video throughout the film. So even though these clips are provided separately on the menu, they do tie into the overall "Maximum Movie Mode" presentation, and that is why they need to be on the same disc as the movie (and not on Disc 2). That being said, I will point out that each deleted scene (appearing on Disc 2) is part of "Maximum Movie Mode," and yet those scenes appear on Disc 2 separately. I question, with the increased capacity of Blu-ray discs, whether there even really needs to be a Disc 3 to this collection (there are 90 minutes of content on Disc 2), but I won't try to make any more sense of it. The following is a summary of the individual clips:
In the clip titled "Aberforth," we see how make-up crews worked with actor Ciarán Hinds to transform his existing face into one that more closely resembles Michael Gambon so that Aberforth Dumbledore was recognizable as being Albus Dumbledore's brother. This was a cool feature because Mr. Hinds does not particularly look like Michael Gambon initially, yet the finished product was of course very convincing.
The second Focus Point, "Deathly Hallows Costume Changes," actually features footage from many of the films and compares both Neville Longbottom and Lucius Malfoy's costumes throughout the years and how the changes in wardrobe reflect the changes in their character. Jason Isaacs has positive things to say about his own detestable character, and Matthew Lewis states that he had worn a fat suit for at least half of the films, which I did not know. Also, somebody off-screen puts earmuffs back onto Matthew Lewis, reminiscent of the second film. It's a detailed, fun video.
These Focus Points really are like separate featurettes, and it is clear why they are included separately outside of "Maximum Movie Mode." In "Harry Returns to Hogwarts," David Heyman praises Daniel Radcliffe's portrayal of Harry, and David Yates praises Alan Rickman's portrayal of Snape. The video is about Harry's confrontation with Snape in the Great Hall, which results in Dan's first real "action dialogue."
In "The Hogwarts Shield," the special effects crew reveals that Hogwarts, in Deathly Hallows – Part 2, was rendered completely digitally, without the use of models like in previous films. It is a fascinating clip because the crew explains the decision process behind creating the protective shield of enchantments, and you see them implement the digital shield over a completely digital terrain and castle. The shock that essentially nothing is real shows how far special effects have come.
There are two Focus Points regarding the Room of Requirement, and both of them are about the configuration of the Room when it is Voldemort's storage space. In "The Room of Requirement Set," we see members of the crew shopping at local auction houses and antique stores to secure some of the furniture and items that will appear as discarded objects inside the Room of Requirement in the film. Additionally, we learn that roughly 72 bins of props from previous films were searched, and that a majority of props from earlier films do actually appear in that sequence in Deathly Hallows – Part 2. Then, in the Focus Point "The Fiery Escape," set designers talk about securing the junk just enough so that the actors could climb on it safely but that it would look unsafe. Also, Tom Felton talks about his stunt, where Harry rescues Draco on a broomstick and the table breaks beneath Draco's feet moments beforehand. Both of these videos are very interesting, and the special effects team also talks about decisions they made regarding Fiendfyre.
The final Focus Points are called "Neville's Stand" and "Molly Takes Down Bellatrix." Both videos walk through the rehearsal process, featuring the actors most prominently in each scene with thoughts from filmmakers and cast. They are really insightful pieces that I enjoyed mostly because the actors are talking about one another and their craft.
Lastly, the clip "Final Moments from Cast and Crew" is optioned as the final credits roll of "Maximum Movie Mode," and it is a three-minute clip that will likely achieve the sadness I felt was missing from Disc 2 (regarding actors finding closure). We hear from the Phelps twins, Mark Williams, Tom Felton, Daniel Radcliffe, Rupert Grint, Emma Watson, Jason Isaacs, David Heyman, David Barron, and the crew all reflecting on their journey. On the whole, the total run time of the Focus Points and this farewell clip is approximately on the 30-minute mark.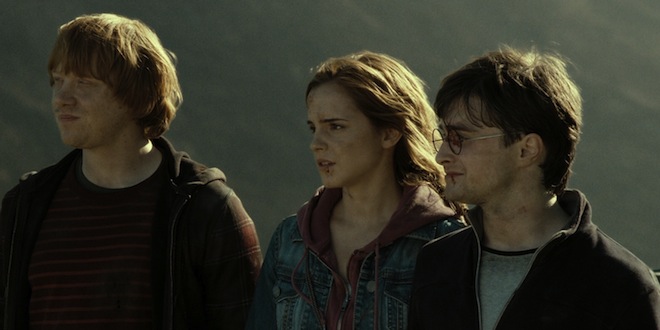 "Maximum Movie Mode"
This was my first time experiencing "Maximum Movie Mode" but Warner Bros.'s third time delivering it. "Maximum Movie Mode" appears on both Blu-ray releases of Harry Potter and the Half-Blood Prince and Harry Potter and the Deathly Hallows – Part 1. This time, MMM (for short) is hosted by Matthew Lewis. Though he may appear most in this feature, it is by a very short tally. Multiple cast and filmmakers chime in often at unexpected moments to add some interesting commentary on the film as it is playing. Whenever this happens, the current film is minimized into a "picture-in-picture" view. Sometimes, we see an actor standing in a digital environment recreation of the Hogwarts courtyard and at other times, simply on another screen.
There are different types of breaks in the normal film, and though most of the interruptions run concurrently with the film, others actually pause the film and re-wind it, to give even more information on top of someone else's information. This leads to a rather fun experience, with different actors speaking over the movie, saying "hey rewind there, please" or "zoom in here, thank you." Overall, the run time of "Maximum Movie Mode" is 2 hours and 30 minutes before the credits roll, which translates to about 30 minutes of content that must take place while the film is paused or otherwise halted. However, there is much more content that does run simultaneously with the film, and I can't recall a period of more than one or two minutes during the film going on without somebody else talking on screen.
The different kinds of interruptions you will find are the following:
1) Making-of information: Certain scenes will have multiple presenters talking about different aspects of the scene. For example, during the Gringotts scene, you hear from almost everybody separately about how the Goblins were made, the dragon was designed, the bank cart rollercoaster ride was filmed, and how the set was constructed for the Lestrange vault. David Yates says that there were more meetings about the vault sequence than in any other scenes for any of his films, and it's those kinds of factoids (or just how many goblin prosthetics there were in the scene) that make MMM entertaining.
2) Book comparisons: There are a couple of moments during the film where different actors read directly from Harry Potter and the Deathly Hallows. This only happens a couple of times, but each time is with a different actor, and the scenes are well-chosen. Tom Felton reads the scene in the Room of Requirement where Harry confronts Draco, and Mark Williams (Arthur Weasley) reads Molly's victory over Bellatrix. Each of these moments shows the actors as appreciative of the books, which always warms my heart.
3) Flashbacks to other films: Whenever actors or filmmakers want to make a point about something that evolved or simply remind the current viewing audience of all the previous times in which a character or prop has appeared, there is usually a montage of each of the films. This feature reminded me of how complex the books are but also how the movies have their own, detailed continuity as well and do hold their own in terms of growth.
4) Deleted scenes: Each of the deleted scenes that are included on Disc 2 of this release is played during the movie, in the natural place where they would have gone (but with a purple banner around them). Different crews talk about them, but at times, the scenes are very short.
"Maximum Movie Mode" very outstandingly replaces any need for individual documentaries about special effects, make-up, or acting, by including that information presented by the appropriate people at the appropriate moment in the film. It's like a video about each of the aspects of movie-making, except that it happens during the actual movie. It is not hard to follow and is something I am hoping could even be done on earlier films, at some point in the future (as remote a possibility that may be).
Final Thoughts on Disc 1
Seeing as how the deleted scenes that appear separately on Disc 2 also appear during "Maximum Movie Mode," I really wonder whether or not this Harry Potter set could be included on one disc. Don't get me wrong – there are four and a half hours of bonus content to this home video release, which is really impressive (that's the 150-minute running time of MMM, 30 minutes for Focus Points, and 90 minutes of Disc 2 content). Still, the majority of interviews and features do happen during Maximum Movie Mode, with only the "Goblins of Gringotts," "Women of Harry Potter," and "Conversation with J.K. Rowling and Daniel Radcliffe" docs appearing on Disc 2. I want to be impressed and wowed by what Blu-ray can do, since Blu-rays have multiple layers that give them the ability to hold vastly more content. I understand that high-definition video takes up considerably more space than the standard definition ones, but it seems like the majority of content appears on Disc 1 and not Disc 2, which is the disc labeled "Bonus Features."
Both discs contain content that is completely necessary for every Harry Potter fan to watch and see. "Maximum Movie Mode" on Disc 1 is a tremendous success that offers a superb alternative to re-watching the movie as you saw it in theaters. And even if you want to watch the film, you can, in wonderful 1080p HD (though I adjusted my brightness quite a bit on my television). Furthermore, the Focus Points are all very insightful, and I was completely surprised by how they moved me while watching.
My last thoughts are on this DVD + Blu-ray combo pack with UltraViolet digital copy because, in my initial hesitation to upgrade to Blu-ray discs, I was informed what the purpose of these multiple-format sets was. Ideally, buying a film on home video that contains both DVD and Blu-ray disc means that if you don't have a Blu-ray player yet, you can own the Blu-ray now, and when you "finally" do upgrade, you will not need to make another purchase for the same film. Additionally, if you do have a Blu-ray player (like me now), the chances are that your computer or other televisions are still on DVD (like mine are). Or, for your really mobile devices, there is the UltraViolet digital copy. UltraViolet is a way of doing digital copy that stores the movie on "The Cloud" – a concept that I only barely understand, but it means your movie can be streamed from the Internet whenever you want from a myriad of portable devices like your iPhone or iPad. Essentially, buying this collection means that you'll own the movie and be able to watch the movie anywhere you want when you want, as long as your mobile device connects to the Internet. Considering the uncertain future of films on home video (for instance, will we do away with any kind of home format at all, if streaming from the Cloud completely takes over?) this collection is a safe bet. The only thing that's going to hinder your satisfaction with owning this specific collection is going to be the up-and-coming "Harry Potter – The Definitive Collection" which is advertised on this Blu-ray disc and discussed at the beginning of this review.
Finally, there is the issue that the standard definition DVD release of Harry Potter and the Deathly Hallows – Part 2 is stripped of any special features. Studios don't care anymore about DVDs, and they're doing everything they can to make you upgrade. The inclusion of a DVD into a Blu-ray set is like a "peace offering," and upgrading in many ways is the only way to get these really great features. I cannot say I'm happy with the death of DVD, but I can say that I am completely happy with this Blu-Ray + DVD combo pack version of Harry Potter and the Deathly Hallows – Part 2.
Check out MuggleNet's review of Disc 2 of this home video release.