Review: "Harry Potter and the Deathly Hallows – Part 2" Blu-Ray + DVD Combo Pack (Disc 1)
After reviewing Disc 2 of the Harry Potter and the Deathly Hallows – Part 2 Blu-ray + DVD combo pack, I knew that I had to watch Maximum Movie Mode. But first, there are three advertisements that play prior to the main menu coming up: LEGO Harry Potter: Years 5–7, the Harry Potter Wizard's Collection, and Pottermore. I was surprised upon searching the menus to see that there were bonus features on the first disc as well.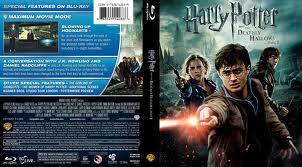 Focus Moments and Farewell Clip
There are eight Focus Moments that you can access via the main menu. Also, there is a clip titled "Final Farewells from Cast and Crew," which is next to the Focus Moments category.
The clip titled "Aberforth" shows how makeup crews worked with actor Ciarán Hinds to transform his existing face into one that more closely resembles Michael Gambon so that Aberforth Dumbledore is recognizable as being Albus Dumbledore's brother. This is a cool feature because Mr. Hinds does not particularly look like Michael Gambon initially, yet the finished product is of course very convincing.
The second Focus Point, "Deathly Hallows Costume Changes," features footage from many of the films and compares Neville Longbottom's and Lucius Malfoy's costumes throughout the years and how the changes in wardrobe reflect the changes in the characters.
Lastly, the clip "Final Moments from Cast and Crew" plays as the final credits of Maximum Movie Mode roll. We hear from James and Olver Phelps, Mark Williams, Tom Felton, Daniel Radcliffe, Rupert Grint, Emma Watson, Jason Isaacs, David Heyman, David Barron, and the crew all reflecting on their journey. On the whole, the total running time of the Focus Points and this farewell clip is approximately at the 30-minute mark.
These Focus Points really are like separate featurettes, and it is clear why they are included separately outside of Maximum Movie Mode.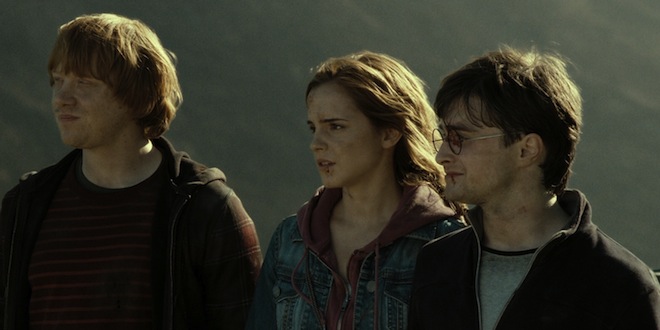 Maximum Movie Mode
Maximum Movie Mode appears on the Blu-ray releases of Harry Potter and the Half-Blood Prince and Harry Potter and the Deathly Hallows – Part 1. This time, Matthew Lewis hosts it, and multiple cast and filmmakers chime in often at unexpected moments to add some interesting commentary on the film as it is playing. Whenever this happens, the current movie is minimized into a "picture-in-picture" view. Sometimes, we see an actor standing in a digital environment re-creation of the Hogwarts courtyard, and at other times, simply on another screen. In these moments, we get insights into book comparisons, flashbacks to other films, deleted scenes, and behind-the-scenes information.
Maximum Movie Mode replaces the need for individual documentaries about special effects, makeup, or acting, by including that information presented by the appropriate people at the appropriate moment in the film. It's like a video about each of the aspects of moviemaking, except that it happens during the actual movie. It is not hard to follow and is something I am hoping could even be done on earlier films, at some point in the future.
Final Thoughts on Disc 1
There are four and a half hours of bonus content on this home video release, which is really impressive (that's the 150-minute running time of Maximum Movie Mode, 30 minutes for Focus Points, and 90 minutes of Disc 2 content). Still, the majority of interviews and features do happen during Maximum Movie Mode, with only the "Goblins of Gringotts," "Women of Harry Potter," and "Conversation with J.K. Rowling and Daniel Radcliffe" documentaries appearing on Disc 2.
Both discs contain content that is completely necessary for every Harry Potter fan to watch and see. Maximum Movie Mode on Disc 1 is a tremendous success that offers a superb alternative to rewatching the movie as you saw it in theaters. And even if you want to watch the film, you can, in wonderful 1080p HD (though I adjusted my brightness quite a bit on my television). Furthermore, the Focus Points are all very insightful, and I was completely surprised by how they moved me while watching.