First Look at Wizarding World Orlando's Gringotts Cart!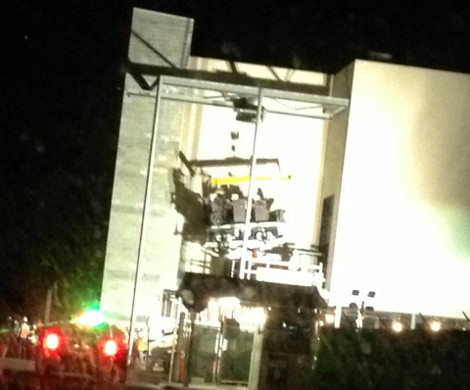 Looks like things are well under way in the expansion for the Diagon Alley section of Universal Orlando's Wizarding World. Although it's only a blurry shot, it's still exciting to see this Gringotts cart being loaded into place!
From what we know from our previous coverage of the Gringotts cart ride, there are two load channels for the ride, with loading on the center island and unloading off the outsides. The ride vehicles are twin, 12-person, open-air cars, arranged in three rows of four. Each row is placed slightly higher than the row in front of it in a "stadium seating" effect. The look of the cars are very Victorian, with individual lap bars and six Dolby speakers per seat for on-ride audio. Therefore, what we are looking at in this photo is the side view of one of the carts.
You can see the design of the carts below:
If this cart ride is anything remotely like the ride in the movie Harry Potter and the Deathly Hallows – Part 2, then the fans are in for one exciting and wild ride.
Are you excited to ride in a Gringotts cart? We are!
Thanks to Kevin Y. for the tip!