Pumpkin Juice by Ella
'What's that [Professor Moody] drinking, do you suppose?'
'I don't know, but I don't think it's pumpkin juice.' (GoF)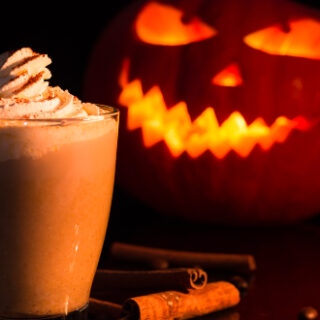 Pumpkin Juice by Ella
Ella
This version of pumpkin juice doesn't actually use any pumpkin.
Ingredients
1/2

onion squash

12

oz.

apple juice

5

clove

whole

17

oz.

carrot juice

1

Tbsp.

lemon juice

2

Tbsp.

honey
Instructions
Clean onion squash. Remove seeds and cut into roughly half-inch pieces.

Combine squash chunks into a small pot along with cloves, honey, and apple juice. Cook on high heat for 10 minutes.

Reduce heat to medium and let simmer for 30–40 minutes. Squash is ready when tender.

Remove cloves from pot and pour everything else into blender. Blend until smooth.
Notes
Onion squash is also known as Kuri squash. 1/2 a squash should equal about 4 cups, chopped as directed.